Atomic Pulse
Atomic Storytelling: Tales from a Writers' Bootcamp for Nuclear Wonks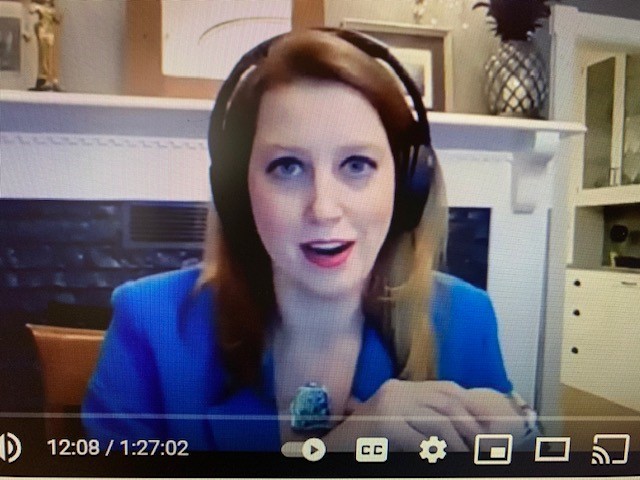 This post was written by Ashley Fakhimi, an intern with NTI's Communications team. Originally from California, she is currently a graduate student at American University, where she studies environmental policy and conflict resolution.
NTI's Corey Hinderstein recalled serving as a "yak" at the 2016 Nuclear Security Summit. Simone Williams of the Project on Nuclear Issues at the Center for Strategic and International Studies described her experience as a black woman finding a space in the national security sphere. Actress Parisa Fitz-Henley gave a harrowing performance of an anonymous submitter's story of believing she had just minutes to tell her children goodbye following the mistaken 2018 ballistic missile alert in Hawaii.
These speakers and other experts in the field of nuclear security gathered February 10th for a virtual storytelling event, The Countdown: Atomic Storytelling From the People Who Know, hosted by University of Southern California's Hollywood, Health & Society program at the Annenberg School for Communication and Journalism. The experts originally crafted their words as part of writers' bootcamp last year focused on "harnessing the power of storytelling" as a medium to share messages.
With more than 200 international attendees listening in, Hinderstein, vice president of International Fuel Cycle Strategies at NTI, shared the story of how she joined the Department of Energy's team preparing for the 2016 Nuclear Security Summit. It was 2015 and she was between jobs when the call came in. "It was the call everyone dreams of," she said. "Do you want to be a yak? … A yak, as in a hairy, cow-like beast of burden."
She explained that "yak" was a nickname for the person who would carry the weight to help the summit "sherpa" reach the mountaintop. Huh? Coined years ago, these nicknames refer to those in government who help prepare for presidential summits. In this case, Corey and Laura Holgate, her summit sherpa, were prepping for an event that would bring more than 50 world leaders together to continue their work to secure and eliminate vulnerable weapons-usable nuclear materials.
Admitting that she was suffering from "imposter syndrome," Hinderstein recounted standing in the back of the room as the leaders filed in on the day of the summit. "A long way from model UN," she said. When President Obama turned and headed straight for her, she froze. But when she was introduced as "our DOE yak," the president beamed. "A yak!" he said. "I love our yaks!"
And that, Hinderstein said, was "how I learned to stop worrying and love being a yak."
James McKeon, an NTI program officer on the Global Nuclear Policy Program team, also had a chance to speak at the event, sharing a hilarious satirical work called "The Nuclear Hotline" on the sometimes strange and unsettling tone and bureaucracy of nuclear security meetings with leading experts in the field. His piece features "mustache guy," "endless, incoherent, passive-aggressive declarations," a "DepSecDef," and a crash into a glass door, all woven in to give listeners the chance to laugh as experts in the meeting address some of the more sobering aspects of work in the nuclear security space.
The 10 speakers at the event shared a variety of stories ranging from heartbreaking to humorous. Moderator Jennifer Cecil thanked the speakers for "throw[ing] away their years of training in presenting nuclear information in a rational, impartial manner in favor of opening themselves up and leaning into the emotion of their first-person stories, because emotion is how you make the most profound connection with your listeners."
Watch the event, which offered a compelling and rare look into the lives of those working in nuclear and national security, here.
Stay Informed
Sign up for our newsletter to get the latest on nuclear and biological threats.