Atomic Pulse
NTI Webinar: It's Time for an Equal Playing Field: Diversity in International Security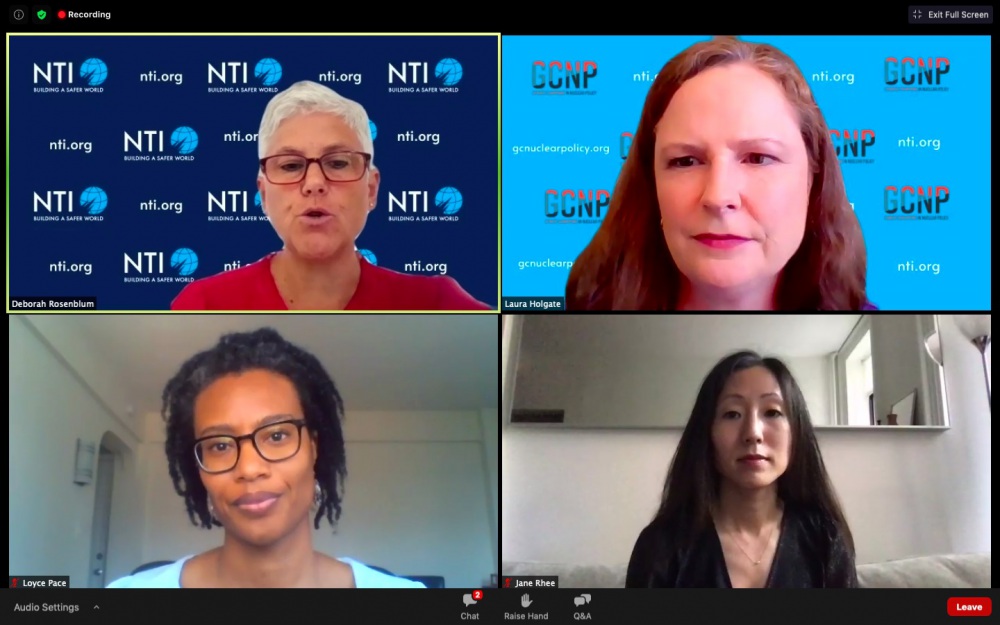 This post was written by Cira Mancuso, an intern with NTI's Materials Risk Management team. Mancuso is a senior in Georgetown University's accelerated BSFS/M.A. Security Studies Program, where she is majoring in International Security and minoring in Spanish.
The shocking video of George Floyd's murder was a flashpoint in our country's long history of deep-rooted and systemic racial injustice. His killing unleashed an impetus for change that continues to erupt across the United States: Confederate monuments have been toppled, police department budgets examined, companies and products boycotted, and the most sweeping law enforcement reform bill in U.S. history passed the House of Representatives. However, there clearly is a long road ahead that will require commitment across all parts of society, from government to businesses to individuals.
According to a 2019 report by the N Square alliance, practitioners in the nuclear threat-reduction field widely perceive a culture of exclusivity and a lack of empowerment of diverse voices. This lack of diversity is detrimental to the goals of the field as it creates talent gaps and policy echo chambers. At a recent NTI webinar co-hosted by Gender Champions in Nuclear Policy (GNCP), Women of Color Advancing Peace and Security (WCAPS), and Out in National Security, NTI Co-Chair and CEO Ernest J. Moniz noted that the field works to confront potentially world-altering problems, but "if we are not hearing from a diverse set of experiences and perspectives, we will not solve them."
Panelists discussed several reasons why diversity, equity, and inclusion (DEI) are necessary in the field, as well as the challenges to their achievement. Jane Rhee, the executive director for Global Public Affairs at the Estee Lauder Company and a former Foreign Service officer, pointed out that the very question of why diversity matters places a burden on people of color to have to argue their worth. For her, the question is, "Why continue with the way things are?" She added that "we are doing ourselves a disservice if we continue to hire and promote people the same way." Ambassador Bonnie Jenkins, founder and executive director of WCAPS, said she believes the problems with achieving DEI are caused by hiring pipelines. She said that to address this issue, institutions need to develop more comprehensive pipelines that can could recruit from minority-serving institutions. She added that organizations can promote the visibility of people of color who work in the field, and those people then can inspire and mentor young professionals. During the interactive polling portion of the webinar, participants overwhelmingly responded that to make progress on DEI, they need "mentorship programs to provide diverse staff at all levels with ongoing support for career development."
Ambassador Laura S. H. Holgate, vice president of the Materials Risk Management program at NTI and co-founder of GNCP, said that during her career she has experienced women being spoken over, disrespected, and harassed. She noted that "the persistence of the gender gap in the face of a growing pipeline of talented women joining the field means this problem is institutional and requires structural change." Loyce Pace, president and executive director of Global Health Council, discussed the COVID-19 pandemic and how "women are at the greatest risk of having no way out during global health emergencies." She noted that women are more likely than men to be employed in the informal economy and typically earn less than their male counterparts, putting them at increased risk of financial insecurity. These financial hardships coincide with the increased rates of domestic and intimate partner violence experienced by many women under stay-at-home-orders. Despite these phenomena, women are excluded from too many decision-making tables about COVID-19.
Shawn Skelly, co-founder of Out in National Security, said she is impressed by the intersectionality of the movement. However, while both Skelly and Jenkins make note of the increased engagement on the issue, they emphasized the need for this movement to be focused on the long-term. Loyce added that "we have seen parts of this movie before … where organizations have committed to change, but there's still so much more that needs to be done." She said now is the time for people to look inward and see what personal action can be taken, mentioning that individuals invited to speak on panels could be more conscious of panel representation and promote the engagement of diverse participants, both actions that Gender Champions in Nuclear Policy pledge to undertake whenever possible (read GNCP's first impact report here).
Jenkins believes that in order to move forward we need to learn from those who came before us. For Skelly, her greatest resource has been her ears, emphasizing the importance of being an active listener and knowing how your voice may take away space from others. In terms of tangible resources, Rhee praised The Warmth of Other Suns by Isabel Wilkerson, Holgate cited the book What Works: Gender Equality by Design by Iris Bohnet, and Loyce recommended Emergent Strategy: Shaping Change, Changing Worlds by Adrienne Brown.
Commenting on recent events in the U.S., Jenkins observed that "if you flip the ball around, you can see how police brutality at home––harming those with no voice in the actions against them––is reflected also in how people of color are absent from decisions (about) nuclear weapons that have impacted them," such as nuclear weapons testing. Holgate noted that the events are a reflection on the growing militarism of our society, where we are quicker to "go for the weapon rather than the conversation." Rhee concluded that "there's no such thing as an equal playing field, and there never has been."
Stay Informed
Sign up for our newsletter to get the latest on nuclear and biological threats.