Baltic States, Poland Said Unimpressed by U.S. Response to Ukraine Crisis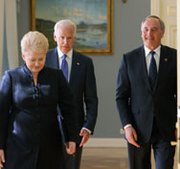 Eastern European NATO countries are not yet satisfied by the U.S. response to Russian aggression in Ukraine, according to news reports.
U.S. and European sanctions against a handful of Russian government officials and stepped-up U.S. military drills and patrols in Eastern Europe have not deterred Russian President Vladimir Putin from annexing Crimea. Former Soviet satellite states such as Estonia, Latvia, Lithuania and Poland are watching Russia's actions in Ukraine and are worried they could be targeted next, the Associated Press reported on Tuesday.
"The punishment doesn't fit the crime, and the Baltic states and central European states know this," Wilson Center Europe expert Michael Geary said. "They're worried that the U.S. response has been mediocre at best, and there's a palpable sense they need reassurance. Will they be protected in the event of further westward march by Russia?"
U.S. Vice President Joe Biden was in Vilnius, the Lithuanian capital, on Wednesday for meetings with the leaders of Latvia and Lithuania, with the aim of reassuring them of the U.S. commitment to their security. A day earlier, he was in Warsaw, Poland, on the same mission.
"Have no doubt: The United States will honor its commitment," Biden said on Tuesday. "We always do."
Biden said that additional economic sanctions on Russia were in the works, as were additional NATO military maneuvers planned to take place in Poland.
Still, there was not much new in his description of the slight uptick in military force deployments. Recent augmentations of F-16 jets to Poland and additional F-15 aircraft to participate in a NATO air patrol mission are only temporary, and will be replaced by other nations' forces when Washington pulls its equipment back, the New York Times reported.
A long-planned deployment of advanced U.S. missile interceptors at Redzikowo in 2018 is still on schedule, Biden told Warsaw. However, a recent congressional investigation concluded that the Defense Department was likely being too optimistic in its forecast of the schedule for establishing the desired intermediate-range antimissile capability in Poland.