Benefits Seen in Canceling Planned U.S. ICBM Interceptors in Europe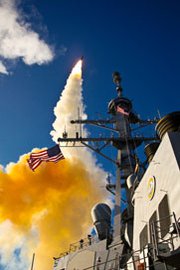 WASHINGTON -- Improved relations with Russia could be one benefit that derives from a potential move by the Obama administration to implement the findings of recent expert report and cancel plans to deploy ICBM interceptors in Poland, according to missile defense experts.
In a congressionally ordered report released last week, the National Research Council concluded it was not necessary for the United States to field next-generation Standard Missile 3 Block 2B interceptors to defend European allies from ballistic missiles fired from the Middle East. The system would also not be optimal for protecting the mainland United States, according to the findings.
"It's not that Phase 4 is a stupid idea or that it won't work," Walter Slocombe, who co-chaired the NRC expert committee that wrote the report, said in an interview with Global Security Newswire. "It is that it is only necessary for the defense of the United States and there is a better way to do the defense."
Phase 4 refers to the final stage of the White House's European "phased adaptive approach" that would field increasingly sophisticated sea- and land-based missile interceptors around Europe for the stated purpose of fending off potential Iranian ballistic missile strikes.
Russia views the Obama plan, particularly Phase 4, as a threat to its own long-range nuclear deterrent. It has threatened a host of military responses, including deploying short-range ballistic missiles in territory bordering NATO states, and has also linked beginning new bilateral nuclear arms control talks with resolving the missile defense dispute.
"It is a fact that the Russians seem to be less concerned about a U.S. missile defense that is intended to defend the United States from [within] the United States than a defense that is intended to defend from Europe," Slocombe noted in discussing possible gains that could be realized if Phase 4 is canceled.
Throwing out plans to deploy the Block 2B interceptors "should significantly reduce the Russian complaints although it won't get rid of them. It shouldn't be the primary reason (for doing it) but it does have that benefit," said Michael Elleman, a senior fellow on missile defense with the London-based International Institute for Strategic Studies, in a telephone interview.
The NRC panel concluded that improving the Ground-based Midcourse Defense system was the best option for shielding the United States from long-range ballistic missile strikes. That conclusion was based on an analysis of the physics involved in intercepting missiles fired from the Middle East, according to Slocombe.
The GMD system, comprised of 30 silo-based interceptors fielded in California and Alaska, is the country's principal line of defense against long-range missile attacks. In its current design, it is best suited to countering a limited strategic missile assault launched from North Korea. The NRC committee concluded the system was insufficient for fending off a large-scale missile attack launched by other countries. Its recommendations included establishing a third GMD interceptor site, possibly in Maine or upstate New York, to provide a better angle for responding to missiles launched from Iran.
If all the recommended changes are made, the Ground-based Midcourse Defense program would be more likely than the planned SM-3 Block 2B to succeed in destroying an ICBM heading toward the United States, Slocombe explained.
While a Poland-based interceptor could be outflown by a faster strategic missile, a U.S.-based defense would have a longer window to eliminate the threat, according to the former Clinton administration Defense undersecretary for policy. An enhanced GMD system could fire off several rounds of interceptors at the enemy missile while taking the time in between to recalibrate flight trajectories based on data gathered by radars and sensors.
"Each [GMD] engagement provides additional information so that your second engagement has a higher probability of being successful than the first," Slocombe said.
Responding to questions on the Defense Department's reaction to the NRC finding on Phase 4, Pentagon spokeswoman Lt. Col. Monica Matoush said by e-mail that "while DOD does not agree with every conclusion in the National Academy report, it is evaluating the report's recommendations as well as the recommendations of a number of other studies."
Matoush said results of that internal analysis would be reflected when the department sends Congress its fiscal 2014 budget proposal early next year.
Rick Lehner, spokesman for the Pentagon's Missile Defense Agency, used somewhat stronger language in rejecting the finding on Phase 4.
"Certainly the Defense Department doesn't agree with the assessment of the NRC in this case," he said. "We believe Phase 4 will provide a forward-based defense of the U.S. homeland from a future long-range missile threat from Iran and it will also complement the existing Ground-based Midcourse Defense System now in Alaska and California for a more effective homeland defense."
Elleman, however, agreed with the NRC report's finding and said Phases 1-3 should provide a more than adequate defense of Europe from short-, medium-, and intermediate-range ballistic missiles fired from the Middle East.
"In an ideal world you would do both" Phase 4 and an enhanced GMD system, said a senior Senate staffer whose portfolio includes missile defense. The source spoke on demand of anonymity as he is not authorized to speak on the record.
"The 2B missile will not be available until 2021, 2022" at the earliest, he said in offering a rationale for moving forward with building a third East Coast GMD installation. Republicans in the House of Representatives have passed legislation demanding such a site be established no later than 2015.
The Defense Department in its public 2012 assessment of Iran's military capabilities said there is intelligence suggesting the nation by 2015 could be ready to flight-test an ICBM if it receives technical outside help.
Iran is understood to not presently have any operational ballistic missiles with ranges exceeding 800 miles, though its developmental Sajjil 2 ballistic missile is designed with a range of up to 1,250 miles. Tehran has not conducted a flight test of the weapon since February 2011.
Brookings Institution Arms Control Initiative Director Steven Pifer has floated an idea for resolving the dispute with Russia on missile defense that would essentially see Washington promise to delay or cancel development of the Block 2B interceptor if it determines within a certain amount of time that Iran is not close to wielding a continent-spanning ballistic missile. The interceptor is officially projected for deployment around 2020.
Pifer told GSN that such a move would push Russia to use "whatever levers" are available to prevent Iran from acquiring an ICBM. Still, the former U.S. ambassador to Ukraine said he has "heard no suggestion from anybody in the administration that they are prepared to do away with Phase 4."
The Obama administration does not want to give Republican opponents, particularly presidential contender Mitt Romney, any opening to paint it as weak on national security. That likely means no decision on the future of Phase 4 will be made before November elections, issue experts told GSN.
"We are in a very charged political season and I am sure there would be people who would love to play that and say the administration is not committed to missile defense," Pifer said.
The Obama administration has its hands somewhat tied on the issue of European missile defense. In securing the Senate's late 2010 ratification of the New START nuclear arms control accord with Russia, the president affirmed in writing that it was his intention to move forward with all four stages of the phased adaptive approach, according to Pifer.
A Romney White House would probably be in a better position politically than a re-elected Obama to replace Phase 4 with an improved GMD system, according to the Senate staffer. Romney could make the argument to Republicans in Congress that he is doing away with an aspect of his predecessor's missile defense agenda that is not technologically ready or strategically necessary, he said.
In the event President Obama is elected to a second term, the administration is not without options in supporting cancellation of the costly Phase 4 and securing new monies for the Ground-based Midcourse Defense system, according to Elleman.
"I think if the Obama administration casts it in terms of budget constraints and actual efficacy they could easily push forward the argument" of substituting a new East Coast interceptor site with Phase 4 of the EPAA plan, he said.
Whether it happens under an Obama or Romney White House, replacing Phase 4 with a stronger GMD approach is "a very good deal for Republicans," the Senate aide said. "They can forgo the 2B and in return for that they get what they really want, which is strengthened protection for the United States."
"It's a very viable compromise but when politics intrude that makes it much more complicated," he said.
Correction: An earlier version of this article misstated information provided b a source on the anticipated timeline for finishing work on the Standard Missile 3 Block 2B interceptor.
About
WASHINGTON -- Improved relations with Russia could be one benefit that derives from a potential move by the Obama administration to implement the findings of recent expert report and cancel plans to deploy ICBM interceptors in Poland, according to missile defense experts.
Countries