China Sees 'Imbalance' in Japan's Plutonium Plans, Despite Upcoming Cuts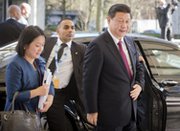 THE HAGUE, NETHERLANDS -- China is wary of Japan's plutonium-stockpiling plans, despite new efforts to ship some of the material to the United States.
Miao Wei, Beijing's minister of industry and information technology, delivered that assessment during a press conference here last week, attended mainly by Chinese media.
During the Tuesday event -- held as a two-day Nuclear Security Summit of world leaders wrapped up -- Miao was asked to present the Chinese government's view of a new initiative under which U.S. officials will help Tokyo repatriate hundreds of kilograms of sensitive U.S. nuclear materials from the Fast Critical Assembly in Tokai.
"We appreciate and also support the American efforts to recover sensitive nuclear materials overseas, and we are also pleased to see that the calls of the international community have been repaid," said the Chinese minister, speaking via interpreter.
"But as we understand, Japan still has stockpiles of other sensitive nuclear material," Miao continued. "So we hope that Japan can address the concerns of the international community as quickly as possible, and take real steps to address the imbalance between its real needs for developing nuclear energy and its stockpiling."
Some nonproliferation experts see risk in Japan's stockpiling of nuclear materials, especially as the planned Rokkasho mixed-oxide fuel facility is expected to generate tons of additional plutonium. The material, if stolen, could be used by terrorists to fashion atomic arms.
A number of observers in and outside of Japan also think the growing plutonium stockpile constitutes a deterrent of sorts against aggression from any would-be adversaries, as the materials could give Tokyo a latent capability to produce atomic weapons.
Japanese Prime Minister Shinzo Abe, who separately spoke to reporters at the biennial confab, has defended his country's course. He argued that all of Japan's plutonium is needed for nuclear-energy production and that the International Atomic Energy Agency is providing strict oversight.
"We voluntarily have disclosed information about our management of plutonium and the information is more detailed than advised in international guidelines," Kyodo News quoted Abe as saying.