Chemical Security Legislation Effort Deflates, Advocates Eye EPA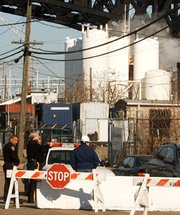 WASHINGTON – Controversy surrounding an internal memo raising concerns about the U.S. Homeland Security chemical security program, combined with a legislative turf war on Capitol Hill, is sapping energy from an effort to authorize the program over the long term, sources close to the issue say (see GSN, Feb. 7).
The latest obstacle to making the Chemical Facility Antiterrorism Standards permanent comes as a federal advisory panel is poised to endorse a bid by a coalition of labor and environmental groups to have another federal agency fill perceived gaps in the DHS program. Critics have said the Homeland Security effort is ill-equipped to protect chemical facilities from terrorism, and that, absent congressional action, the Environmental Protection Agency could use existing legal authorities to address the claimed void.
Facilities covered by the DHS program must submit plans for dealing with 18 areas of risk including physical protections, control of access, materials security, insider attacks and computer infiltration. As of Jan. 6, the program covered more than 4,000 high-risk sites, many of them chemical manufacturing facilities.
However, according to an internal memo that has come to light in recent months, the program has been plagued by a litany of management issues, including a failure by Homeland Security personnel to complete reviews of plant security plans. The memo reportedly describes numerous faults stemming from insufficient preparation of program personnel, unsuitably high dependence on contracted specialists and doubts linked to a lack of permanent authorization for the program.
Critics have raised concerns that the shortcomings could increase the risk of incidents in which hazardous chemicals are intentionally released from facilities, potentially causing great harm to people in the surrounding area. The findings raise questions about plans to renew the program, now authorized under a short-term measure to continue through Oct. 4, some sources say.
"The emergence of DHS' memo has, in fact, slowed consideration of legislation, as we want to make sure the issues raised in the memo are properly addressed," Charlotte Baker, a spokeswoman for the House Energy and Commerce Committee, one of two House panels with jurisdiction over the issue, told Global Security Newswire. "This memo has raised some serious questions concerning the management of the program, therefore we feel it would [be] imprudent to move legislation without getting some answers first."
Backed by industry, leaders of the House Homeland Security Committee -- which also has jurisdiction over chemical security matters -- have sought to prevent the memo from being used as a reason to not extend the program. Despite its managerial shortcomings, the program has "unquestionably improved the security of our chemical industry," Representative Dan Lungren (R-Calif.) said during a March 6 hearing.
Lungren, chairman of the Homeland Security infrastructure protection subcommittee, said that the government has "already spent $100 million" and that the private sector has spent "billions" to secure chemical facilities. The memo should "not be misread to [suggest] we wasted money," Lungren said. The program has provided a "model for public-private partnership" that ought to be continued, he added.
William Allmond, vice president for government relations at the Society of Chemical Manufactures and Affiliates, said in testimony to Lungren's panel that the security initiative has led to more than 2,000 facilities voluntarily taking steps to "reduce their risk profile sufficiently that they no longer warrant regulation under the program."
While they expect the program to continue through yearly extensions authorized under the congressional appropriations process, industry officials do not expect efforts to make the program permanent to succeed, however. Long-term authorization of the program is preferable for industry, as it reduces the potential costs associated with regulatory uncertainty from year to year.
In this vein, industry groups back two bills pending in the House: H.R. 901, which the Homeland Security Committee approved last year, and H.R. 908, a similar piece of legislation that passed the Energy and Commerce Committee in 2011. The bills would authorize the current program for seven years. However, both require the blessing of Energy and Commerce Committee leadership in order to advance further in Congress -- fact that makes it highly unlikely that either bill will do so this year, Allmond told GSN.
Before the memo leak, Energy and Commerce was unlikely to act on H.R. 901 due to its desire to maintain exclusive jurisdiction over the chemical security issue, Allmond noted. In the aftermath, the energy committee now appears reluctant even to "see its own bill move forward," meaning H.R. 908 is also effectively dead as panel leaders are not pushing for consideration on the House floor, he added.
Labor groups, environmentalists and some Democrats say the security of chemical facilities would be inadequate under both House measures, and instead favor a pair of bills Senator Frank Lautenberg (D-N.J.) introduced last year.
The House bills "[a]ctually bar the DHS from requiring any 'particular security measure' including safer chemical processes," Greenpeace said in a March 6 release. The group argues the government should have the authority to require facilities to upgrade to so-called "inherently safer technology," meaning a facility would when possible be required to use safer chemicals and systems than the more dangerous, conventional substances that might now be in place.
Since they lack this requirement, the House bills, along with the current program they would extend, fail "to reduce the consequences of an attack at any of the 4,222 'high risk' chemical facilities now in the program," Greenpeace said in a March 6 release.
The House measures also fail "to protect people living and working near 2,400 U.S. drinking water and waste treatment plants and approximately 500 chemical facilities located on navigable waterways, including a majority of the U.S.'s 150 refineries" because they exempt "chemical facilities regulated by the Safe Drinking Water Act, Federal Pollution Control Act, the Maritime Transportation Security Act" and the Nuclear Regulatory Commission, Greenpeace argued.
Lautenberg's bills -- S. 709 and S. 711 -- would close these asserted loopholes by requiring that chemical facilities upgrade to so-called "inherently safer technology" environmentalists complain is lacking from the current program and by including water treatment facilities within the program's jurisdiction, according to Greenpeace.
Although President Obama endorsed similar legislation while a senator, Lautenburg's bills are also not expected to see much action due to a lack of sufficient votes in the upper chamber, according to Rick Hind, Greenpeace legislative director.
Given the dim prospects for legislative action, a coalition of labor and environmental groups is turning to the Environmental Protection Agency in hopes it could use its existing authority under the Clean Air Act to ensure the security of chemical facilities.
The air law's "general duty clause … obligates chemical facilities to prevent catastrophic releases," members of the so-called BlueGreen Alliance noted in a January letter to EPA Administrator Lisa Jackson. The agency could use the clause to create "new prevention standards [that] could eliminate catastrophic chemical hazards to millions of people living downwind of ultrahazardous chemical facilities," according to the letter, whose signatories include the United Steelworkers, the International Chemical Workers Union Council and Physicians for Social Responsibility.
The groups' proposal is expected to receive the official endorsement of a federal advisory panel in the coming days.
The National Environmental Justice Advisory Council, a federally sanctioned group that provides advice on issues expected to disproportionately affect low-income and minority communities, has drafted a letter regarding the agency's ability to "reduce or eliminate chemical disasters" using its Clean Air Act authority, according to EPA spokeswoman Stacy Kika.
Panel members, which include industry officials, academics and community leaders, "have concluded their deliberations and are in the process of submitting ballots declaring whether they endorse the findings and recommendations outlined in the draft letter," Kika said. The letter will become public when it is finalized, according to Kika.
About
Controversy surrounding an internal memo raising concerns about the U.S. Homeland Security chemical security program, combined with a legislative turf war on Capitol Hill, is sapping energy from an effort to authorize the program over the long term, sources close to the issue say.
Countries