DOE Official: Security Breach May Necessitate Nuclear Agency's Elimination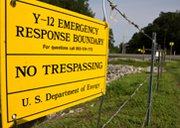 ARLINGTON, Va. – The Energy Department's top safety and security official suggested on Thursday that eliminating the semiautonomous National Nuclear Security Administration might be prudent in the wake of last year's highly publicized break-in at the Y-12 nuclear weapons facility.
Glenn Podonsky, who heads the DOE Health, Safety and Security Office, said he could not speak to any major restructuring of the nation's nuclear weapons complex the Obama administration might pursue in the wake of the security breach in Tennessee. He also noted that a 12-member congressional panel charged with studying the issue is just beginning to form.
However, Podonsky said he believes the nuclear arms complex operated better while directly under the Energy Department's defense programs, prior to the nuclear agency's formation in 2000.
"When NNSA was defense programs, it really wasn't working badly and it can be improved," Podonsky, who has been involved with DOE oversight for 29 years, said during an address at an annual nuclear deterrence summit.
"Anything that caused the Hill to decide to create NNSA – any of those issues – I believe, would be addressed by clearly identifying what the roles and responsibilities are in each of the levels of the department."
Congress created the agency in response to a series of security incidents, including ultimately dropped charges that Los Alamos National Laboratory scientist Wen Ho Lee had passed nuclear arms secrets to China. Various security lapses have continued to occur after its creation, capped by the July 2012 intrusion of an 82-year old nun and two other peace demonstrators into a high-security sector of Y-12 that houses weapon-grade uranium.
Podonsky noted the new congressional panel, mandated by a fiscal 2013 spending law, would likely study a variety of options for how to improve oversight of national laboratories and other components of the U.S. nuclear weapons complex. One anticipated option would be to "take the weapons complex out of the department altogether [and] make it an independent agency rather than one that operates with reduced oversight but is still ultimately answerable to the Energy secretary. Podonsky said he would oppose such a move.
"Not having the weapons complex under a Cabinet position – I think it's underestimated what that would do," he said.
Another possibility would be to move the weapons complex to the Defense Department, which the official said he also opposed. "From where I sit, I don't see the Department of Defense supporting the labs the way the [Energy] Department has over the years and I don't see the integration of the other 14 science labs being the same," he said.
"While nobody's asking my opinion, it's clear to me that … having lived through it, I think where we were with defense programs at the time is the way to go," Podonsky said, referring to the pre-NNSA era. He said "the current structure clearly has not worked so you can't keep it as that."
Some have argued in recent years that DOE oversight of the weapons complex is too onerous, and there have been efforts to limit the power of Podonsky's office. Republicans on the House Armed Services Committee backed legislation last year that would have significantly limited the ability of Podonsky and other Energy Department officials to influence safety and security policy across the weapons complex. Democrats and some GOP lawmakers rallied against the move, saying the Y-12 break-in showed that, if anything, more DOE oversight was needed.
Speaking at the summit on Friday, House Armed Services Committee Republican staffer Drew Walter said the panel would likely seek legislative NNSA reforms again this year, but said they might not be "as grand in scope" as those it perused last year. According to Walter, the panel drafted last year's controversial legislation in the interest of sparking debate on the issue.
Podonsky told Global Security Newswire he believes the Y-12 intrusion has convinced many in government of the importance of his office's work in ensuring health, safety, environment, physical security and information security at the department. He acknowledged during his summit talk that prior to the incident he spent "most of [his] time in the last four years keeping HHS alive and functioning."
Podonsky said Thursday that he was not in favor of federalizing the nuclear complex guard force, which is now managed by contractors. The Government Accountability Office identified more than 40 security violations at NNSA facilities between 2000 and 2007, including one in which an employee at Los Alamos National Laboratory removed more than 1,000 pages of classified documents.
"From our studies that we've done over the last four or five years … we found that federalizing the guard force is not going to make the prospect of security any stronger," Podonsky said. "It still comes down to leadership, comes down to roles and responsibilities, it comes down to the community as a whole accepting the importance of security."
Among those who have promoted such a shift is retired Air Force Maj. Gen. Donald Alston, a member of the DOE Protective Forces Advisory Panel. Alston said during a panel discussion on Wednesday that he believed weapons complex security would benefit from a more direct chain of command that does not include contractors.
"I certainly support the reality that defending the valley in Tennessee is different than the plains of Amarillo … but there ought to be sufficient central control and oversight … with traceable accountability that can ensure that methodical change is implemented," Alston said, referring to the Y-12 site and the Pantex Plant in Texas.
Industry officials during a panel discussion on Thursday argued against major NNSA reform as a means of responding to the Y-12 incident.
"I believe it can be done within the current structure," said Chris Gentile, president of Honeywell Federal Manufacturing & Technologies. He suggested it was more important that Congress provide the weapons complex with consistent funding than authorize wholesale reform.
About
ARLINGTON, Va. – The Energy Department's top safety and security official suggested on Thursday that eliminating the semiautonomous National Nuclear Security Administration might be prudent in the wake of last year's highly publicized break-in at the Y-12 nuclear weapons facility.
Countries