Dutch Unlikely To Meet Nuclear Security Summit Promise on Reactor Conversion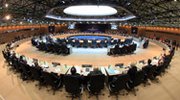 The Netherlands -- host of this month's biennial Nuclear Security Summit in The Hague -- will likely be unable to meet a commitment it made at the last such meeting of world leaders in South Korea, documents released Thursday by a watchdog group show.
At the 2012 summit, the United States, France, Belgium and the Netherlands agreed to collaborate towards producing medical isotopes without use of weapons-grade highly enriched uranium by 2015. Under the deal, Dutch producer Mallinckrodt was expected to convert its reactors to low enriched uranium by that time.
However, in a December 2013 presentation to U.S. officials, the company referred to the 2015 date that the four countries agreed to as an "aggressive, aspirational goal." The University of Texas-Austin's Nuclear Proliferation Prevention Project obtained a copy of the presentation, and made it public, along with other related documents.
"Despite our best efforts for conversion, we have run into some technical issues which have delayed the project," read the briefing slides by Mallinckrodt Strategic Alliances Director Roy Brown. "These delays will likely require HEU shipments throughout 2015 and 2016 to assure patient needs are met, before full conversion to LEU is attained."
Company and Dutch government officials subsequently confirmed the delay in Jan. 27 and Feb. 16 letters to Alan Kuperman, coordinator for the Nuclear Proliferation Prevention Project.
Kuperman, an associate professor at the University of Texas-Austin and a former congressional aide, said Brown reiterated the delay again on Wednesday at a White House meeting. Kuperman, who was present at the meeting, said company officials cited a new 2017 target date for LEU conversion, but implied that there could even be further delays beyond that.
U.S. Energy Department officials, who also participated in the Wednesday meeting and who lead Obama administration efforts to reduce proliferation concerns related to medical isotopes, could not be reached for comment by press time.
Mallinckrodt spokeswoman Lynn Phillips on Friday said she could not discuss the company's discussions with government officials, but confirmed it had experienced delays in the conversion program. The company continues to work "diligently" toward conversion, but a "self-imposed" 2015 deadline that she said the company had set a year prior to the 2012 summit had been pushed back to 2017. She noted this new target date was in advance of 2020, when the United States plans to halt HEU exports.
Kuperman, along with two other U.S.-based activists, wrote to Dutch government officials on Jan. 22 and urged them to intervene. Specifically, they asked the Dutch government, which will host the 2014 summit in less than two weeks, to persuade Mallinckrodt to accept U.S. financial and technical assistance in order to speed the conversion process. The U.S. Energy Department has provided financial assistance for conversion efforts in Belgium and South Africa, but Kuperman claims the Mallinckrodt initially refused such aid for its operations in the Netherlands, citing conversations with U.S. officials.
"It would be a grave embarrassment for your country at the forthcoming summit if the Netherlands were not perceived as doing everything possible to meet its commitment from the preceding summit," said the letter, signed by Kuperman, Princeton University Senior Research Physicist Frank von Hippel and Union of Concerned Scientists Senior Scientist Edwin Lyman.
Piet de Klerk, the Dutch foreign ministry official organizing the summit, responded to the letter on Feb. 26. He said Mallinckrodt had "restarted discussions with the U.S. Department of Energy about potential funding of a portion of the conversion costs," but that financial assistance was "not the prime key to success."
According to de Klerk, overcoming technical challenges was the most important factor in the delay.
"This is a time-consuming process of testing and re-testing, in which every step of the process, in the interest of safety and product quality, has to be approved by the regulatory authorities," de Klerk wrote. "The Netherlands government remains fully committed … and is fully confident that the industries involved will reach the goals set in 2012 as expeditiously as possible."
Kuperman argues, however, that Mallinckrodt officials admitted that a lack of adequate resources was indeed a factor in the delay. In a Jan. 17 letter to Kuperman, Brown wrote that Mallinckrodt experienced unexpected reactor shutdowns and maintenance issues since the 2012 summit that required the company to "direct substantial resources to those efforts [which] slowed conversion."
Phillips reiterated on Friday that the reactor shutdowns were responsible for the delays.
Belgium, Europe's other major producer of medical isotopes, is still expected to meet the 2015 conversion deadline, Kuperman said. He noted that companies in Australia, South Africa and Argentina are already producing medical isotopes without highly enriched uranium.
Kuperman chastised the Dutch government for what he said was a failure to act more quickly to ensure that Mallinckrodt would enable the country to comply with the summit pact.
"It is a huge embarrassment and sets a terrible example when the summit host violates its own pledge," Kuperman said in a written statement Thursday. "'Do as we say, not as we do' is not an effective foreign policy."
Officials at the Dutch embassy in Washington were unable to comment by press time.
Under the 2012 agreement, the United States, which does not currently produce its own medical isotopes, agreed to collaborate with the European nations on their conversion efforts and to continue to supply them with highly enriched uranium until those conversion efforts are complete.
About
The host of this month's global gathering is expected to produce medical isotopes using bomb-grade uranium at least two years longer than expected.
Countries