White House Suggests End to MOX Project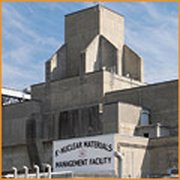 WASHINGTON -- The White House on Wednesday suggested it might cancel construction of an Energy Department plant that would convert nuclear weapon-usable plutonium into fuel for atomic energy reactors.
The United States has already invested $4 billion in the Mixed Oxide Fuel Fabrication Facility at the Savannah River Site in South Carolina, one lawmaker said on Tuesday. The projected cost for the controversial project has increased from $4.9 billion to $7.7 billion, according to congressional auditors, and its estimated completion date has been pushed back from 2016 to 2019.
"This current plutonium disposition approach may be unaffordable ... due to cost growth and fiscal pressure," the White House Management and Budget Office said in a briefing document on the DOE spending request for the fiscal year that begins on Oct. 1.
Specific budget figures were expected to be released later in the day.
The new facility is intended to ensure Washington meets its commitment to a 2000 agreement in which the United States and Russia each pledged to eliminate 34 metric tons of plutonium. That is enough fissile material to power 17,000 nuclear weapons.
"While the administration will assess the feasibility of alternative plutonium disposition strategies, resulting in a slowdown of MOX Fuel Fabrication Facility construction in 2014, it is nonetheless committed to the overarching goals of the plutonium disposition program," according to the OMB document.
An administration official, who requested anonymity in speaking before senior Energy Department officials formally presented their fiscal 2014 budget plans, said "we owe it to the American people to continually review our work and make strategic decisions for the future, so we have stepped back to take a thoughtful look at the MOX project and our plutonium disposition options."
Appearing Tuesday on Capitol Hill, Energy Secretary-designate Ernest Moniz repeatedly refrained from offering an opinion on whether the MOX project should be completed or abandoned.
The Massachusetts Institute of Technology physicist was the DOE special negotiator for the U.S.-Russian plutonium deal.
"I certainly think we need to honor our agreement with Russia in terms of mutual disposition of plutonium," Moniz, who is in line to replace DOE chief Steven Chu, said during his confirmation hearing before the Senate Energy and Natural Resources Committee.
Moniz noted that at the time of the deal the only other option for dealing with the plutonium was vitrification, which would essentially convert the material into a glass-like substance that could be stored for decades without degrading.
Some issue experts have argued there is a greater proliferation threat in the MOX route, including the potential for insiders to divert material at the conversion plant. There have also been questions about the market for the reactor fuel.
"You said there are basically two paths to go down, one being a path that we've already invested $4 billion, 60 percent completion, and the other path that we haven't started on. So my real question was, should we continue down this path?" Senator Tim Scott (R-S.C.) said during an extended exchange of comments with the nominee.
Moniz answered, "All I can say, sir, is that, you know, I would need to be confirmed, look at what we're doing, look at the path forward, look at what the administration proposes, and then work with you and others to push through our commitment to dispose of 34 metric tons of plutonium."
Scott highlighted the expense of reversing course, including $1 million in daily penalties to the state of South Carolina for failing to complete work on schedule.
"If the funding is reduced by 50 (percent), 60 (percent), 75 percent, the ability to finish on time would not occur," the lawmaker said. "The impact on that to the federal government would be hundreds of millions of dollars in penalties."
Moniz said he would make the matter a "high priority."
"Let me make no mistake about my commitment to advance the agreement to dispose of the plutonium," he told Scott.
The senator's office did not respond to a request for comment by press time on Wednesday. There was also no immediate comment from plant contractor Shaw Areva MOX Services.
About
WASHINGTON -- The White House on Wednesday suggested it might cancel construction of an Energy Department plant that would convert nuclear weapon-usable plutonium into fuel for atomic energy reactors.
Countries