Fresh U.S. Nuclear Guidance Relies on Some Cold War Elements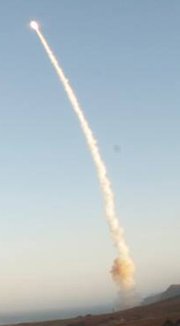 WASHINGTON -- While President Obama made headlines on Wednesday for proposing to negotiate with Russia fresh reductions in each side's fielded nuclear arms, the U.S. leader has more quietly directed the Defense Department to hang onto some notable mainstays of the Cold War.
A few hours after Obama's speech in Berlin, the Pentagon released publicly a report to Congress on guidance the president issued in recent days on "nuclear employment strategy" -- the broad targeting directives that help determine how many atomic arms the nation requires.
"On the one hand, the guidance directs pursuit of additional reductions in deployed strategic warheads and less reliance on preparing for a surprise nuclear attack," nuclear weapons expert Hans Kristensen said in a Thursday blog post. "On the other hand, the guidance reaffirms a commitment to core Cold War posture characteristics such as counterforce targeting, retaining a triad of strategic nuclear forces, and retaining non-strategic nuclear weapons forward-deployed in Europe."
The nine-page Defense report states that the fresh directive "requires the United States to maintain significant counterforce capabilities against potential adversaries. [It] does not rely on a 'counter-value' or 'minimum deterrence' strategy."
The term "counterforce" is Pentagonese for nuclear attacks against an enemy nation's atomic weapons, delivery systems, associated installations or command-and-control centers.
During the Cold War, a counterforce targeting approach was at times embraced in warfighting planning scenarios as a means of knocking out adversary nuclear capabilities before they could be used against the United States. However, gaining such a capacity required tens of thousands of warheads and created what were widely seen as dangerous incentives on both sides to trigger a nuclear war in a crisis.
Alternatives -- such as targeting U.S. nuclear arms against non-military targets or taking aim at population centers -- were widely seen as less effective deterrents to military aggression or simply unethical. The new Defense report said U.S. plans for any possible nuclear war would "seek to minimize collateral damage to civilian populations" and "not intentionally target civilian populations."
Yet these alternatives, by many accounts, could lead to smaller nuclear arsenals and the brand of lesser global dependence on nuclear arms that Obama has characterized as a long-term goal.
"This reaffirmation [of counterforce targeting] is perhaps the single most important indicator that the new guidance fails to 'put an end to Cold War thinking,' as envisioned by [Obama's 2009] Prague speech," wrote Kristensen, who directs the Federation of American Scientists' Nuclear Information Project.
He cited a U.S. Strategic Command-led study, undertaken in 2002, that characterized counterforce targeting as "preemptive or offensively reactive." Obama's adoption of the approach, he said, "undercuts efforts to reduce the role and numbers of nuclear weapons."
The Defense report also says that the president has told Pentagon leaders to "reduce the role of 'launch under attack.'" The reference here is to a U.S. ability to shoot nuclear warheads at an adversary on short notice, triggered in this case by indications that an atomic strike is under way against the United States or its allies.
At the same time, the new guidance also directs the Pentagon to retain a launch-under-attack capability at least for now -- albeit at reduced emphasis -- in case the president orders such a strike, according to the document sent to Capitol Hill.
Kristensen applauded the "important although late" move to reduce dependence on any launch-under-attack schemes for nuclear weapons use, saying it recognizes "that the possibility of a disarming surprise nuclear attack has diminished significantly since the Cold War."
The document alludes to the possibility of slightly easing U.S. nuclear "alert" postures -- which, as a first-time presidential candidate in 2008, Obama identified as an objective. However, the report lacks details of additional new steps the administration might be ready to take toward that end.
Another aspect of the new guidance speaks to the U.S. nuclear triad of bomber aircraft, ballistic missile submarine and ground-based intercontinental ballistic missiles. Despite periodic debate since the early 1990s over eliminating one or more legs of the U.S. nuclear triad, the guidance -- like the Pentagon's 2010 Nuclear Posture Review on which it is based -- reaffirms a need for all three delivery modes.
"Retaining all three triad legs will best maintain strategic stability at reasonable cost, while hedging against potential technical problems or vulnerabilities," the Defense report to Congress states.
Like the three-year-old posture review, the new report states that the Defense Department will "undertake concrete steps toward reducing the role of nuclear weapons in our national security strategy," echoing a key promise Obama made in Prague.
In that vein, the 2010 review said the administration would work toward making deterrence of nuclear attack the "sole purpose" of U.S. atomic arms. However, despite the passage of time since the review was completed, this week's report states that "we cannot adopt such a policy today." The document does not elaborate.
The new report does repeat the posture review's commitment to "deliberate planning for non-nuclear strike options" as a "central part of reducing the role of nuclear weapons," while noting that conventional arms are "not a substitute for nuclear weapons."
The administration appears to be attempting to coax more global allies that have enjoyed the security guarantee of Washington's nuclear umbrella – such as South Korea or NATO member states in Europe -- into the view that advanced U.S. conventional military capabilities also represent a formidable deterrent to enemy attack.
"The United States has relied increasingly on non-nuclear elements to strengthen regional security architectures, including a forward U.S. conventional presence and effective theater ballistic missile defenses," the Defense document reads. "As the role of nuclear weapons is reduced in U.S. national security strategy, these non-nuclear elements will take on a greater share of the deterrence burden."
Kristensen was disappointed, though, that the guidance did not visibly advance the idea of removing an estimated 200 nonstrategic nuclear-armed B-61 gravity bombs still deployed at six bases in five NATO nations: Belgium, Germany, Italy, the Netherlands and Turkey.
"In effect, the lack of initiative ... means countries like Lithuania now effectively dictate U.S. policy on non-strategic nuclear weapons," he said, referring to East European nations that have essentially vetoed a growing desire among Western nations to pull the remaining tactical bombs back to the United States.
About
WASHINGTON -- While President Obama made headlines on Wednesday for proposing to negotiate with Russia fresh reductions in each side's fielded nuclear arms, the U.S. leader has more quietly directed the Defense Department to hang onto some notable mainstays of the Cold War.
Countries