Gottemoeller Warns Against Stopping Nuclear Security Work in Russia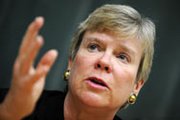 The State Department's top arms control official is stressing that it is in the best interests of the United States to continue doing nuclear security work in Russia -- even as the Ukraine crisis rages.
The Republican-led House Armed Services Committee last week approved legislative language that would prevent the U.S. Energy Department from using fiscal 2015 funds "for any contract, cooperation, or transfer of technology" between the United States and Russia until the crisis has been resolved. The panel included the language in its version of the annual defense authorization bill, which it passed last week.
Undersecretary of State Rose Gottemoeller suggested on Friday that such a prohibition would be tantamount to shooting "ourselves in the foot," however. "At the heart of our rationale for continuing this work" is that it is "manifestly in the national interest of the United States to continue … minimizing the danger that fissile materials [could] fall into the hands of terrorists."
Fissile materials are those that could be used to make an atomic bomb. Ukrainian authorities just last week announced the seizure of radioactive material they feared could have been used to make a radiological weapon.
"We acknowledge and are gravely concerned with the crisis in Ukraine -- there's no question about it," Gottemoeller said in response to a question from Global Security Newswire. "But we shouldn't shoot ourselves in the foot in terms of stopping or halting important national security work that prevents nuclear bombs from getting in the hands of terrorists because we have other grave concerns.
"I'm mixing metaphors here, but we can walk and chew gum at the same time," Gottemoeller added. "We must continue to address our core national security concerns while we address out grave concerns about this crisis in Ukraine."
According to Gottemoeller, certain nuclear security and nonproliferation activities have been "fenced off in this current crisis."
Among them is implementation of the New START arms reduction treaty with Russia, which she said "is going forward in a very practical way without difficulties."
Also included is the Energy Department collaboration with Rosatom, the Russian atomic energy agency, which she said had so far been responsible for the removal of 3,000 kilograms of highly enriched uranium and plutonium from third-party countries. The collaboration also involves upgrading the physical security of buildings in Russia where sensitive nuclear material is stored, DOE officials have said previously.
Although language in the House bill suggested this work had already been stopped and should remain so until the resolution of the situation in Ukraine, Gottemoeller said it was her understanding it had been unaffected by the crisis. A spokesman for the Energy Department's National Nuclear Security Administration made a similar statement to GSN earlier last week.
Speaking at a Defense Writers Group breakfast, Gottemoeller addressed other questions pertaining to nuclear weapons and the Ukraine crisis, including whether the former Soviet state should not have passed its atomic arsenal back to Russia as part of the so-called Budapest Memorandum after the end of the Cold War.
Referring to the agreement, under which Russia was to respect the sovereignty of Ukraine, Gottemoeller told reporters that "the document is not at fault." The crisis is the fault of Russia, which "blew past … the international rule of law" with the annexation of Crimea, she said.
"It would be a much worse crisis, in my view, if they had nuclear weapons," Gottemoeller added. She said it would be "difficult to speculate" what the possible outcome might have been in that scenario, but suggested further escalation of the conflict might have been possible.
In response to concerns over nuclear exercises Moscow initiated recently, Gottemoeller noted that Friday was Victory Day -- an annual holiday during which Russia celebrates the defeat of the Nazis in World War II.
"This kind of demonstrative activity is not unusual around this time," Gottemoeller said. "As far as I was concerned, I didn't find it unusual."
Gottemoeller also made an apparent response to participants at a U.N. meeting in New York last week who argued that the United States and other nuclear weapons nations are not disarming fast enough.
"There's a lot of arm waving that goes on often … among certain parts of the community saying, 'Oh, nothing's been done, nothing's been accomplished,'" Gottemoeller said while her staff passed out copies of a graph showing that the U.S. nuclear weapons stockpile -- which currently consists of 4,804 warheads -- is now more than five times smaller than it was during the Cuban Missile Crisis.
"Is it enough? No, and the president said we want to get to zero," Gottemoeller added. "It's going to take time; it's going to take hard work."
About
U.S. State Department official suggests legislative language drafted by House Republicans equivalent to shooting "ourselves in the foot."
Countries