Insiders: Iran Doubles Down on Uranium Demands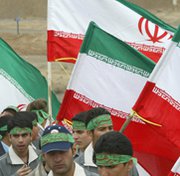 Iran is rebuffing calls to meaningfully scale back its uranium-enrichment capacity, lessening the likelihood of any deal in negotiations this week, Reuters reports.
Iranian and Western government sources on Wednesday said Tehran is rejecting calls to curb the quantity of centrifuges it is using to refine uranium. Iran is currently in talks with six other countries to discuss how it may limit its atomic activities in exchange for sanctions relief. Washington and its allies believe Tehran wants an option to produce high-purity material for nuclear bombs, but the Persian Gulf power insists its atomic ambitions are peaceful.
Iranian supreme leader Ayatollah Ali Khamenei "has set a red line for the negotiators and that cannot change," one Iranian insider said. "Uranium enrichment should be continued and none of the nuclear sites will be closed."

"What the West offers Iran on the number of centrifuges is like a joke and unacceptable," the source added.
A Western diplomat, though, said Tehran's unwillingness to budge on the matter is "making it difficult to envision a compromise at this point that we could all live with."
In talks with U.S. negotiators last week, Iran pressed to retain its stock of nearly 20,000 centrifuges, and to eventually expand the capacity to the equivalent of 150,000 such systems, two informed Western envoys told the Associated Press for a Tuesday article. Tehran also rejected demands to stop uranium-refinement efforts at an underground complex resistant to potential air attacks.
The sides also disagreed over a potential agreement's nuclear limitations, which Tehran hopes will sunset after 15 years.
Washington demanded strict limits for at least two decades, followed by another decade of looser curbs. Certain Western states, though, reportedly may accept a deal that imposes just 15 years of tight limits and a five-year period in which they are lifted.