Iran Demands Uranium Exchange Within Borders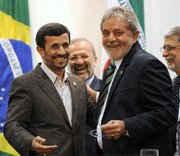 Iran said today that any exchange of its uranium would have to occur within its borders, Agence France-Presse reported (see GSN, Nov. 23).
The United States and other nations have urged Tehran to accept a U.N. proposal under which it would ship roughly 70 percent of its low-enriched uranium to other nations for further refinement. The material would then be returned to Iran for use in a medical research reactor.
The plan was intended to reduce immediate fears that Iran could enrich its existing uranium stocks for use in a nuclear weapon and to allow more time for negotiations on the atomic standoff. Iranian leaders last month indicated they would accept the proposal, but have since suggested it would not be acceptable in its current state.
"Iran is not opposed to sending uranium abroad, but is considering how to do that," said Foreign Ministry spokesman Ramin Mehmanparast.
Iranian leaders need a "100 percent guarantee" that the reactor-grade fuel would be provided, he said: "One of the guarantees is a simultaneous exchange of fuel inside the country."
That would mean handing over Iran's reserve of 3.5-percent enriched uranium for 20-percent enriched material.
"They (world powers) said that our 1,200 kilograms of 3.5-percent enriched uranium should be transported for further enrichment to 20-percent level by Russia and then to be converted into fuel by France for the Tehran reactor," according to Ali Bagheri, deputy secretary of the Iranian Supreme National Security Council.
"Iran has no problem in transporting its 3.5-percent LEU, but needs a 100 percent guarantee it will get the fuel for the Tehran reactor and one of the guarantees is the simultaneous exchange of fuel inside Iranian territory," he added.
Head Iranian nuclear negotiator Saeed Jalili suggested that, without such a guarantee, the government would acquire the reactor fuel by enriching the uranium itself or purchasing it on the open market, AFP reported (Farhad Pouladi, Agence France-Presse I/Yahoo!News, Nov. 24).
Tehran's latest statements are essentially a rejection of the proposal, according to the Associated Press (Nasser Karimi, Associated Press I/Time, Nov. 24).
U.S. President Barack Obama said Washington and its allies are considering additional sanctions against Iran should leaders there reject the uranium proposal.
Meanwhile, six world powers -- China, France, Germany, Russia, the United Kingdom and the United States -- are preparing a draft resolution to be presented at the December meeting of the Board of Governors to the International Atomic Energy Agency, AP reported.
The resolution would call for increased nuclear transparency from Iran, which only this fall acknowledged construction of a second uranium enrichment facility. It also would request that Tehran allow greater IAEA scrutiny of its nuclear operations and halt enrichment, which can produce nuclear reactor fuel but also material for weapons, sources told AP (George Jahn, Associated Press II/Google News, Nov. 24).
Brazilian President President Luis Inacio Lula da Silva, hosting Iranian President Mahmoud Ahmadinejad, said yesterday that a "just solution" is needed in the nuclear dispute, AFP reported.
Tehran has the right to "peaceful nuclear energy in full respect of international accords," Lula said. He called on his Iranian counterpart to "continue contacts with interested countries for a just and balanced solution on the nuclear issue in Iran" (Aldo Gamboa, Agence France-Presse II/Yahoo!News, Nov. 23).
Ahmadinejad said his nation would pursue improved uranium enrichment capabilities if it cannot acquire the material from other nations, AP reported.
"If the people ask us to produce ourselves, we should do it and the opportunity we tried to create for the other side will be lost," he said (Alan Clendenning, Associated Press III/Time, Nov. 24).
The Iranian president also said he had no concerns about possible attacks on nuclear sites by Israel or the United States, AFP reported.
"The age of military attacks is over, now we've reached the time for dialogue and understanding. Weapons and threats are a thing of the past," Ahmadinejad said (Gamboa, Agence France-Presse II).
Iran this week is conducting war games intended to test its ability to deal with strikes against its nuclear installations, AFP reported. Exercises yesterday involved a chemical-weapon attack and testing of indigenously produced radars (Agence France-Presse III/Khaleej Times, Nov. 23).
A missing component of Iran's defenses are advanced S-300 air defenses from Russia. A high-level Iranian military official said today that there could be consequences if Moscow fails to fill the order from Tehran, Reuters reported.
"The Russians, surely under the pressure of the Zionist lobby and America, refuse to fulfill their commitments," said Brig. Gen. Mohammad Hassan Mansourian, Tehran's No. 2 air-defense official.
"And because this is an official agreement it can be pursued through international legal bodies," he said (Parisa Hafezi, Reuters, Nov. 24).
The absence of the S-300 leaves a major hole in Iranian defenses of important facilities against air or missile strikes, according to United Press International (United Press International, Nov. 23).
Malaysia today confirmed that two residents and two firms had been connected by Washington to illicit exports of "dual-use" technology to Iran, AFP reported. A senior official said, though, that the country itself poses no proliferation threat.
"Our country is not a center for nuclear components or weapons or other weapons transshipments to Iran or anywhere else. We do not condone such activities," said Deputy Foreign Minister Kohilan Pillay.
"The items were exported from the U.S. to Dubai by these individuals and it was detected on the way from Dubai to Iran," he said.
"We do not know who the end user of these items was but Malaysia is definitely not involved in any way," Pillay added (Agence France-Presse IV/mysinchew.com, Nov. 24).