Iran Floats Proposals for Disputed Nuclear Bunker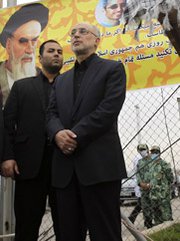 Iran said it aired proposals for resolving international fears about a uranium-refinement facility it is operating beneath a mountain, Reuters reports.
The gambit, announced on Wednesday, initially had uncertain ramifications for global concerns that the Qum bunker complex could give Iran a sheltered location to potentially enrich uranium fuel for a weapon, according to the news agency. The dispute over the site is one of several sticking points in multilateral negotiations aimed at lifting sanctions on the Middle Eastern nation and imposing still-undecided restrictions on its atomic efforts.
Ali Akbar Salehi, head of the Iranian Atomic Energy Organization, said his nation is open to "changing the [Qum] site into a research and development and backup site for Natanz," a larger Iranian enrichment site more vulnerable to potential airstrikes. Iran insists its nuclear program is strictly peaceful, but Washington and its allies want Tehran's atomic assets to be vulnerable in case it ever decides to pursue nuclear arms.
Salehi said Tehran may also consider changing the site into a space-radiation and physics-research facility that could collaborate with other nations, according to the Islamic Republic News Agency.
International Crisis Group analyst Ali Vaez said that endorsing the site's potential "conversion into a research and development facility is a concession" to six other negotiating countries.
He added, though, that the sides still "can't bridge the gap on the [main] contentious issues like [levels of] enrichment and sanctions relief."
Leaders from the six major powers are expected within days to send their top diplomats to the nuclear talks taking place in Vienna, the Wall Street Journal reported on Wednesday. The five permanent U.N. Security Council member nations and Germany hope the move would help the negotiating bloc to finalize a deal with Tehran before an interim accord's July 20 expiration.