Iran Nearly Done Paving Over Suspect Military Grounds: Analysis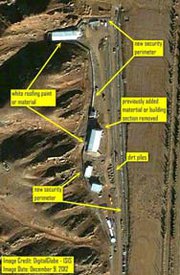 Iran has nearly finished paving over a military site that some experts allege once hosted nuclear weapon-related experiments, according to a photographic analysis released on Thursday by a Washington think tank.
The International Atomic Energy Agency unsuccessfully sought access to Iran's Parchin facility in nearly a dozen meetings held with Tehran since November 2011. The U.N. nuclear watchdog organization had aired suspicions that a structure based at this location was capable of facilitating nuclear-related explosives tests and supported the development of a "neutron initiator" for activating atomic detonations.
"Asphalting an entire area in this manner would make it very hard to take soil samples and likely be effective at covering up environmental evidence of nuclear weaponization-related experiments," the Institute for Science and International Security said in its assessment of satellite photos taken of the site on Aug. 13.
Iran for years has denied international claims that it is pursuing a nuclear-arms capability, and certain specialists have questioned the U.N. agency's rationale for pressing to visit the Parchin compound. The evidence behind that push -- intelligence gathered and furnished to the agency by IAEA member governments -- remains confidential.
Iran's construction at Parchin would prevent IAEA investigators from drawing firm conclusions from any future inspection, so the Persian Gulf power "has lost an important opportunity" to disprove accusations that it is attempting to conceal something, former IAEA safeguards chief Olli Heinonen told the Associated Press for a Thursday report.
Ali Asghar Soltanieh on Wednesday confirmed that he would step down in less than two weeks as Tehran's chief IAEA envoy, meaning that any future talks on U.N. access to the base would be led by new officials on each side, Reuters reported. Herman Nackaerts, who has led the talks for the Vienna, Austria-based organization as its current top safeguards official, is set to leave his position in September.
An international-relations insider with IAEA ties identified Mahmoud Reza Sajjadi, now Iran's envoy to Russia, as a likely pick to succeed Soltanieh, ITAR-Tass reported.
Meanwhile, a senior Israeli official this week further played down the consequences of a potential attack on Iranian atomic sites.
"I suppose there would be a response of two or three days of missile fire, perhaps even on Israel, [or] on American bases in the Gulf. But I don't think it would be more than that -- very limited damage," Yuval Steinitz -- Israeli minister for international affairs, strategy and intelligence -- told the Times of Israel in an interview.
He urged NATO or the United States to threaten Iran with armed force if Tehran does not fall into line with U.N. Security Council demands by a specific date. The 15-nation body has called in part for Iran to fully suspend its enrichment of uranium. However, Tehran argues it legally is entitled to pursue that activity, which can generate fuel for civilian use as well as bomb material.
Elsewhere, China this year vastly increased its purchases of "fuel oil" from Iran, a substance not covered by U.S. economic penalties targeting Iranian exports of unrefined petroleum, the Wall Street Journal reported on Wednesday.