Militants in Iraq Seize 'Low-Grade' Uranium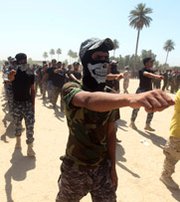 Iraq said extremist rebels obtained uranium at a university in the country's north, but a U.N. agency said the material was likely "low grade," Reuters reports.
Fighters for the Islamic State in Iraq and Syria seized Mosul University, the site of roughly 88 pounds of uranium materials, the Iraqi envoy to the United Nations told U.N. Secretary General Ban Ki-moon in a letter quoted in a Thursday news article.
"Terrorist groups have seized control of nuclear material at the sites that came out of the control of the state," Ambassador Mohamed Ali Alhakim wrote in comments reported separately by Reuters. He asserted that the cache may be used "in manufacturing weapons of mass destruction."
The International Atomic Energy Agency, though, downplayed early reports of the material's capture.
"On the basis of the initial information we believe the material involved is low grade and would not present a significant safety, security or nuclear proliferation risk," spokeswoman Gill Tudor said.
An unnamed U.S. official said the material was largely unsuitable for nuclear weapons because Iraq had never separated out its bomb-usable contents.
Former IAEA safeguards chief Olli Heinonen added: "You cannot make a nuclear explosive from this amount, but all uranium compounds are poisonous."
"This material is also not 'good' enough for a [radiological] dirty bomb," he said.
Iraq informed the United Nations of the material's capture shortly after the country this week joined the 1987 Convention on the Physical Protection of Nuclear Material, the New York Times reported. A 2005 amendment extended the pact's jurisdiction to include atomic substances "in peaceful domestic use, storage and transport," according to a Wednesday statement by the U.N. nuclear watchdog.
"It also provides for expanded cooperation between and among states regarding rapid measures to locate and recover stolen or smuggled nuclear material, mitigate any radiological consequences of sabotage, and prevent and combat related offenses," the press release states.