Key Envoy Leaves Open Possibility of Unaccounted Syrian Chemicals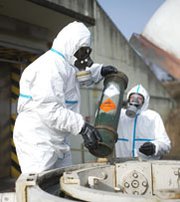 A senior U.S. envoy declined to publicly say if the full extent of Syria's chemical arsenal is known to other governments, ABC News reports.
Thomas Countryman, U.S. assistant secretary of State for international security and nonproliferation, on Wednesday told lawmakers that he would discuss the matter only in a classified briefing. Syrian President Bashar Assad's government last year gave international authorities what it said was a comprehensive declaration of its chemical arms as part of a plan to eliminate the entire inventory by June. But outside issue experts have surmised that small numbers may remain unaccounted for, even after the disarmament effort draws to a close.
Countryman issued the statement in response to Senator Tim Kaine (D-Va.), who had asked "whether there are undeclared weapons we need to isolate and identify."
The diplomat said he could "only offer to brief [Kaine] on that in a closed session."
"It will be illuminating," Countryman added during a Senate Foreign Relations Committee hearing on Syria's three-year-old civil war.
Assad's regime agreed to give up its chemical arms late last summer, as it faced threats of an international military response to a nerve-agent strike weeks earlier in an opposition-controlled area near Damascus.
Meanwhile, U.N. Secretary General Ban Ki-moon said two March rocket strikes on a Syrian coastal city "did not stop the removal" of chemical weapons through the port, the Associated Press reported on Wednesday.
The U.N. chief issued the assurance in his introduction to a new report by the Organization for the Prohibition of Chemical Weapons, which is overseeing the disarmament operation. The document notes that more than 49 percent of Assad's declared chemical inventory has left Syria through the regime-controlled Latakia seaport.
Ban warned, though, that "the precarious and unstable nature of the security situation further underlines" a need to quickly transfer out the remaining warfare chemicals.
Opposition forces seized portions of the port city's province over the last week, the Christian Science Monitor reported on Wednesday.