Key Senator OKs Vietnam Nuclear Trade, But Moves to Limit New Pacts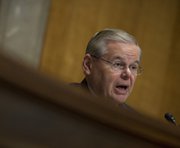 Senator Robert Menendez (D-N.J.), who chairs his chamber's Foreign Relations Committee, on Thursday filed legislation to approve the Obama administration's May 6 nuclear trade pact with Vietnam.
The proposed legislative measure also includes a rider that would make it difficult to implement nearly any new nuclear trade deals beyond 30 years -- a move almost certain to rile a White House that increasingly prefers no expiration dates at all for such pacts.
Senate staffers said they expect a similar joint resolution to be introduced in the House. If both bodies pass the legislation, it could effectively cap the Vietnam agreement's negotiated "indefinite" duration at roughly 30 years.
More broadly, it could trump a State Department desire to replicate the no-expiration feature in forthcoming nuclear trade accords with other nations. One of the first affected pacts could be a renewal expected next year of U.S. nuclear cooperation with China.
Nuclear trade agreements allow Washington to share sensitive nuclear materials, technologies and information with selected countries for use in civil power generation.
U.S. atomic cooperation agreements with some nations and entities would be exempted from the 30-year cutoff: Those with NATO allies; the "Plus Five" allied nations of Australia, Israel, Japan, Taiwan and New Zealand; and the U.N. nuclear watchdog organization, the International Atomic Energy Agency.
The measure also would not apply to any atomic cooperation accord -- or amendment to such a pact -- that has entered into force by Aug. 1 of this year.
For all others, though, the Menendez joint resolution would block the U.S. government from issuing export licenses for nuclear technologies 30 years after a bilateral nuclear trade pact enters into force.
After year 25 of an agreement, a provision in the legislation would allow Congress to permit export licenses to be issued for up to another 30 years.
However, absent such congressional action, the Menendez bill would force the White House to submit most trade agreements -- even those of indefinite duration -- to Congress for renewal by year 30. Otherwise, new nuclear technology exports to an affected country would be cut off.
"We're concerned about congressional oversight," said a Senate staffer, one of three interviewed on Thursday who declined to be identified, lacking authority to address the matter publicly. "It seems that the administration -- and more specifically, the Department of State -- is trying, with its new agreements, to bring them in under an indefinite duration."
A second aide said this appeared not to be an Obama administration policy decision, but rather a preference at the staff level. The emerging State Department desire for indefinite nuclear trade agreements apparently is based on concern that a typical 30-year pact could lapse before a renewal is negotiated. The Obama team faced such a situation last year with its South Korea accord before accepting a simple two-year extension of the nearly expired document.
"The practical effect of this new policy … is regardless of how it was intended, it immunizes nuclear cooperation agreements from further congressional review indefinitely," the first staffer said. "If the agreement with [a country] is of indefinite duration, we don't have a statutory means to review the cooperation to see if it's still appropriate at a set time, which is clearly envisioned [in the Atomic Energy Act] as what Congress should be doing with regard to nuclear cooperation agreements."
Compared to the typical 30-year time spans, agreeing to no expiration date at all "is a rather significant change," the aide said.
"This resolution of approval provides a path forward for maintaining high nonproliferation standards, supporting United States industry, and ensuring Congress continues to fulfill its vital oversight duties of these agreements," Menendez told Global Security Newswire on Friday in an emailed statement.
His joint resolution essentially is "about assuring a congressional role in governing nuclear trade in the future, and a warning shot not to try to block [congressional oversight of] future agreements with such automatic extensions," Miles Pomper of the James Martin Center for Nonproliferation Studies said in an email response to questions.
Missing from the Menendez joint resolution is any direct reference to the chairman's concerns about the lack of a binding commitment by Vietnam not to produce nuclear fuel. U.S. officials have said Vietnam would agree only to offer a political statement in the agreement's preamble, stating that it would refrain from enriching uranium or reprocessing plutonium domestically. However, Hanoi would not include such a pledge in the formal agreement text.
The two fuelmaking activities can be useful for commercial nuclear power, but also have applications in building nuclear arms. Vietnam has stated outside of the U.S. bilateral agreement that it would use foreign suppliers to build reactors and supply nuclear fuel.
Menendez and other committee members voiced concern about the lack of a binding Vietnamese nonproliferation commitment of this kind -- sometimes called the "gold standard" for nuclear trade pacts -- during a January hearing.
"That anyone wants to legislate on these topics is great news. It shows signs of congressional life after decades of inattention," said Henry Sokolski, executive director of the Nonproliferation Policy Education Center. "I think, however, we need to step up our game to push more congressional oversight of deals that fail to meet the gold standard."
Senate staffers said on Thursday, though, that any attempt now by Congress to insist that the Vietnam accord contain a legal obligation not to produce nuclear fuel would require renegotiation of the agreement and could be unattainable. The Obama team submitted the pact on May 8 for review in 90 days of continuous legislative session.
"Hanoi has already concluded negotiations with Russia and Japan on buying reactors without the gold standard, so we don't have leverage in the nuclear sphere," Pomper told GSN.
While some nonproliferation experts have argued that the Obama administration should push harder for a fuelmaking renunciation in all new cooperation pacts around the globe, Pomper said it probably won't matter much when looking solely at the situation in Hanoi.
"I think there is little inclination that Vietnam wants to engage in nuclear fuelmaking," he said. "The political commitments it has made are a step forward from what you would get in the absence of the current agreement."
In fact, he said, Hanoi might object to the 30-year review date for exports embodied in the Menendez legislation. U.S. officials are concerned that if the joint resolution becomes law, Vietnam might "demand renegotiation" of the accord, Pomper said.
"Vietnam certainly is a country whose intent with regard to developing nuclear weapons options could very easily change in 30 years," Sokolski said in a Friday telephone interview. He noted that Hanoi today is building up its conventional military, to include purchases of advanced fighter jets from Russia.
In the recent past, Menendez also has criticized Vietnam's spotty human rights record. The committee chairman said in January that he expected to endorse the pact with Hanoi only if it is accompanied by "a parallel resolution on human rights as part of our comprehensive partnership understanding."
Senate aides anticipate that the New Jersey lawmaker will offer the separate human rights resolution sometime next month. Menendez will seek cosponsors on both sides of the aisle for each of the two measures, according to the staffers.
About
Senate Foreign Relations Committee head Robert Menendez (D-N.J.) endorses atomic trade with Vietnam, but wants to cap the duration of future cooperation deals.
Countries