Lawmakers' Retort to Obama's 'Flexible' Nuclear Trade Policy: Potential New Limits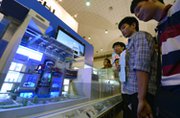 Leading House and Senate lawmakers will offer legislation as early as Friday to tighten congressional review of U.S. nuclear trade pacts.
The move is in response to the conclusion this week of an internal Obama administration review, which has been under way for several years.
In an expected Thursday afternoon announcement, Global Security Newswire has learned that the State and Energy departments will double down on a de facto policy toward "flexible" negotiations on nuclear trade and nonproliferation that a number of Capitol Hill Democrats and Republicans contend would not adequately protect global security.
Senator Edward Markey (D-Mass.) joined Representatives Ileana Ros-Lehtinen (R-Fla.) and Brad Sherman (D-Calif.) on Wednesday in announcing they plan to introduce a measure that could make it tougher for the White House to win congressional approval for sharing sensitive nuclear materials, reactor equipment and know-how with international trade partners.
U.S. nuclear-cooperation accords with nations that agree to forego an indigenous capacity for making nuclear fuel would get more fast-track treatment under the proposed bill. Its proponents fear that allowing nations to manufacture their own fuel for energy purposes could make it easier to construct illicit nuclear bombs.
The legislation is expected to be almost identical to a bipartisan measure introduced by Ros-Lehtinen in March 2011 that the U.S. nuclear-energy industry opposed and which failed to attract the support of House Republican leadership. It passed with unanimous support of the House Foreign Affairs Committee, which Ros-Lehtinen chaired at the time, but never went to a floor vote.
The lawmakers spoke at a Wednesday event on Capitol Hill sponsored by the Nonproliferation Policy Education Center, in advance of an anticipated Obama administration policy announcement by Rose Gottemoeller, the acting undersecretary of State for arms control and international security, and Daniel Poneman, the deputy Energy secretary.
Speaking at the Atlantic Council on Thursday, the pair is expected to describe what is now being termed a "flexible" U.S. approach to negotiating nuclear cooperation with foreign nations.
Under the policy, Washington will attempt to interest new nuclear-trade interlocutors in making either legally binding or political pledges not to domestically enrich uranium or reprocess plutonium, according to a State Department official interviewed on Wednesday.
However, the Obama team will not allow the lack of so-called nuclear nonproliferation "gold standard" provisions to stop any desired trade accord from going forward, because of the economic benefits these pacts can bring, the official explained.
The anticipated Thursday announcement comes after years of internal policy reviews about whether the Obama administration should implement its long-proposed "case-by-case" approach to negotiating nuclear trade agreements.
That approach has received strong and consistent pushback from leading figures on Capitol Hill. These Democrats and Republicans have sought instead more aggressive championing of a no-enrichment-and-reprocessing pledge by trade partners in exchange for Washington's influential "blessing" on their budding nuclear-energy programs.
The State Department official, speaking on condition of not being named, told GSN on Wednesday that the flexible negotiating approach being unveiled this week is essentially the same as the controversial case-by-case approach touted in earlier years, but that "flexible" seemed like a more accurate description.
Gottemoeller and Poneman are setting the stage for Secretary of State John Kerry's visit to Vietnam next week, where he is expected to sign a formal nuclear cooperation agreement with the Southeast Asian nation. Kerry and his Vietnamese counterpart initialed the pact on a previous visit to the region in October.
Capitol Hill aides said the question of whether to allow continued uranium enrichment in Iran in a future long-term deal with Western powers -- despite concerns about Tehran's widely suspected ambitions of developing a nuclear-arms capability -- have stoked the push in Congress to resuscitate the earlier shelved legislation.
Under the upcoming measure, any nuclear trade pact that lacks legally binding provisions that leave open the possibility of a new trade partner's domestic enrichment or reprocessing would require a majority vote by the House and Senate before going forward into implementation.
Those that do contain bars against indigenous reprocessing or enrichment would proceed along the same, more permissive congressional review process that applies to all atomic trade agreements today -- namely, a 90-day continuous-session waiting period of congressional review after which the pact can be implemented, with no Capitol Hill votes required.
Concerns are not limited to the situation with Iran, though. The upcoming U.S. nuclear trade accord with Hanoi contains a preamble that says any foreign reactors built on Vietnamese soil will use foreign fuel, rather than domestically enriched uranium or reprocessed plutonium, according to key sources.
However, this nonproliferation safeguard is not in the main text of the agreement and thus is not considered legally binding. U.S. officials have said they were unable to win a legally enforceable gold-standard promise from Vietnam, but they believe the pact sufficiently assures security and remains in U.S. economic interests.
Obama administration officials reportedly have told Capitol Hill that they will determine whether to demand gold-standard provisions in future nuclear trade agreements based on three factors: The relative stability or instability of the region involved; the past behavior of the particular nation; and whether that nation would walk away from a pact with Washington if such a pledge were required.
Several key lawmakers who supported enacting new legislative restraints on nuclear trade agreements in the past are no longer on Capitol Hill or serving in leadership positions -- to include Ros-Lehtinen, who is no longer the Foreign Affairs committee chairman, and former Representative Howard Berman (D-Calif.) and Senator Richard Lugar (R-Ind.), both voted out of office.
The renewed bipartisan push this week by sitting lawmakers, though, guarantees that the Obama administration's headaches on nuclear trade talks and nonproliferation issues are far from over, just as the Vietnam agreement gets sent up to Capitol Hill.
"Discouraging the spread of enrichment and reprocessing technology by whatever means should be a priority goal for the administration, especially given where we are with Iran," one congressional aide told GSN on Thursday.
About
Leading House and Senate lawmakers will offer legislation as early as Friday to tighten congressional review of U.S. nuclear trade pacts.
Countries