NATO Presses New Libyan Leaders to Eliminate Mustard Agent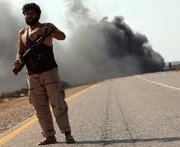 NATO on Tuesday called on Libya's new leadership to begin preparing to eliminate seized stockpiles of chemicals warfare agents and nuclear materials -- leftovers from former dictator Muammar Qadhafi's abandoned WMD programs, Agence France-Presse reported (see GSN, Sept. 22).
"NATO is pleased to note that the [Transitional National Council] is now controlling facilities containing Libya's remaining stockpiles of chemical and nuclear-related agents," NATO Libya mission spokesman Col. Roland Lavoie said.
The military sites are located in the central and southern areas of the North African nation, the spokesman said in a video conference with journalists.
The colonel said the western military alliance and global bodies are "working to ensure" the Transitional National Council begins "planning for their safe disposal."
Prior to the outbreak of fighting, the Qadhafi regime was understood to still possess 9.5 metric tons of degrading mustard blister agent as well as a larger quantity of chemical weapon precursor materials, a small arsenal of short-range ballistic missiles and an estimated 500 to 900 metric tons of yellowcake uranium (see GSN, Sept. 26).
Transitional National Council head Mustafa Abdel Jalil on Saturday said the "banned weapons" were now under the custody of opposition forces. "We will call for Libyan technicians and the international community to get rid of these weapons safely" (Agence France-Presse/Spacewar.com, Sept. 27).
U.N. Undersecretary General Lynn Pascoe on Monday advised the Security Council that the vestiges of Qadhafi's WMD program were in danger of being acquired by extremists if quick action was not taken to guard the material, Radio Free Europe/Radio Liberty reported.
"It is imperative that the [Transitional National Council] and the international community establish control over the large stocks of sophisticated arms, including ground-to-air missiles amassed by the Qadhafi government," the undersecretary said. "The spread of these weapons and the dangers that they could fall into the hands of terrorists are matters of grave concern.
"Re-establishing control over chemical weapons material is also of major importance," he said.
Researchers for Human Rights Watch have identified a minimum of two weapon depots that hold a vast quantity of arms such as missiles with the capacity to disperse chemical agents, according to the report. The Qadhafi regime was said to have destroyed its stocks of munitions capable of delivering chemical agents (Radio Free Europe/Radio Liberty, Sept. 27).