Nearly Three Dozen Nations Sign Hague Statement on Nuclear Security Framework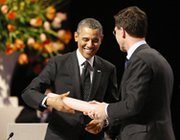 THE HAGUE, NETHERLANDS -- Thirty-five nations participating in this week's Nuclear Security Summit here agreed to sign onto a declaration aimed at bringing the international community closer to a universal and legally binding nuclear-security regime.
Spearheaded by the Netherlands, the United States and South Korea, the initiative by mid-morning had garnered the support of two-thirds of the 53 states participating in the biennial confab, when senior officials from the three countries unveiled the joint statement.
The two-day summit, which ended on Tuesday, included President Obama in a leading role and was attended by many other heads of state. All 53 nations separately issued a more broadly worded final communique.
The project banks on voluntary actions by individual countries to strengthen the security of their nuclear materials, a practice widely seen as too weak around the globe. But some issue experts say the new effort could open the door to more-formal arrangements among the group of initial participants in the years ahead.
Signers comprise a diverse array of countries, among them Algeria, Chile, France, Hungary, Kazakhstan and Morocco. Some key nuclear states, though -- including Russia, China, India and Pakistan -- are not among the initiative supporters.
The evolving regime drew modest praise from issue experts here on Tuesday.
John Bernhard, a former Danish ambassador to the International Atomic Energy Agency, called the joint statement the most important outcome of the summit and a "good surprise." He noted that existing international conventions often began with a small group of voluntary participants, who eventually shepherded a cause toward widespread international acceptance.
In rolling out the initiative, South Korean Foreign Minister Yun Byung-se stressed that implementation in the participating countries would be a key test and would depend on states' "capacity and determination."
Signatories pledge to "meet the intent" of key nuclear-security guidelines of the International Atomic Energy Agency, adapting national laws accordingly, according to the joint statement.
Supporting countries should conduct self-assessments, to include hosting peer reviews and acting on the recommendations stemming from them. National personnel devoted to nuclear security should be "demonstrably competent," the statement reads.
Member countries also commit to improved cybersecurity related to nuclear facilities, and to making financial or in-kind contributions to the U.N. International Atomic Energy Agency's Nuclear Security Fund.
U.S. Energy Secretary Ernest Moniz called a commitment to the agency's guidelines "the closest thing we have to international standards."
What role the U.N. agency will ultimately play as the summit's 35-country initiative takes its course remains to be seen, issue experts said.
Bernhard said that while piggybacking the governance process onto agency practices might ultimately lead to universal adoption of nuclear-security measures, the Vienna-based watchdog organization would unlikely be able to sustain continued focus on the issue.
Kenneth Brill, a former director of the U.S. National Counterproliferation Center, called the Tuesday announcement an "important foundation" for future work. Commenting on the absence of some key nuclear-weapon states in the initiative, he said: "When so many countries sign up, those who don't begin to stand out."
The Fissile Materials Working Group, a collection of worldwide issue experts, warned in a Tuesday press statement that the initiative's impact would be weakened because of the several key countries not included. In addition, the group lamented that the joint statement designates nuclear security a national responsibility, as opposed to a global one.
In his closing speech, Obama urged fellow heads of state to "finish strong" at the final 2016 summit, likely to be held in Washington. Obama said discussions among leaders behind closed doors today led to an expectation that the upcoming gathering would serve as a "transitional summit," with follow-on work in future years done at the ministerial level and below.
Meanwhile, all world leaders participating in the summit confirmed on Tuesday that they were pledging to minimize stocks of weapons usable plutonium.
"We recognize that highly enriched uranium and separated plutonium require special precautions and that it is of great importance that they are appropriately secured, consolidated and accounted for," the official communique reads. "We encourage states to minimize their stocks of HEU and to keep their stockpile of separated plutonium to the minimum level, both as consistent with national requirements.
The language drew a mixed reaction from one nonproliferation expert.
"It's a credit to the Dutch that the plutonium language is in there, but language on plutonium should be equivalent to HEU -- i.e. 'minimizing' plutonium, not keeping plutonium 'to the minimum level consistent with national requirements,'" Miles Pomper of the James Martin Center for Nonproliferation Studies said in an email. "That's too much wiggle room to [potentially] keep huge plutonium stocks."
Plutonium has been one of the more difficult issues to tackle during the biennial summit process. Previously, the sessions had focused largely on highly enriched uranium.
Douglas P. Guarino contributed to this article from Washington.
About
The 2014 Nuclear Security Summit of world leaders included a 35-nation commitment to institutionalize voluntary measures aimed at preventing nuclear terrorism.
Countries