North Korea Tunnel Work Could Presage New Nuclear-Test Series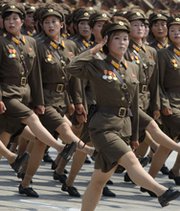 A pattern of recent digging at North Korea's nuclear-trial grounds could indicate a plan to more aggressively test atomic devices, according to a new analysis.
Commercial satellites in recent months detected signs of excavation happening around the northern side of North Korea's Punggye-ri test site. Meanwhile, digging work has been halted on the southern side, where two suspected tunnels are thought to have been completed. Initial reports about the activity at the north side included speculation that a new tunnel could be used to house a nuclear test device.
However, Jeffrey Lewis, director of the East Asia Nonproliferation Program at the James Martin Center for Nonproliferation Studies, has a different theory.
"What if North Korea's recent excavations are not for new tunnels that will be used only once, but represent an effort to transform the mountains north and south of the site into complexes that could allow it to conduct multiple tests -- two or more -- in drifts off a single main tunnel with multiple entrances," Lewis wrote in a Thursday analysis for the expert website 38 North, which tracks weapons-related developments in North Korea.
An examination of satellite images taken of Punggye-ri's north side -- commonly known as the "West Portal" area -- show multiple entrances. These entrances could each open up to their own tunnels that run alongside one another.
"An alternate hypothesis suggested by patterns of U.S., Russian, and Chinese underground nuclear testing is that, rather than parallel tunnels, North Korea may be conducting tests in drifts that branch off a main tunnel." Lewis said. "This is how those three countries conducted underground nuclear tests."
North Korea's previous three atomic trial detonations all occurred as individual events, spaced years apart. Some analysts viewed them less as scientific "tests" than as political "demonstrations" to the world. Regardless of what the North was trying to achieve with its 2006, 2009, and 2013 nuclear explosions, the testing to date has been limited, said Lewis. In part, that is because Pyongyang has lacked enough fissile material to carry out a more robust testing program, he said.
However, the North is bolstering its ability to produce weapon-grade material -- both plutonium and highly enriched uranium. The country last year restarted an old graphite reactor. Pyongyang has said it would use the plutonium produced by the reactor -- and the highly enriched uranium generated by a separate facility -- to support its nuclear-weapons program.
With more fissile material in the works, North Korea could soon have the resources it needs to embark on an effort involving more frequent testing, which the complex pattern of connected chambers could support, Lewis theorized.
Surveillance photographs taken earlier this month of the West Portal area reveal new excavation debris outside the mountain entrance on which North Korea has been working since last summer, according to a separate Thursday image analysis by 38 North, which is a project of the U.S.-Korea Institute at Johns Hopkins University.
However, there are no signs of preparations being made for an imminent underground explosion, concluded image experts Nick Hansen and Jack Liu.
Correction: This story has been modified to accurately reflect the facilities believed to support North Korea's nuclear-weapons program.
About
A pattern of recent digging at North Korea's nuclear-trial grounds could indicate a plan to more aggressively test atomic devices, according to a new analysis.
Countries