No "50-Yard Dash" to Nuclear Test Ban, Key Nonproliferation Official Says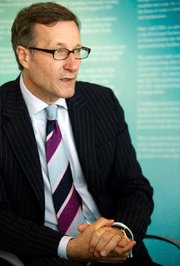 WASHINGTON -- Attempts to draw the United States and a handful of other key states into a global ban on nuclear testing will be more a marathon than a sprint, according to the nonproliferation veteran leading the push (see GSN, Sept. 26).
The United States set off the first atomic bombs more than 50 years ago, and today it remains one of nine nations that will determine whether the Comprehensive Test Ban Treaty enters into force.
The Obama administration has affirmed its intention to deliver the treaty for ratification by the U.S. Senate, but has not said when. Its chances for success remain in question given the bitter partisan divide on Capitol Hill and persistent debate over the wisdom of permanently swearing off nuclear blasts (see GSN, July 18).
"The history of this treaty shows that, unfortunately, it's not a 50-yard dash," said Tibor Tóth, executive secretary of the Preparatory Commission for the Comprehensive Test Ban Treaty. "It took 50 years to get where we are. Reality might dictate that in the next 15 weeks or even 15 months the U.S. ratification won't happen."
For Tóth, whose organization is affiliated with the United Nations, there are no questions about the benefits of the accord: deterring development of new or more advanced nuclear weapons that require detonation to ensure they function as designed; and promoting stability in regions where some nations might be considering building an atomic arsenal to get an edge over neighboring antagonists.
Critics counter that the United States actually stands to lose assurance of its own security if it pledges never to conduct explosive-yield tests to ensure the nation's existing nuclear deterrent is in working order. The future might also bring unforeseen threats that demand the nation produce new weapons that would need testing, according to opponents.
Tóth and his staff in Vienna, Austria, have regular opportunities to make their case to Washington and to show off their organization's technical capabilities. Delegations of U.S. lawmakers, congressional aides or federal officials have arrived for visits on average of every two weeks for the past six months.
"I very much welcome visits which we have in Vienna by senators and congressmen and their staffers and institutions that are responsible for the ratification process," the Hungarian diplomat said. "I take it as a process which will be longer than a few weeks. It's important that all the information is put on the table and it's important that there is a serious assessment of what this treaty can bring to the security of the United States."
Tóth took his current job in 2005 after representing his nation at the International Atomic Energy Agency and other multilateral disarmament bodies. He spoke to Global Security Newswire late last month in New York on the sidelines of the seventh Conference on Facilitating the Entry into Force of the Comprehensive Test Ban Treaty.
The U.N. event occurred one day before the 15th anniversary of the date on which the treaty was opened for signatures -- Sept. 24, 1996.
The last decade and a half delivered a series of successes and setbacks for the test ban regime, Tóth acknowledged. India and Pakistan conducted dueling underground blasts in 1998, and the U.S. Senate one year later rejected the Clinton administration's ratification bid for the treaty. More recently, North Korea set off two nuclear devices in 2006 and 2009.
Despite those challenges, "we as a community did not close the shop and wait until better times," according to Tóth.
The accord since 1996 has picked up 182 signatory states, 155 of which proceeded to ratify the document. While roughly 2,000 nuclear tests were conducted in the decades prior to the treaty's establishment, the ban has become an informal political norm with only occasional breaches.
The agreement must be formalized to ensure the norm does not break down, Tóth said.
His organization also established the International Monitoring System, a web of monitoring technology intended to verify compliance with treaty mandates. Nearly 300 facilities around the world are now operational; they have proven their worth in detecting signs of the North's underground nuclear detonations and in tracking the dispersal of radioactive contaminants from Japan's crippled Fukushima Daiichi nuclear power plant, Tóth said.
"There were two tests during the last decade," he noted. "I call it two too many, but this is where we are. I think it's important that both the challenges and the achievements of this regime are clear. The challenge is repeated again and again that we are nine ratifications away from entry into force."
Enacting the treaty requires ratification by 44 "Annex 2" states that participated in drafting the accord while operating nuclear research or energy reactors. Nine of those nations have yet to take that action -- China, Egypt, India, Indonesia, Iran, Israel, North Korea, Pakistan and the United States.
Delegates from dozens of nations used much of their allotted speaking time at the U.N. conference to urge those nine countries to take the steps needed to make the treaty the rule of the land. The event closed with a final declaration pressing the same call.
Senior diplomats from Indonesia and the United States made clear their intentions to push to have lawmakers in their respective capitals to sign off on the pact. Their colleagues from China and Israel expressed support for the treaty but were more circumspect about their immediate plans.
U.N. Secretary General Ban Ki-moon told delegates that he and Tóth were prepared to visit any holdout state in hopes of resolving their reluctance to join the treaty. "I'm very much at the disposal of the secretary general and the member states," the CTBTO chief said.
High-level dialogue like that at the U.N. conference is necessary to promote the treaty, but the campaign goes much deeper, officials said. It involves regular contact with policy-makers at various levels of government, along with legislators, technical experts and those in the nongovernmental community.
Following the New York conference, Tóth spent several days in Russia for talks with senior diplomatic and defense officials on entry into force and development of the CTBTO monitoring regime.
In June, the organization hosted a Vienna conference for 800 scientists. The intent there was to update visiting researchers on developments in the CTBT monitoring system and its broad applications to science.
Working closely with scientists can also help to promote support for the treaty in India and other nations that have deep research sectors, said CTBTO spokeswoman Annika Thunborg. "Politicians also listen to technical experts," she told GSN last week.
A 2010 workshop in China allowed scientists from the Asian giant, the United States and elsewhere to discuss issues such as verification and the on-site inspections that could be conducted following suspicious events once the treaty is brought into force.
The organization also offers regular training events and workshops, and participates in all relevant multilateral and regional meetings, Thunborg said.
It recently launched a video campaign aimed at raising awareness among youth on the dangers posed by the absence of a formal test prohibition.
"In a situation where the Cold War is 20 years away [in the past] ... young people don't always know that this is an outstanding issue. They don't always know that we still have all these nuclear weapons in the world, either," Thunborg said.
Proponents acknowledge the significant difficulty in persuading the remaining Annex 2 states to accept the pact. The regime in North Korea today shows no inclination to join any arms control agreement. India and Pakistan continue to build up their nuclear arsenals even as the longtime foes seek opportunities to reduce tensions. Nations in the Middle East typically are inclined to focus first on achieving some sort of stable peace before joining nonproliferation agreements such as the test ban treaty.
However, supporters say that positive action in Washington could persuade Beijing and other capitals to move on ratification, bringing the treaty that much closer to taking effect.
Others doubt that assertion, given the intransigence of some of the nations involved.
Ratification in Washington "could give North Korea an additional opportunity to play its favored game of extorting the international community. How much might we have to pay for North Korea's favor in this regard, if such favor is even possible?" former CIA chief James Woolsey and Keith Payne, a former senior Defense policy official, wrote in a September commentary.
The pair also questioned whether all treaty states would accept the position that a nuclear test of any yield is unacceptable, and argued that identifying a blast does not equate to being able to punish the violator.
No matter what action the United States takes, the treaty should be perceived as an underpinning to security in the Middle East or Asia rather than something to be considered once stability is achieved, Tóth suggested.
Nations in those regions often hold large arsenals of conventional or even nuclear weapons, but lack nonproliferation treaties and other multilateral instruments, according to Thunborg.
Tóth described a potential ban on nuclear testing as one of three "legs" that could help support a proposed nuclear weapon-free zone in the Middle East, alongside a prohibition on weapons and fissile material. This type of Mideast ban has become a hot-button topic in the wake of last year's Nuclear Nonproliferation Treaty Review Conference, where diplomats called for a major 2012 meeting on establishing the region as a WMD-free sector (see GSN, July 22).
"The potential U.S. ratification would be a game changer," Tóth said. "But there is a need to reassess and assess the situation in those [other] regions. The countries themselves should see the treaty ... as a safety net below them."
The other option, he added, "is more open-ended [arms] races in certain regions."
About
WASHINGTON -- Attempts to draw the United States and a handful of other key states into a global ban on nuclear testing will be more a marathon than a sprint, according to the nonproliferation veteran leading the push (see GSN, Sept. 26).