No Nuclear Materials Found on Detained North Korean Ship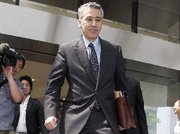 Officials in India today said they have not discovered any nuclear materials aboard a North Korean vessel detained last week in accordance with U.N. sanctions, Reuters reported (see GSN, Aug. 13).
The Indian coast guard chased down the North Korean freighter MV Mu San after it moored in Indian waters without permission. The ship was carrying sugar.
"We have not found any nuclear material on board the ship, said senior police officer Ashok Chand. "But we are continuing our investigation to check any discrepancies in statements by crew members."
"Once we are fully convinced, then only we will decide what will be the next step," Chand said.
The crew members did not tell authorities why the ship had dropped anchor near the Andaman islands, a chain at the edge of India's sea border that lies about 350 miles south of Myanmar. Investigators said they were trying to figure out if the ship had visited Myanmar, which has been rumored to be building nuclear facilities with assistance from the North.
The U.N. Security Council in June imposed expanded sanctions on North Korea forbidding it from exporting nuclear technology and all weapons materials, and urged member nations to interdict and inspect suspicious ships for illicit cargo. The Security Council approved the penalties in response to Pyongyang's May nuclear test (Reuters I, Aug. 14).
The top U.S. envoy for sanctions against the North is scheduled next week to visit four Asian countries to discuss enforcement of the measures, which are designed to curb Pyongyang's controversial nuclear and missile programs.
Diplomat Philip Goldberg is scheduled to travel to Thailand, Singapore, Japan, and South Korea, with an entourage of officials from the Treasury and Defense departments and the National Security Council.
"In all these countries we'll share thoughts, ideas, and our impressions on inspections of sea and land cargo," Goldberg told reporters yesterday. "We'll review the financial provision of the resolutions and we'll share information (Agence France-Presse/Google News, Aug. 13).
Goldberg has already held talks with China, Malaysia, Russia and the United Nations, Reuters reported.
"We have found great support among the five parties in the six-party talks, the U.N. Security Council, the United Nations more generally, and regional organization and fora" for economic penalties against Pyongyang, he said.
Nations involved in the stalled and possibly defunct nuclear negotiations with North Korea are China, Japan, Russia, South Korea and the United States.
"There is a clear path for North Korea if they want to rejoin [the six-party talks]," Goldberg added. "Otherwise, these measures continue, and they continue until there are those irreversible steps" toward denuclearization.
The six-party talks have been moribund since last year, and North Korea officially walked away from the table in April following a U.N. condemnation of what is believed to have been a long-range missile test. It has since called the negotiations "dead" (Paul Eckert, Reuters II, Aug. 14).
South Korean President Lee Myung-bak plans to announce Saturday an incentives package designed to persuade North Korea to abandon its nuclear ambitions, the Korea Herald reported.
The proposal will include provisions "to improve the North's economy, education, finance, infrastructure and living conditions if its gives up its nuclear programs," says the address.
The plan accompanies a larger program to establish peace on the Korean Peninsula (Hwang Jang-jin, Korea Herald, Aug. 15).
North Korea today repeated that it was open to talks with the United States, though it did not suggest it would return to the six-party negotiations, Reuters reported.
"We always keep the door open to negotiations," Foreign Ministry Vice Minister Kim Yong Il said.
Washington has said recently that it would only engage bilaterally with Pyongyang within the framework of the six-nation negotiations (Nguyen Huy Kham, Reuters III, Aug. 14).
A U.S. analyst on Wednesday insisted that next move must be North Korea's, the Yonhap News Agency reported.
"I think the U.S. has gone very far in doing what North Korea wanted -- sending a high-level envoy, having extensive conversations -- and so I don't think North Korea is going to get anything else without giving something," said William Overholt, a senior researcher at Harvard University and former top Asia expert at the RAND Corp.
"It has done enough," Overholt said. "It is appropriate to wait for some kind of positive North Korean response before the U.S. offers anything more."
Overholt was referring to former U.S. President Bill Clinton's recent mission to Pyongyang to retrieve two journalists imprisoned there (Yonhap News Agency, Aug. 13).
About
Officials in India today said they have not discovered any nuclear materials aboard a North Korean vessel detained last week in accordance with U.N. sanctions, Reuters reported (see GSN, Aug. 13).
Countries