North Korea to Dedicate Plants to Nuke Work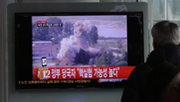 North Korea on Tuesday declared it would dedicate more facilities at its Yongbyon complex to producing nuclear-weapon material, including a uranium enrichment plant and a deactivated reactor, the New York Times reported.
"We will act on this without delay," an official with the North's Atomic Energy General Department said to the Korean Central News Agency.
Pyongyang used the five megawatt graphite reactor to produce plutonium for its weapons program before disabling the facility under an ultimately failed 2007 denuclearization deal with the United States.
The international community has been deeply suspicious that the real purpose of the uranium facility -- unveiled to the world for the first time in late 2010 -- is to produce weapon-grade uranium. Until now, North Korea has said it was intended only for peaceful energy production purposes.
The Stalinist state is understood to still hold limited quantities of plutonium following nuclear tests in 2006 and 2009. It is not known whether North Korea's third nuclear test in February was fueled by plutonium or domestically enriched uranium.
Chinese Foreign Ministry spokesman Hong Lei said his government was "regretful" of Pyongyang's decision.
"Nuclear threats are not a game. Aggressive rhetoric and military posturing only result in counter-actions, and fuel fear and instability," Reuters quoted U.N. Secretary General Ban Ki-moon as saying.
The aspiring nuclear power in recent weeks has ratcheted up regional tension with a spate of military threats directed toward South Korea and the United States. North Korea is protesting new U.N. Security Council sanctions passed as punishment for its nuclear test. Seoul and Washington have responded by carrying out annual bilateral military maneuvers that include bombing sorties by nuclear-capable U.S. B-2 and B-52 aircraft.
The North's parliament passed a new law on Monday that orders "practical steps to bolster up the nuclear deterrence and nuclear retaliatory strike power both in quality and quantity to cope with the gravity of the escalating danger of the hostile forces' aggression and attack."
Pyongyang will participate in "nuclear nonproliferation" so long as there is "improvement of relations with hostile nuclear weapons states," the law said.
It is not known how long it would take the North to reactivate the entire Yongbyon complex, where the reactor cooling tower was blown up in accordance with the deal with Washington, Reuters reported.
"It was a reactor that was nearing obsolescence with a cooling tower that wasn't functioning properly when it was blown up," Korea University expert Yoo Ho-yeol said in an interview.
The U.S. Navy is deploying the Aegis-equipped USS McCain guided missile destroyer near the Korean Peninsula's southwestern coast, Reuters separately reported. "This is a prudent move that provides greater [ballistic] missile defense options should (they) become necessary," an anonymous Pentagon official said.
Another guided missile destroyer, the USS Decatur, is sailing toward the Korean Peninsula, the Wall Street Journal reported. The two destroyers' mission will be to "monitor any potential missile launch or provocative actions by North Korea and to reassure regional allies," U.S. Pacific Fleet spokesman Lt. Anthony Falvo said.
Additionally, the Defense Department is repositioning a sea-based X-band radar from Hawaii to the western Pacific to enhance the detection of any feared strategic missile launches by the North, a number of defense insiders in Seoul told the Yonhap News Agency.
Even as the U.S. military deploys missile defense assets and publicizes flights of nuclear-capable bombers over South Korea, Washington is searching for a way to dial back the regional tension, which many issue observers agree is much higher than in earlier rounds of North Korean aggression, according to the Times.
"It is a calculated response to say, 'We don't want anyone to think the situation is getting out of control, that the ladder of escalation is going to end in a full-scale conflict,'" former Obama administration official for North Korea policy Jeffrey Bader said in an interview.
Correction: This story has been modified to accurately describe the nuclear sites that North Korea has said will have a role in its weapons program.
About
North Korea on Tuesday declared it would dedicate more facilities at its Yongbyon complex to producing nuclear-weapon material, including a uranium enrichment plant and a deactivated reactor, the New York Times reported.
Countries