Iran Could Obtain Nuclear Arms by 2014: MI6 Chief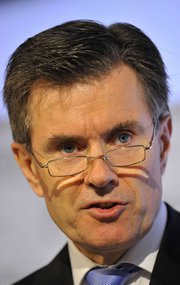 The head of the United Kingdom's Secret Intelligence Service said Iran is "two years away" from gaining the status of a "nuclear weapons state," and the milestone would force a decision over potential U.S. or Israeli armed action against the Middle Eastern nation, the London Telegraph reported on Thursday (see GSN, July 12).
London, Washington and Tel Aviv suspect Iran's atomic activities are geared toward development of a nuclear-weapon capability, a charge Tehran denies.
"The Iranians are determinedly going down a path to master all aspects of nuclear weapons; all the technologies they need," MI6 chief John Sawers said last week to a gathering of high-level government personnel in the British capital. "It's equally clear that Israel and the United States would face huge dangers if Iran were to become a nuclear-weapon state."
In the absence of MI6 involvement in the matter, "you'd have Iran as a nuclear weapons state in 2008 rather than still being two years away in 2012," he said.
The service must "delay that awful moment when the politicians may have to take a decision between accepting a nuclear-armed Iran or launching a military strike against Iran," according to Sawers.

Faced with such a choice, "I think it will be very tough for any prime minister of Israel or president of the United States to accept a nuclear-armed Iran," the official said.
The Secret Intelligence Service has "run a series of operations to ensure that the sanctions introduced internationally are implemented, and that we do everything we can within the Middle East to slow down these remaining problems," Sawers said. "I take great pride in the fact that, in the last 10 years, over a number of jobs, I've been involved in an issue of global concern, and I feel that I as an individual (have made) an impact in the outcome of events."
A March information session led by Sawers focused on data pertaining to worries over a potential Israeli attack on Iran, and the closed-door event was believed to have highlighted uncertainties concerning the ability of Tel Aviv's armed forces to eliminate subterranean Iranian atomic installations.
Addressing about 20 top British officials at the meeting, Sawers reportedly issued cautionary statements over the danger that an atomic arsenal buildup in the Persian Gulf region would pose to their country.
Such a situation could prove more hazardous than the 20th-century standoff between Western powers and the Soviet Union, as the prospective scenario would lack comparable "safety mechanisms," British Foreign Secretary William Hague told the Telegraph.
"It is a crisis coming down the tracks," Hague stated. "Because they are clearly continuing their nuclear weapons program."

"If they obtain nuclear weapons capability, then I think other nations across the Middle East will want to develop nuclear weapons," the official added. "And so, the most serious round of nuclear proliferation since nuclear weapons were invented would have begun with all the destabilizing effects in the Middle East.

"And the threat of a new cold war in the Middle East without necessarily all the safety mechanisms … That would be a disaster in world affairs," he said (Christopher Hope, London Telegraph, July 12).
Economic penalties imposed by the United Nations and various countries have fueled popular discontent in Iran, increasing the probability of revolution in the country, one-time Israeli intelligence deputy chief Ilan Mizrahi said to the London Mirror.

"The knowledge needed for nuclear weapons is already there," Mizrahi added. "Iran has crossed the technology red line. But the political decision to do something with it is not there."

"The so-called secret war is working in my view," he added in reference to targeted killings of four Iranian specialists.
Tel Aviv is losing its willingness to wait out the standoff and could employ armed force, the former official said.
"Israel is not bluffing," he asserted (Chris Hughes, London Mirror, July 12).
Israeli Vice Prime Minister Moshe Yaalon on Thursday said Iran has apparently determined it would not become the target of a strike or of additional punitive measures prior to the conclusion of the U.S. electoral campaign, Reuters reported.
"As long they perceive this, they don't feel like they are under pressure. That is a pity," Yaalon said.
"It is up to the United States to try to change this perception in Iran. This is crucial," he said to Reuters. Iran would be a key focus of U.S. Secretary of State Hillary Clinton's visit to Israel scheduled for Sunday and Monday, the official noted.
"We've witnessed the impact of the sanctions in Iran, but up until now the regime prefers to suffer rather than give up its military nuclear capabilities," said the Israeli official, who called for "really crippling sanctions" against the Persian Gulf regional power.

"We believe of course that the military option should be the last resort and we believe that someone else should be doing the job. But we should be ready to defend ourselves by ourselves," Yaalon said, alluding to a potential U.S. armed campaign against Iran (Crispian Balmer, Reuters I, July 12).
Israeli Deputy Foreign Minister Danny Ayalon and U.S. Deputy Secretary of State William Burns on Thursday led diplomatic teams for their respective governments in a routine bilateral discussion. The meeting addressed "Iran's continued quest to develop nuclear weapons, which the United States and Israel are both determined to prevent," the State Department said in provided comments (U.S. State Department release, July 12).
Meanwhile, Iran's defense and petroleum sectors were targets of new U.S. economic punitive measures enacted on Thursday, the Wall Street Journal reported.
"Iran today is under intense, multilateral sanctions pressure, and we will continue to ratchet up pressure as long as Iran refuses to address … well-founded concerns about its nuclear program," Treasury Undersecretary David Cohen said in a statement.
Tehran's atomic and extended-distance missile activities have purportedly received support from 11 newly blacklisted organizations linked to the Iranian Defense for Armed Forces Logistics Ministry. Subjects of new penalties also included 20 financial entities and a significant number of transport firms thought to have backed Iranian efforts to circumvent a recently implemented European Union ban on Iranian unrefined petroleum.
U.S. government personnel said the measures are aimed in part at thwarting Iranian steps to sustain its petroleum trade with other countries. Organizations listed by the Treasury Department -- located in China, Malaysia, Switzerland and the United Arab Emirates -- have purportedly served as proxies for National Iranian Oil and other petroleum firms controlled by Tehran (Jay Solomon, Wall Street Journal, July 12).
An Austrian national accused of aiding Iranian missile activities and an Iranian Revolutionary Guard operative were among four people hit by the U.S. actions, Reuters reported. Blacklisted entities lose custody of any property under U.S. jurisdiction as well as the power to carry out transactions with U.S. firms or individuals.
In a move to counter efforts by Tehran to avoid penalties through changes to Iranian ships, the department declared National Iranian Tanker, 58 of the firm's ships and 27 branches to be government affiliates (Rachelle Younglai, Reuters II, July 12).
"This will assist companies around the world know if they're dealing with an Iranian tanker," one high-level U.S. government insider stated to the Journal.
Separately, a high-level U.S. government source said "we are reviewing all the information and all the details" from a multilateral technical-level meeting convened with Iran last week in Istanbul, Turkey (see GSN, July 5). The meeting was part of an ongoing effort by six world powers -- China, France, Germany, Russia, the United Kingdom and the United States -- to resolve concerns about Iranian atomic operations.
"There are still wide gaps between us that are real. We are seeing if there's a basis to see if we can move ahead," the source said (Solomon, Wall Street Journal).
On Friday, the U.S. Homeland Security Department's Immigration and Customs Enforcement branch said it had secured a federal indictment of an Iranian citizen and Chinese national suspected of scheming with others to provide Iran with high-strength steel, vacuum pumps and other U.S. material that could be employed in the manufacturing and operation of uranium enrichment centrifuges. Enrichment, which can be used to produce reactor fuel or nuclear-weapon material, has been a key concern for outside nations skeptical of Iran's atomic intentions.
Parviz Khaki, 43, and Zongcheng Yi each face individual charges of conspiracy to violate the International Emergency Economic Powers Act (IEEPA), conspiracy to defraud the United States; and conspiracy to commit money laundering. The indictment handed down on Thursday also included two counts of smuggling and two counts of illegally exporting U.S. goods to Iran in violation of the IEEPA law.
Khaki was detained in May in the Philippines, while the other suspect has not been caught, according to an ICE press release. The maximum prison sentence for conviction on all charges would be 105 years.
"By dismantling this complex conspiracy to deliver nuclear-related materials from the United States to Iran, we have disrupted a significant threat to national security," ICE Director John Morton said in the release. "Homeland Security Investigations will continue to pursue those who exploit U.S. businesses to illegally supply foreign governments with sensitive materials and technology that pose a serious risk to America and its allies" (U.S. Immigration and Customs Enforcement release, July 13).
About
The head of the United Kingdom's Secret Intelligence Service said Iran is "two years away" from gaining the status of a "nuclear weapons state," and the milestone would force a decision over potential U.S. or Israeli armed action against the Middle Eastern nation, the London Telegraph reported on Thursday.
Countries