Nuclear Trade Reform Bill Faces Hostile Lobbying, as Obama Team Renews Policy Review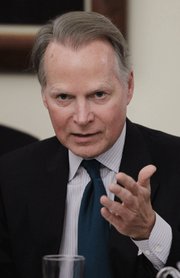 WASHINGTON -- Intense industry opposition is casting uncertainty over the prospects for a pending House bill that would expand the role of Congress in reviewing nuclear trade agreements, government sources and experts close to the issue say (see GSN, April 27).
Leading the effort to kill the legislation is the Nuclear Energy Institute, the industry's lobbying arm. The group has dispatched more than two dozen lobbyists to Capitol Hill at a cost of more than $3 million to oppose the reform legislation, H.R. 1280, as well as advocate the energy sector's position on other congressional measures.
The House Foreign Affairs Committee passed the bill by unanimous vote in April 2011. It would require congressional approval of U.S. nuclear cooperation pacts with other nations, unless the proposed agreement includes strict nonproliferation measures.
As it stands, however, the House Rules Committee is "actively blocking" H.R. 1280, one aide in that chamber said recently, while another complained about the circulation of misinformation about the bill.
In an effort to spark new interest in the legislation, the foreign affairs panel last month issued a 28-page report on the measure that slammed the Obama administration's handling of nonproliferation objectives in these types of atomic cooperation negotiations. It argued Capitol Hill should step up its role in reviewing such agreements and determining which ones can proceed.
At the same time, in a surprising development that could be a potential boost for the congressional measure's sponsors, the administration has launched a new interagency review of its policy on nuclear trade and nonproliferation, according to sources in and outside of government.
A January policy decision that Washington would decide on a case-by-case basis whether to demand the strictest nonproliferation provisions in such accords -- rather than seek such assurances from all trade partners -- has drawn forceful resistance from Democrats and Republicans alike (see GSN, March 9).
Secretary of State Hillary Clinton has directed that the Obama team move to rethink the approach, Global Security Newswire has learned. That comes despite a January letter to Congress from senior officials with the State and Energy departments explaining why a more proliferation-proof policy would risk alienating prospective trade partners (see GSN, Jan. 23).
A case-by-case approach translates to "no policy at all," Henry Sokolski, executive director of the Nonproliferation Policy Education Center, said last month. "It's just one-off."
He applauded the administration's latest move to "take another hard look at what we're doing, if anything, to stem the spread of sensitive technology."
Should the Obama team ultimately commit itself to stronger nonproliferation terms in its nuclear trade policy, Congress might feel less compelled to act, according to some issue experts. Lawmakers formulated the H.R. 1280 bill in 2010 and 2011 only after it appeared that the executive branch was taking a more permissive approach in talks with Jordan and Vietnam, sources said.
Under such trade deals, Washington allows U.S. companies to build nuclear reactors abroad or provide sensitive energy materials, technologies or services to foreign nations.
The debate revolves mainly around the so-called "gold standard," a provision that could be included in U.S. nuclear cooperation agreements under which partner nations would pledge not to domestically enrich uranium or reprocess plutonium.
These activities can be useful for peaceful nuclear power -- the focus of the trade agreements -- but also might open the door to clandestine efforts to develop an atomic weapon.
The United Arab Emirates agreed in a 2009 pact with the United States to forsake any enrichment or reprocessing. That led to a debate in Washington as to whether such trade agreements with other nations should include a similar gold-standard promise.
Advocates said this could help prevent future copycats of Iran's nuclear program, which is widely suspected of having a military dimension despite Tehran's insistence that it remains dedicated only to peaceful power generation and research.
The House legislation, cosponsored by committee Chairwoman Ileana Ros-Lehtinen (R-Fla.) and Ranking Member Howard Berman (D-Calif.), would allow only those trade accords that include the gold standard to be implemented after 90 days of continuous congressional session, unless lawmakers act to stop them. This is seen as a relatively light form of congressional review that typically results in a pact going forward.
For agreements that do allow the buyer nation to enrich or reprocess, the bill would involve a higher test; it would require a congressional vote of approval before going into effect.
As things stand under current law, the Atomic Energy Act is relatively permissive, allowing any so-called "Section 123" nuclear cooperation agreement to move forward following the 90-day waiting period.
A State Department spokesman last week said the Obama administration continues to oppose the House bill. A July 2011 position paper said the agency "shares many of the policy objectives reflected in H.R. 1280, but is deeply concerned by many of the bill's provisions."
The administration has said the legislation could make it more difficult for the U.S. nuclear industry to compete for foreign sales and ultimately could deny Washington influence over its prospective trade partners' nonproliferation policies.
Those who support the bill's objectives see it differently.
"The critics' basic position is that Congress cannot be trusted to consider and vote upon nuclear cooperation agreements according to their nonproliferation benefits," asserted one congressional aide this week. "These agreements authorize trade in nuclear reactors and sensitive nuclear exports and could lay the basis for military applications, as in Iran. Sure, Congress can vote on multibillion-dollar free trade agreements, but not nuclear reactors."
This Capitol Hill aide and several others spoke for this story on condition of not being named, lacking permission to address the issue publicly.
Industry advocates are convinced that the taller hurdle for congressional approval would mean that many future nuclear trade accords negotiated by Washington would fall victim to political scuffles, die on the vine and represent a huge blow to the domestic nuclear sector.
"If you didn't have the gold standard or equivalent language in a '123 agreement,' it would take an affirmative act of both houses to put the agreement in place," one industry source griped about H.R. 1280 in a late-March interview.
"It's hard enough just to get the requisite 90 continuous session days to put it in front of Congress and actually just sit there and become law," another industry representative said. "To get both houses to approve a '123' by joint resolution, I think most congressional staffers would tell you that's kind of a stretch."
Both industry sources demanded anonymity in this article, saying they were not authorized to openly discuss the hotly contested legislation.
The U.S. nuclear energy sector has established a significant presence on Capitol Hill and has made H.R. 1280 an important focus. Twenty companies and industry organizations -- from the French-based AREVA Group to the U.S. powerhouse Xcel Energy -- have paid lobbyists this year and last to explain their positions on this bill, according to the Center for Responsive Politics.
Topping the list is the Nuclear Energy Institute, which spent more than $2 million in 2011 for its staff to lobby on legislation that included the Ros-Lehtinen-Berman bill. The group's rate of spending is up considerably in 2012, with $755,000 already spent on staff lobbyists for this purpose in the year's first quarter alone, according to CRP data.
The industry arm also paid two outside lobbying firms, Kountoupes Consulting and the Mathis Group, a combined total of $160,000 in 2011 and $30,000 to date in 2012 to advocate against H.R. 1280, among other NEI legislative priorities, states information compiled by the watchdog organization.
All told, the institute spent more than $3 million in 2011 and more than $1 million thus far this year, using more than two dozen staff lobbyists and external consultants to address with lawmakers and staff all the legislation before Congress that it seeks to affect, CRP data show.
Some cite industry lobbying as a key reason why the Foreign Affairs Committee-sponsored bill might never make it to the House floor.
"For the moment, too many people in town have been bought," Sokolski said.
The House legislation has stalled for just over a year and the Obama administration's latest policy review is, by some counts, its third on the same issue since 2009.
However, Sokolski voiced confidence that the global consequences of nuclear proliferation and a need for more serious response measures will, at some point, carry the day.
"In time, they'll listen to their conscience rather than their wallet," he said of elected officials.
The House Rules Committee -- which shares jurisdiction under the 1954 Atomic Energy Act for the process by which Congress approves nuclear trade pacts – thus far has not acted on the H.R. 1280 legislation. Unless the rules panel actively refers the measure to the House floor, it can go no further, according to congressional staffers.
The rules panel's jurisdiction extends solely to legislative process matters, so it lacks an option to block the bill on substantive grounds, aides say.
Rules Committee aides have argued that H.R. 1280's demand for congressional votes on each nuclear trade pact -- which average no more than one or two per year, experts say -- would put too much of a burden on the legislation calendar and thus should not move into the general chamber for consideration, said one House staffer.
Another reason for the panel's opposition is the notion that additional congressional oversight of nuclear trade pacts in the form of floor votes is overkill, once lawmakers have empowered the executive branch to negotiate such deals, said one longtime industry consultant.
"So that's the hang-up in the Rules Committee, if there is one," said this source, adding "it's not just" panel Chairman David Dreier (R-Calif.) who has qualms about the bill.
Dreier does not sit on the chamber's foreign affairs- or energy-related committees, but the 16-term lawmaker does have some notable ties to the nuclear industry.
One longtime lobbyist for the nuclear energy sector is also one of Dreier's major campaign contributors. Richard Hohlt and his wife, Deborah Messick Hohlt, have donated nearly $15,000 to Dreier's reelection campaigns since 2008.
A private consultant, Hohlt represented the Nuclear Energy Institute on Capitol Hill through 2007. More recently, he has lobbied on behalf of Pinnacle West, a nuclear energy provider in western U.S. states.
Reached by phone on Friday, Hohlt said he has not lobbied on this particular piece of legislation or talked personally with Dreier in the past two years.
Dreier's top campaign contributors this year also include several nuclear energy interests, among them industry heavyweight General Electric. A GE political action committee and individuals representing the company have contributed more than $28,000 to Dreier's reelection bids since 1996, according to federal filings.
Another of the chairman's big donors, Ernst & Young, lobbies on behalf of General Electric and more recently gave a $2,000 gift this year and $3,000 in 2010.
The Nuclear Energy Institute was not recorded among Dreier's top 100 contributors until this year, when it gave the lawmaker $1,000.
Dreier on Feb. 29 announced he planned to retire from the House at the end of the year.
The lawmaker's spokeswoman declined to respond to questions about his position on H.R. 1280 and whether he has discussed the legislation with other House GOP leaders or industry lobbyists.
The broader U.S. nuclear energy lobby, however, is likely larger and more influential than it appears, with the extent of links to particular lawmakers impossible to fully track .
That said, other nuclear industry players have lavished funds on other political candidates who ultimately might cast votes on the nuclear nonproliferation bill. Seven nuclear energy companies -- most led by executives who also sit on the NEI board of directors -- have injected more than $3.5 million into political campaigns since January 2011, according to the Center for Responsive Politics.
The Nuclear Energy Institute itself gave more than $325,000 to federal candidates in 2010 and, thus far this year, has made $170,000 in such donations, according to CRP data. Just over 53 percent of its political contributions during the 2010 campaign went to Democrats, while Republicans have a slight edge in NEI contributions thus far this year.
U.S. law requires lobbyists to disclose their work only if their activities on behalf of a particular client exceeds contact with more than one government official or takes up more than 20 percent of the advocate's time.
"It's come to be known as the 'Gingrich Rule,'" said Viveca Novac, a spokeswoman for the Center for Responsive Politics. Many of the former GOP presidential candidate's political opponents viewed his Washington advocacy for Fannie Mae as lobbying, though Gingrich insisted he consulted for the mortgage giant as a historian.
"That's a Monday," said Novak, underscoring that lobbying for a client one full day each week -- one-fifth or less of a Washington insider's work time -- need not be divulged under the law.
Meanwhile, Brendan Buck, a spokesman for House Speaker John Boehner (R-Ohio), said it is important for all proposed legislation, including the Atomic Energy Act reform measure, to undergo a deliberative process on Capitol Hill "so that different committees [and] members can address any concerns they may have."
"So [we] won't have a position on the legislation until all committees with jurisdiction are able to work on the legislation," Buck told GSN this week.
Boehner's spokesman said he was unaware of any conversations his boss might have had with nuclear industry representatives or other House members regarding H.R. 1280.
"Our staff is obviously always in consultation with the committees about their work and various pieces of legislation, but I couldn't say for certain whether the speaker has had any conversations with any of the committee chairs," Buck said.
A spokesman for House Majority Leader Eric Cantor (R-Va.), who controls the schedule for bills to be considered on the House floor, declined to make any public comment.
One GOP leadership aide, though, said on Wednesday that the bill "is working its way through the committee process and has been referred to the Rules Committee."
What are members of Congress and their aides hearing from nuclear industry lobbyists about H.R. 1280? Representatives of the energy sector are arguing the United States simply is not in a strong enough position in the global marketplace to start making demands on up-and-coming atomic energy customers, such as Jordan, Saudi Arabia and Vietnam.
"In decades past … we held a great deal of influence over global commercial nuclear trade, by virtue of our strong, dominant position as a supplier," said one industry source at the March interview. "And when we added new terms for nuclear trade, the customers would accept them. They didn't have much of a choice."
Over the past few decades, though, the sector has seen a steep rise in global nuclear energy sellers, including France and Russia. Some of these industry players have successfully undercut their U.S. competitors with government-subsidized prices, according to experts.
"It's really touchy because if you're in a position where you're just sort of teetering on whether you'll even get to be a supplier, you're not in a position to dictate terms," the industry source said. "Our competitors will jump on anything that calls into question whether the U.S. is a reliable supplier. And by reliable supplier, you don't mean just are they going to transfer this technology when you need it. Are they going to be a reliable supplier for the next [several] decades?"
The pending House legislation does not make the no-enrichment-or-reprocessing gold standard a requirement of every future nuclear trade agreement, but would simply require a congressional vote of approval for pacts that lack such pledges.
Industry advocates fear, though, that the bill is a big step toward an ironclad requirement.
"Essentially it would" make the gold standard an implicit demand in all future agreements, said the industry source.
"I think a lot of folks would tell you, look how little is getting passed through Congress," said the other nuclear energy source taking part in the March question-and-answer session. Even approval legislation for relatively noncontroversial nuclear trade accord renewals could become politicized, the two interviewees agreed.
One congressional aide said nuclear energy lobbyists are sometimes leaving lawmakers and staff with misleading information.
"I've seen the lobbying that they've done," said the staffer. "They do their best to scare members' offices" and have "misrepresented" what the legislation does, either "by design or ignorance."
Some of those in the nuclear industry, though, insist that they share the bill's underlying objectives of restraining the spread of dangerous technologies.
"It's all very well intended," said the first industry source of congressional motives. "We all understand what's driving it. We know the frustrations at dealing with nuclear proliferation and the two break-out countries of Iran and North Korea. It's been a very frustrating experience to deal with that in an effective, multilateral way."
That frustration has boiled over into proposed legislation that will not actually resolve nonproliferation problems, this advocate argued.
"What is there for Congress to do about it but legislate?" the source said. "[However,] the alternative to U.S. supply isn't, as in the 50s, no nuclear. It's nuclear supply by someone else."
"This is not an impotent Congress grasping at straws because they're frustrated," one Capitol Hill aide responded. Rather, lawmakers are "trying to establish a positive precedent in the global nuclear commerce and nonproliferation regime to benefit everyone. In the view of some lawmakers, [the idea] that the industry is terrified [that the legislation] may affect their bottom lines is shameful."
"Stopping the spread of nuclear weapons must be among our highest priorities as we work to protect U.S. security and that of our allies," Ros-Lehtinen said in a statement provided to GSN on Friday. "H.R. 1280 will strengthen Congress's ability to bring us closer to achieving the goal of protecting the American people from the threat of nuclear material and technologies falling into dangerous hands."
Berman, the foreign affairs panel's top Democrat, in his own statement on Friday said the risk is that "more countries may follow Iran's example and construct, quote-unquote, 'peaceful' nuclear fuel facilities whose real purpose is to provide the country, and possibly terrorist groups, the fuel for nuclear weapons that are meant to be used against us.
"The U.S.," he added, "must only engage in nuclear cooperation in circumstances that are not going to be conducive to proliferation."
For its part, the Nuclear Energy Institute has not yet taken a position on whether it supports the gold standard, if voluntarily embraced by other nations in the wake of the 2009 UAE pledge.
"The nuclear energy industry takes the 'gold standard' issue very seriously and is in the process of finalizing its formal position statement," which should be available in coming days, said NEI spokesman Thomas Kauffman in a written response to questions.
Perhaps the greatest thrust of the nuclear industry's pitch on Capitol Hill, though, is related to the U.S. economy and jobs. A fact sheet the Nuclear Energy Institute has circulated in Congress cites a Commerce Department estimate that the international market for nuclear equipment and services could reach $740 billion in the next decade.
"As a rule of thumb, every $1 billion of exports by U.S. companies supports 5,000 to 10,000 domestic jobs," states the fact sheet.
One of the industry sources said it would be "impossible" to project how many of these jobs might be lost if the House bill allowing for congressional up-or-down votes on selected nuclear trade pacts becomes law.
An NEI statement about H.R. 1280 released last year, attributed to the group's senior lobbyist, suggested otherwise.
The legislation "threatens thousands of American jobs and billions of dollars in exports by U.S. companies," said Alex Flint, NEI senior vice president for governmental affairs. "Without a Section 123 agreement, there are no contracts, no supply relationships, and waning U.S. influence on nuclear nonproliferation or nuclear safety."
Flint also asserted that "with the sole exception of United Arab Emirates, U.S. requests that potential trading partners forswear enrichment and reprocessing activities have been publicly rejected as an infringement of their sovereign rights."
Recent events, though, may have overtaken this contention. Word on Capitol Hill is that, in dialogue with Washington diplomats, Saudi Arabia and Jordan have both indicated a willingness to consider some form of no-enrichment-and-reprocessing pledge in respective bilateral accords. The U.S. government has not addressed the latest details of these ongoing talks in public statements.
About
WASHINGTON -- Intense industry opposition is casting uncertainty over the prospects for a pending House bill that would expand the role of Congress in reviewing nuclear trade agreements, government sources and experts close to the issue say.
Countries