Obama Sends Vietnam Nuclear Trade Pact to Congress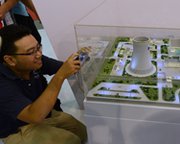 The Obama administration on Thursday submitted to Congress a nuclear trade accord with Vietnam after a reported Tuesday signing ceremony. The pact could potentially proceed into force later this year.
The 30-year bilateral agreement -- under which the United States could share nuclear materials, technologies and information with the Southeast Asian nation -- could be implemented if lawmakers do not act to block it within 90 days of continuous legislative session.
Congressional sources said the document was signed earlier this week. Hanoi's official news agency released a photo showing a Tuesday signing ceremony between Minister of Science and Technology Nguyen Quan and U.S. Ambassador to Vietnam David Shear.
Typically such nuclear trade pacts between Washington and other capitals around the globe go forward with few U.S. lawmakers even taking notice.
This first-ever nuclear accord tying the United States to Vietnam could be different, though.
Some powerful members of the House and Senate have raised concerns about rewarding Hanoi when it has a spotty human rights record. Numerous nonproliferation experts and lawmakers from both sides of the aisle also have criticized the U.S.-Vietnam pact for lacking binding provisions aimed at preventing Vietnam from undertaking sensitive nuclear fuel-making activities that could contribute to building nuclear weapons.
At a late-January hearing, for example, Senate Foreign Relations Committee Chairman Robert Menendez (D-N.J.) demanded to know why Washington accepted a political side note with Vietnam indicating that Hanoi would not enrich uranium or reprocess plutonium domestically, rather than insert that "important statement into a binding part of the agreement."
"I'd like to have an answer to that," said the chairman, backed by a number of panel Republicans and Democrats.
Menendez said he might allow the Vietnam pact to proceed, but only if it is accompanied by "a parallel resolution on human rights as part of our comprehensive partnership understanding."
U.S. nuclear lobbyists -- supported by some lawmakers and nonproliferation advocates -- say that Washington would retain more positive influence with nations developing their own atomic-power capabilities if it helps facilitate their work.
"If you look at the Vietnam of 15 years ago and you look at Vietnam today, it's a dramatically changed nation," Senator John McCain (R-Ariz.) said at the Jan. 30 committee hearing. "This agreement is another step in what has evolved into a partnership between the United States and Vietnam."
The Obama administration has deliberated internally over its nuclear trade and nonproliferation policy for years, leading to some dramatic splits between senior Energy and State department officials, among others.
Last year, the White House concluded it would take what officials call a "flexible" policy toward negotiations on atomic cooperation pacts, demanding only in selected cases that global partners promise not to produce their own nuclear fuel in exchange for Washington's nuclear blessing.
About
The accord with Hanoi, signed this week, risks falling flat on Capitol Hill because of concerns about human rights and nonproliferation.
Countries