Obama Favoring Atomic-Arsenal Spending Over Nuclear Security: Report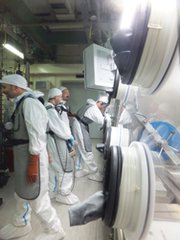 The White House last year rejected a proposal to speed up nuclear-security work, opting instead to spend more money on modernizing nuclear arms.
The Energy Department, in a secret May 2013 report, laid out a plan to ramp up efforts to finish securing and disposing of vulnerable stockpiles of nuclear material around the planet by December 2016. However, the White House in its fiscal 2015 budget plan ultimately decided to cut back its nuclear nonproliferation spending in order to make certain enough monies were available to update the U.S. nuclear stockpile, the Center for Public Integrity reported on Tuesday.
The 12-page report, obtained by the center, was produced by Global Threat Reduction Initiative staff in the National Nuclear Security Administration. The report said that in excess of two tons of movable, weapons-suitable uranium continues to be held in scores of atomic research reactors around the world. At the same time, global reactors are generating more plutonium, enough to fuel some 740 warheads annually, according to the proposal.
The NNSA report said that despite the Obama administration's high-profile, multi-year effort to secure vulnerable nuclear material, there were "still serious threats that require urgent attention."
During internal administration negotiations, Energy Secretary Ernest Moniz campaigned for more money for both nuclear security and arsenal modernization from the Defense Department's share of the budget, according to the CPI investigation. The Pentagon objected to this on the grounds that it had already given billions of dollars in the last four years to Energy Department weapons activities, which were not progressing as quickly as the military wanted.
Ultimately, a deal was worked out in a Cabinet-level meeting to cut nonproliferation spending while protecting the weapons budget. An unidentified ex-White House official said there was internal agreement that it was okay to dial back nuclear-security efforts because of progress made in the last four years.
"They had basically achieved their goals. The stuff that was left was the stuff that was hard to do," the official said.
The budget that the Obama administration submitted to Congress earlier this year reduced spending on Energy Department nuclear nonproliferation efforts by $399 million while increasing by $534 million funding for atomic-arms programs, concludes a new study by Harvard University's Project on Managing the Atom.
Laura Holgate, National Security Council senior director for combating weapons-of-mass-destruction terrorism, said that cuts in nuclear security spending were appropriate because of how much progress had been made on that front.
"The president's nonproliferation and nuclear security priorities were protected," Holgate said in an email to the investigative news organization. "The decreased budget reflects natural and predictable declines based on project completion."
About
The White House last year rejected a proposal to speed up nuclear-security work, opting instead to spend more money on modernizing nuclear arms.
Countries