Possible Concealment Seen at Iranian Base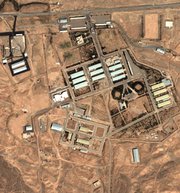 A picture taken from space last month suggests Iran might be attempting to eliminate incriminating material at its Parchin armed forces installation before a potential visit by U.N. auditors to gather information about possible nuclear-weapon development activities in the nation, a think tank in Washington said on Tuesday (see GSN, May 8).
Iran, which insists its nuclear activities are strictly peaceful, in March tentatively offered to allow the International Atomic Energy Agency to again inspect its Parchin base after denying access to high-level IAEA teams that made two visits to the country this year (see GSN, March 6). The U.N. nuclear watchdog in November reported indications that the Persian Gulf regional power had assembled a tank at the installation for performing detonations relevant to a potential nuclear-weapon development effort (see GSN, Nov. 9, 2011).
The April 9 overhead image reveals an apparent flow of water from inside or close to the suspected tank's housing, a sign of possible scrubbing at the structure, according to the Institute for Science and International Security. A row of objects seen outside the housing could be linked to a possible concealment effort and might be subject to water sanitization, according to the group's analysis.
"Satellite images of the building from recent months do not show any similar activity at the site -- indicating that such activity is not a regular occurrence at this building," the assessment states. "Iran should immediately allow IAEA inspectors into the Parchin site and allow access to this specific building. It should also explain the purpose of the activities seen at the building in this recent satellite image."
Agency Director General Yukiya Amano in March said the "possibility" of concealment at the site "is not excluded" (see GSN, March 12; Institute for Science and International Security release, May 9). Several days ago, he referenced his organization's recent observation of "activities" under way at the facility, Reuters reported.
The U.N. agency recently announced plans to restart consultations with Iran on May 14 and 15, but Amano last week said his organization lacked any "concrete indication that we would have access to Parchin" (see GSN, May 3).
U.S. Assistant Secretary of State for International Security and Nonproliferation Thomas Countryman on Tuesday pressed Tehran to grant the agency access to related locations, records and workers.
"Iran continues to delay and obstruct" the IAEA investigation of its nuclear activities, Countryman said (Fredrik Dahl, Reuters I/Yahoo!News, May 9).
The secretary of Iran's powerful Expediency Council on Tuesday said he was hopeful for the prospects of an upcoming meeting between Tehran and six major governments, "but there is still a long way" to traverse in defusing the nuclear standoff, Agence France-Presse reported. Iranian delegates are scheduled on May 23 to meet in Baghdad with counterparts from China, France, Germany, Russia, the United Kingdom and the United States in an effort to address suspicions that Tehran's atomic activities are geared toward establishment of an Iranian nuclear-weapon capability.
Increasing "mutual trust" between the sides is the focus, Mohsen Rezai said, adding "the lifting of sanctions (imposed on Iran by the international community) is a long way" from taking place (Agence France-Presse I/Spacedaily.com, May 8).
Iran is "playing for time" through the multilateral dialogue, an Israeli government insider quoted Prime Minister Benjamin Netanyahu as saying in a Wednesday meeting with European Union foreign policy chief Catherine Ashton.
Iran must vow to end all uranium refinement, transfer its refined uranium stocks abroad and shutter its subterranean Qum refinement site for the diplomacy not to end in failure, Netanyahu said in comments recounted by the source and reported by the Associated Press.
Tehran must also provide a "clear time line" for the actions, the insider quoted the prime minister as saying (Josef Federman, Associated Press/Yahoo!News, May 9).
Iran's top justice official, though, on Wednesday said his nation would not relinquish its atomic entitlements in response to punitive steps by Western powers, the Tehran Times reported.
"The Iranian people will not retreat from the firm steps they have taken on the path to access nuclear energy for peaceful purposes, and the Westerners should put this wishful thinking out of their mind," Ayatollah Sadeq Amoli Larijani said, replying to the European Union's Monday demand for Iran to halt all uranium refinement.
"The Westerners will get nowhere through imposing sanctions, threatening, and issuing illogical statements, and should try to create a sensible and logical atmosphere," Larijani said (Tehran Times, May 9).
Plans to include former top Israeli official Shaul Mofaz and his moderate Kadima Party in a new unity government could give Netanyahu greater control over his country's approach to Iran, the New York Times quoted Israeli politicians as saying.
The prime minister in recent months has repeatedly discussed the possibility of an armed campaign aimed at setting back Iranian nuclear activities. Mofaz, though, in April said "the greatest threat to the state of Israel is not a nuclear Iran."
Addressing their varying stances on the matter, Netanyahu on Tuesday said their exchanges "are serious, and will be serious and responsible."
Israeli Transportation Minister Yisrael Katz suggested the governing plan should concern Iranian President Mahmoud Ahmadinejad, "because from today the state of Israel will be more united, both in its ability to deter and also, if necessary, in its ability to act."
"If we are in consensus in Israel, it gives us more power," added Ayood Kara, a deputy head of Netanyahu's Likud Party.
It is critical to maintain the potential to launch a strike, and "the credibility is higher" with significant domestic unity, said Einat Wilf, a lawmaker with Defense Minister Ehud Barak's Independence Party.
"Everyone [in Israel] is saying they would prefer the sanctions to work," Wilf added (Isabel Kershner, New York Times I, May 8).
Meanwhile, Vice President Joseph Biden on Tuesday credited President Obama with aiding in unifying the global community around punitive action against Iran, AFP reported.
"When we took office, let me remind you, there was virtually no international pressure on Iran. We were the problem," Biden said. "We were diplomatically isolated in the world, in the region, in Europe. The international pressure on Iran was stuck in neutral."
"We were being criticized in European capitals for being unilateral. And Tehran had allies; they were intimidating their neighbors," the vice president said. "America's leadership was in doubt."

"We were neither fully respected by our friends nor feared by our opponents. Today it is starkly, starkly different," he stated.
Tel Aviv's perception of an Iranian atomic arsenal as a danger to its existence is "justifiable," Biden said. "An Iran with nuclear weapons would also pose a great threat to U.S. security."

"The United States policy under President Barack Obama is not one of containment," he added. "It is straightforward: We will prevent Iran from acquiring a nuclear weapon by whatever means we need" (Agence France-Presse II/Google News, May 8).
A spokeswoman for Republican presidential hopeful Mitt Romney called Biden's comments "wrong and completely inappropriate," CNN reported.
"All too often, President Obama and his administration have sought to blame America first, yet Vice President Biden's reckless statement today blaming America for -- of all things -- the progress of Iran's nuclear weapons program, has reached a new low," said Lanhee Chen, the former Massachusetts governor's policy chief. "The problem is not America. It is the ayatollahs who oppress their people, threaten their neighbors, and are pursuing nuclear weapons" (Marlena Baldacci, CNN, May 8).
Saudi Oil Minister Ali Naimi on Tuesday reaffirmed his country's willingness to increase petroleum production, AFP reported. The European Union is scheduled on July 1 to implement an embargo on Iranian petroleum.
"We have 2.5 million barrels a day of spare capacity, and 80 million barrels of stocks," Naimi said.

"We always satisfy our customers' requests. Whenever there is a request, we'll satisfy it," the official stated, adding that "oil prices are still too high" (Agence France-Presse III/Google News, May 8).
A newly finalized round of agreements for Iran to purchase agricultural products from India is intended to help circumvent U.S. economic penalties targeting sales of Iranian petroleum, the Wall Street Journal reported on Wednesday (Nayak/Mukherji, Wall Street Journal, May 9).
Despite U.S. calls for Beijing and New Delhi to curb their imports of Iranian petroleum, the two governments have collaborated with Tehran to prepare means of providing compensation for oil transfers from the Middle Eastern nation, the Times reported on Tuesday. China and India stand to import Iranian oil less expensively and to increase exports to the Persian Gulf power under payment systems now in place that use Chinese and Indian money in place of the U.S. monetary denomination (Jim Yardley, New York Times II, May 8).
About
A picture taken from space last month suggests Iran might be attempting to eliminate incriminating material at its Parchin armed forces installation before a potential visit by U.N. auditors to gather information about possible nuclear-weapon development activities in the nation, a think tank in Washington said on Tuesday.
Countries