Q&A: Changes Coming for U.S. Effort to Stop Nuclear Smuggling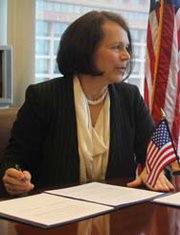 WASHINGTON -- A recently completed White House-led strategic review could shift priorities for a program intended to prevent the smuggling of nuclear-weapon material across international borders, a top U.S. National Nuclear Security Administration official tells Global Security Newswire.
Anne Harrington, deputy NNSA administrator for defense nuclear nonproliferation, said in an interview that the broad assessment of the Second Line of Defense program will mean that its subsidiary Megaports program will be more selective about which international ports at which it chooses to invest in radiation-detection equipment.
Overall, there will be a greater emphasis on mobile -- rather than stationary -- detection systems, said Harrington, whose organization is a semi-autonomous part of the Energy Department.
In a wide-ranging interview, she addressed a number of issues, including why release of an environmental impact statement regarding the potential conversion of surplus weapons-grade plutonium to mixed-oxide reactor fuel has been delayed. The official also discussed whether the United States should institute an import ban on medical isotopes produced with highly enriched uranium, given concerns that Russia could undercut the market for isotopes produced with low enriched uranium.
"I can't see any immediate reason to engage in a medical trade war with Russia over how they produce their isotopes," Harrington said, noting Russia's stated intention to eventually switch low enriched uranium.
Separately, the United States and Russia are working to craft implementing agreements relative to the new Cooperative Threat Reduction pact that the two nations announced in June, Harrington told GSN. The deal replaced the so-called Nunn-Lugar agreement that had enabled U.S. efforts to secure nuclear weapons-related items in Russia since the end of the Cold War.
Harrington further discussed the potential for international nuclear-security standards following an International Atomic Energy Agency conference that took place in Vienna in July.
Edited excerpts of the recent interview follow.
Nuclear Security Conference
GSN: What do you think were the significant outcomes from the IAEA nuclear security conference in Vienna?
Harrington: I think the general assessment of the conference was that it was very successful. It was not an easy undertaking to do something like this at the ministerial level and it was unique among IAEA conferences in that, one, it was at the ministerial level and, two, it was designed to bring policy and technical communities together which is not the way things normally run in the IAEA.
Policy issues are usually dealt with at the Board of Governor's level or annually at general conference and there is just a constant stream of technical meetings that go on. But you don't typically bring the two communities together and it was fascinating to see senior policy people huddled around poster sessions, eagerly talking to their scientists about the work they were doing and this is countries across the whole scale of development.
There was evidence that there is a real thirst for more of that kind of interaction. I think the IAEA may have struck a real chord here in terms of it how it may want to think in the future about organizing some of its meetings and to give those two communities more of an opportunity to interact with each other.
GSN: What would you say is the practical advantage of having that interaction as opposed to what has traditionally happened in the past?
Harrington: It's a two way street: On the policy side, individuals were very interested in understanding the technology behind things better and, in particular, understanding things that were happening in their own countries better, whether it's … advisory services of the IAEA or on border security and detection capabilities and so forth -- it gave them a real chance to also learn a little bit.
And, certainly from the technical side, it gave the technical people a chance to understand what sort of questions are on the minds of policy-makers. And what drives the direction of what the technical community is being asked to do. Developing that better and mutual level of understanding, where each piece of the equation comes from, I think was fascinating to watch.
GSN: Are there any particular hopes or expectations for the next nuclear security summit in 2014 in the Netherlands, and is there anything in particular that came out of Vienna that you think relates to that?
Harrington: Let me go back quickly to Vienna, because you asked what were some of the main things that came out. I think the biggest thing is that you had 1,350 registered participants, 125 countries and 31 ministers there to talk about nuclear security and, in particular, about the IAEA's role in nuclear security and clearly supporting the IAEA's function in that area, which I think was viewed by many as a tremendous step forward in terms of really nailing down that particular area of responsibility.
GSN: Do you see any relationship between that and what is hoped to come out of the nuclear security summit in the Netherlands next year?
Harrington: Well, I don't think it's a secret that at least there is some hope that a series of conferences similar to what the IAEA just held in Vienna could pick up the nuclear-security summit mantle and keep that momentum moving forward. Given the success of the conference, I think there's room for optimism that that, in fact, could be the case.
The other practical effect of the conference was to provide some direct input to the IAEA for the next nuclear-security work plan. So not only was it a good opportunity to discuss some fundamental issues about nuclear security, but you're also at the same time providing direct input to the IAEA staff as they're finalizing their next security plan. So that has a very practical impact and that will govern the work of the agency from 2014 to 2017.
GSN: So it's hoped generally that whenever the nuclear security-summit process winds down, that IAEA will step in and continue that forward in its own capacity?
Harrington: Yes.
GSN: Do you see any chance for discussion either in this IAEA process or at the next nuclear-security summit for more talk about potential universal standards for nuclear security? The emphasis so far has been more on individual states and what they can individually bring to the table.
Harrington: There was a lot of discussion of that at the nuclear security conference. And, although the Office of Nuclear Security has not yet been elevated to a division status, I think that you heard a lot of comments from countries about the utility of the IAEA issuing standardized guidelines, self-assessment guides -- all of these tools that the IAEA has provided -- and a lot of discussion about the utility of moving toward more standardized practices. That definitely was one of the themes of the conference.
Nunn-Lugar
GSN: Can you briefly describe the work that the NNSA Global Threat Reduction Initiative does specifically within Russia and talk about which of those projects, if any, might have any changes in light of the new Nunn-Lugar agreement that was signed?
Harrington: GTRI's projects in Russia right now are going to focus primarily on the technical assistance that we provide to their effort to convert their own research reactors from highly enriched uranium to low enriched uranium.
This is part of the global HEU minimization effort that's been under way for many years, but which has very much been highlighted under the nuclear-security summit process. Under the nuclear-security summit and the president's nuclear-security agenda, we have been working very closely with Russia to repatriate to Russia the highly enriched uranium from reactors that they provided under their atoms-for-peace program. …
This is a huge step forward because the largest number of remaining HEU-fueled reactors is in the Russian Federation. This is [a] high priority goal for us, but happily it's one that the Russians have really taken on board. And, even [Russian President Vladimir] Putin has made mention of their commitment to do this and that they will have the first one done by the end of 2014. And then [they] are developing a schedule for subsequent conversion to low enriched uranium, and then elimination of the HEU. I think it's a very positive story.
The new arrangement that we have for working with Russia will allow us to continue just as we have in the past. Our GTRI work wasn't under the Cooperative Threat Reduction [agreement] anyway; it's under a different set of arrangements so that didn't really impact that program as much as it did the International Material Protection Cooperation program. But that one also will go forward as we see it unchanged, once we get the final adjustments in all of the implementing language complete.
GSN: So when it comes to things that the Energy Department was involved with in terms of securing materials in Russia, setting up security facilities and maintaining that security, are there any changes with the expiring of the old agreement and the signing of the new one?
Harrington: No, as I said, when you change the agreement, the implementing arrangements have to be adjusted to reflect the name of the new agreement and -- they are some relatively mechanical things -- but you have to align the implementing documents with the new governing document. Once that process is done, we really don't expect to see much, if any, difference at all in how we have been working with the Russians.
GSN: Is there a rough time frame for when you think that implementation language will be worked out?
Harrington: We're pushing very hard to get this done, but Russia -- as much of the rest of Europe -- disappears for the month of August and not a lot productive is done. At least at the lab level, they are working hard to get these documents lined up because they want to get the work done. And, it's just a real testament to the very strong technical working relationship that we've developed between our labs and the Russian institutes. They understand the importance of getting this work done, so they've pushed very hard from their end to make sure that things don't lapse.
GSN: Do you think before the end of the year?
Harrington: Certainly before the end of the year.
GSN: Do you expect any changes for American contractors working in Russia for the Energy Department, in terms of contracts being terminated or liability changing?
Harrington: The arrangements that are in the new agreement are satisfactory to us in terms of those sorts of things -- in terms of our access and liability where we need it. I think that's an important element of the new agreement, and the new way of doing business really on a peer-to-peer basis is that we ask for what's needed.
The CTR agreement, if you know it, was very compressive but it demanded the same terms and conditions for a training program as it did for silo elimination. While the potential for having to exercise a liability clause for a training program is fairly low, for blowing up a missile silo it might be pretty high. I think the arrangement that we have now gives us better flexibility to ask for what is needed.
GSN: So you don't expect any contractors to be pulling out as a result of the change?
Harrington: I would not expect that, no.
Medical Isotopes
GSN: It was said earlier this year that statements by Russian officials had increased U.S. confidence that Russia is going to follow through in eventually eliminating the use of HEU in medical isotope production. At one point, a five-year goal was stated. Are there any updates?
Harrington: I think that we have a general goal that Russia shares to minimize the use of HEU for civilian purposes and it's consistent with that. And it's also consistent with the direction that the rest of the world's medical isotope production is moving. The emphasis very strongly at the [Paris, France-based] Nuclear Energy Agency and its subcommittees is very strongly in favor of LEU-produced isotopes.
GSN: In light of that, is it unnecessary for the United States to have an outright ban on importing medical isotopes produced with HEU?
Harrington: We've already taken steps, as you're aware, to give preference to LEU-based isotopes, so there already is that preference on the street. And, certainly with Australia and South Africa, there are enough producers of LEU-based isotopes and we've been supporting our own domestic development of LEU-based isotopes. I can't see any immediate reason to engage in a medical trade war with Russia over how they produce their isotopes.
Second Line of Defense
GSN: Turning to Second Line of Defense, you said in March that the interagency review on that program had been finished and that it was now clearer what its role was going to be going forward. Can you talk a little bit now about what that role will be and how it will be similar or different to what it was previously?
Harrington: One of the things that came out of the review which I think was very interesting was a reassessment, for example, of the Megaports program and identifying a point of diminishing return in terms of which ports, which transshipment ports, really contribute the most to U.S. national security.
A transshipment port that, let's say, primarily functions to take goods made in India and transship them to Australia maybe isn't as valid a target for our program as a port, 30 percent of whose outbound cargo ends up in a U.S. port. That would be pretty important.
So we really refined that kind of analysis, in order to better target where our investments go. So that was, I think, a very useful step, and also revisiting some of the technologies that we were using and how we combine technologies to address trafficking in some particular geographic locations.
So [stationary] portals are very useful in certain places. Mobile vans are very useful in some places. Handhelds, backpacks -- there's a lot of different detection capability available now and what we've done is adjust the mix of technology that we apply to any particular situation.
GSN: In the interest of cost-effectiveness?
Harrington: Not just cost-effectiveness, but mission effectiveness.
I was in the Middle East in July and it's really hard to lay a road across the desert and say this is where all the traffic is going to go. You need a different, more flexible kind of capability in many countries where a stationary detector doesn't give you.
And so modifying the mix of technologies actually makes us much more effective in terms of what we can deliver. We've seen this in practice in a number of places now, and so that's going to affect future decisions on procurement and technology choices.
GSN: In light of these reassessments, do the previously stated goals of equipping 650 sites in 30 countries and 100 seaports by 2018 still stand, or have those been adjusted in light of the new assessment?
Harrington: Those have been adjusted, I'm not going to give you new figures because I might misquote them. But those have changed and, in fact, I've been reviewing some of the draft goals that we're circulating right now. And, the focus is much more on the delivery of mobile capacity than stationary. And, as I've said, we've reassessed the Megaports target and we believe the new target is very defensible.
MOX
GSN: The environmental impact statement for converting weapons-grade plutonium into mixed-oxide reactor fuel was expected to come out about now. Can you say why that hasn't happened yet and when it might come out?
Harrington: As you know, we are doing an analysis of options for possible disposition and that's still under review. Until we have a clear path forward that the secretary has reviewed and approved, it doesn't make much sense to issue that EIS immediately. There's nothing urgent about getting it out, and holding on to it until the analysis is complete makes a lot of sense.
GSN: Has the Tennessee Valley Authority stated explicitly that it is interested in using the fuel in the context of that document?
Harrington: We're working closely and have been for several years with TVA, [and] when the document comes out, you'll see the details. Another thing people have to appreciate is the fact that we're just two months into having a new secretary in the building. …
Basically, for any major decision announcement, we have to find time on his calendar to brief him before we go ahead and make public statements. So part of it is just a transition element. It's always a really bad thing to surprise your new boss.
About
WASHINGTON -- A recently completed White House-led strategic review could shift priorities for a program intended to prevent the smuggling of nuclear-weapon material across international borders, a top U.S. National Nuclear Security Administration official tells Global Security Newswire.
Countries