Royce: White House in 'Dramatic Retreat' from Security Norms in Nuclear Trade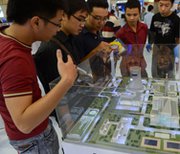 The chairman of a key House committee on Thursday charged that the Obama administration is gutting nonproliferation norms in its negotiating stance toward Iran, especially in light of its policy approach toward inking nuclear trade agreements elsewhere around the world.
"For an administration that has held out nonproliferation as a signature issue," its nuclear-trade negotiating policy "is a dramatic retreat from the so-called gold standard, the gold standard policy under which countries were pressed to forgo acquiring … potentially dangerous technologies," Representative Ed Royce (R-Calif.) said at a committee hearing.
"In November," he said, "the administration conceded that Iran will be allowed to retain a uranium enrichment capability, a bomb-making capacity, in any final deal. That is the effective melting of the gold standard."
A State Department spokesman coined the term "gold standard" in 2009 to describe a nuclear cooperation agreement the Obama team had just renegotiated with the United Arab Emirates, formalizing the Persian Gulf nation's pledge to abstain from domestically producing nuclear fuel.
Iran is in the midst of negotiating with world powers potential constraints on its nuclear energy program -- which others suspect could lead to a nuclear-bomb capacity -- in exchange for relief from international economic sanctions.
Tehran officials insist they should be able to continue some level of uranium enrichment for civil-energy and research needs -- a demand that the West may yet accept.
But nonproliferation advocates worry that a concession on this point could set a dangerous precedent that may lead to additional such fuel-making worldwide and ultimately a greater spread of nuclear arms.
Influential Washington lawmakers from both parties have embraced the idea of duplicating a gold-standard promise in future atomic cooperation pacts with other countries worldwide, potentially as a key tool in preventing nuclear-arms proliferation.
They argue that the United States should press its prospective nuclear trade partners harder to forego enriching uranium or reprocessing plutonium -- two civil energy processes that could feed into making illicit nuclear bombs -- in exchange for receiving access to U.S. reactor technologies, sensitive nuclear materials and know-how.
Following several years of internal review on how best to stanch arms proliferation while supporting the U.S. atomic industry desire to sell reactors and nuclear-energy services worldwide, federal leaders announced late last year they would take a "flexible" approach to negotiating such cooperation pacts with foreign partners.
They would demand a no-fuelmaking pledge where possible, but in some cases would agree to more permissive nuclear accords as a means of advancing U.S. industry interests and preserving influence in Washington's bilateral relationships, according to administration officials.
Representatives Ileana Ros-Lehtinen (R-Fla.) and Brad Sherman (D-Calif.) in December filed a bill, H.R. 3766, intended to strengthen Congress's hand in reviewing and approving nuclear-trade pacts that lack the strongest nonproliferation terms. The bill would newly require a positive vote from both the House and Senate before Washington could implement atomic cooperation accords in which the gold standard is waived.
The bipartisan measure is based on similar 2011 legislation that unanimously passed the House Foreign Affairs Committee, but the nuclear industry lobbied against it and the previous bill never went to the House floor for a vote.
It is unclear whether Royce will ultimately support the current Ros-Lehtinen-Sherman legislation. During the Thursday hearing, the committee chairman alluded to a need to balance what he sees as conflicting U.S. objectives in the matter.
"Nuclear cooperation agreements have the dual goals of advancing the U.S. nonproliferation policy and also enhancing opportunities for the U.S. nuclear industry in foreign markets," Royce said. "Both are of great importance, but there is an unavoidable tension between these two."
Earlier this year Royce introduced legislation, co-sponsored by committee ranking member Eliot Engel (D-N.Y.), aimed at tightening sanctions against Russia and other nations supporting Iran.
Royce asked hearing witnesses on Thursday to address the question of how a concession to Iran that could allow for some level of uranium enrichment might affect proliferation concerns around the globe: "The administration agreed up front in its negotiations with Iran that Iran would be able to continue to enrich uranium. How can this dangerous technology be conceded to a state sponsor of terrorism?"
Henry Sokolski, one of three issue experts appearing at the House panel's session, suggested that ongoing nuclear-trade talks with other Mideast states and elsewhere around the world could be affected by what is ultimately agreed to with Iran.
"[Do] Saudi Arabia, South Korea, [or] Japan start reprocessing? What does that do with China? Those things are going to keep you up at night," said Sokolski, executive director of the Nonproliferation Policy Education Center. "If we don't up the ante and push on the other suppliers to raise theirs, you know where we're headed."
Another witness, Daniel Lipman of the nuclear-energy industry's lobbying arm, said U.S. atomic-energy companies don't object to incorporating nonproliferation standards into nuclear trade pacts, but feel each negotiation must be approached on a case-by-case basis.
"The industry is not against the gold standard," said Lipman, the Nuclear Energy Institute's executive director for supplier programs. "The industry is against universal application of one-size-fits-all policy."
He added: "When there is a universal application of a standard, when countries operate in different regions [and] they have varying areas of expertise … in their nuclear power programs domestically, a one-size-fits-all policy is just not workable. And it excludes American companies from providing the technology that … would better serve U.S. interests."
The House hearing also touched on a specific U.S. atomic-trade agreement with Vietnam, which is now pending before Congress for review. Under current law, this pact and others like it can simply proceed into implementation after 90 days of continuous session, unless lawmakers act to stop them.
Several committee members voiced concern about the bilateral Vietnam agreement's lack of a binding gold standard, even if Hanoi's "intent" not to produce fuel domestically is contained in a non-enforceable preamble. The agreement also effectively contains no end date, a departure from the usual 30-year term that past nuclear-trade accords have incorporated.
Ros-Lehtinen said she would "strongly oppose" the Vietnam pact, based on its lack of a binding no-fuelmaking provision and what she called Hanoi's "abysmal human rights record."
"We cannot examine these agreements in a vacuum," she said. "When these 123 agreements are proposed, we must take into account our foreign policy and national security interests, as well as a country's human rights record."
The term "123" refers to the section of the U.S. Atomic Energy Act that governs nuclear-trade pacts.
In response to a question from Representative Ted Poe (R-Texas), all three expert witnesses -- to include Leonard Spector, who heads the James Martin Center for Nonproliferation Studies' Washington office -- agreed that at least a 30-year time limit for the Vietnam pact and other such accords makes sense.
Lipman said the industry has "no quarrel" with a 30-year limitation rather than automatic extensions, as the Vietnam pact would involve. Both he and Spector noted that predictability is a key issue for the U.S. nuclear industry.
Sokolski said giving nuclear pacts end dates also would help leverage U.S. influence, with specifics depending on the human rights and security records of the particular negotiating partner involved.
"If you distrust, you need to do more verification; therefore, you want more frequent renegotiation," he said. "If you trust, you need less."
Sherman suggested that the Vietnam pact offers an example of the problems he sees in the level of congressional review of nuclear-trade agreements generally.
"So-called 123 agreements, including the Vietnam agreement which is now sitting before Congress, need to be deliberated more than is the current practice," said Sherman, who serves as ranking member of the panel's Terrorism, Nonproliferation and Trade Subcommittee. "The current law puts Congress not in the driver's seat, not as a co-equal branch of government, not in the backseat, but in the trunk when it comes to deciding what our policy will be on nuclear cooperation agreements."
The current law -- lacking a requirement for an affirmative vote of Congress -- "is an affront to the doctrines that underlie the First Article of the U.S. Constitution," Sherman declared. "It is not meaningful review."
Spector noted that absent a change in law regarding congressional review and approval authority over nuclear trade pacts, Capitol Hill could effectively put the brakes on implementation of a particular agreement by passing a bill to freeze licensing of atomic exports to a nation.
"This was done with China and I think they were on hold for quite a number of years," he said, noting Washington's objections at the time to Beijing's missile transfers abroad. "It's not elegant and it's not easy to do, but it is a tool that's available."