Ukraine May Seek Foreign Help to Defend Atomic Sites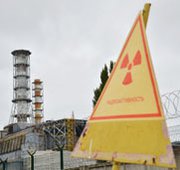 Ukraine on Tuesday said it might seek foreign help to guard its atomic facilities amid the country's current turmoil.
Andrii Deshchytsia, Ukraine's acting foreign affairs minister, described a "potential threat to many nuclear facilities and other critical infrastructure on the territory of Ukraine, including in Crimea."
"There is no immediate danger. However, if the situation aggravates Ukraine [we] may be in need of international assistance to protect these facilities," Deshchytsia said in remarks to the 2014 Nuclear Security Summit in The Hague, Netherlands.
The United States on Tuesday joined Ukraine's month-old provisional government to repudiate Russia's recent annexation of the Crimean Peninsula, and to note the move's possible impact on nonproliferation efforts. A joint statement to the nuclear forum cites Washington's reaffirmation of a 1994 pledge it made with Moscow and London to respect Ukraine's territorial integrity, "including in Crimea," in exchange for Kiev's relinquishment of its then-sizeable nuclear arsenal.
Russia responded by accusing Ukraine of attempting to "pass the buck" for potential lapses in its atomic-site defenses.
"It is only the incapable [Ukrainian interim government] that can pose a threat to the Ukrainian nuclear facilities," the Russian Foreign Ministry said in a Tuesday statement. It added that Russia has continued supplying fuel to Ukrainian power reactors and accepting spent material from the country, "thus contributing to nuclear security in Ukraine."
Moscow also referenced calls by Ukrainian politicians to pull their country out of the Nuclear Nonproliferation Treaty following the Russian incursion.
"Attempts [by Deshchytsia] to distance himself from this position are not credible from our standpoint. It is lamentable that other depositories of the treaty pretend not to see this danger," the Foreign Ministry stated.
Moscow's comments came a day after the state-controlled news outlet Russia Today circulated alleged audio of former Ukrainian Prime Minister Yulia Tymoshenko privately calling for nuclear attacks against Russians.