Scientists Aim to Mutate Avian Flu in Lab to Better Understand its Spread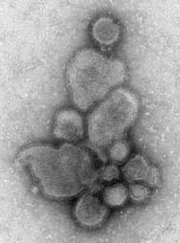 WASHINGTON -- Nearly two dozen virologists from around the world on Wednesday said they want to modify an emerging form of avian influenza in ways that could produce more contagious, virulent or drug-resistant forms of the disease.
The studies would aim to shed light on how the so-called H7N9 virus could threaten humans as it mutates in nature, the 22 researchers wrote in a letter published in the journals Science and Nature. Their announcement came one day after scientists said a Chinese woman appeared to have caught the virus directly from her father, ultimately killing both in what might be first case of the germ leaping directly between humans.
The virus as of late May had spread to 132 people, 37 of whom had died as a result, according to the World Health Organization. China reported H7N9's initial jump to a human at the end of March, but that case and those to follow appeared to be instances of transmission from infected birds.
When diseases mutate and take on new capabilities -- such as the emerging transmission of avian flu from one human to another -- scientists typically seek to study that mutation's "gain of function." Such analyses aim to develop a fuller understanding of the mutation as a first step toward fighting it.
"The risk of a pandemic caused by an avian influenza virus exists in nature," the scientists wrote this week. "To answer key questions important to public health, research that may result in [gain of function] is necessary and should be done."
The proposal has already provoked questions from experts doubtful that any scientific benefits from such experiments would outweigh the risk of a modified virus escaping -- or being stolen -- from a laboratory.
In an interview with Science, Princeton University molecular biologist Adel Mahmoud said the proposal's scientific rationale "is very flimsy, to put it mildly." He added: "The claims that it will lead to anything useful are lightweight."
In an attempt to address safety and security concerns, the letter's authors argued that safeguards and preparation for the new studies have been significantly informed by earlier debate over gain-of-function studies involving an older avian flu subtype, dubbed H5N1. Earlier this year, flu researchers ended a one-year voluntary moratorium on the modification of that virus, which has been circulating among humans since 2003 in a hard-to-catch but highly virulent form.
"The World Health Organization issued laboratory biosafety guidelines for conducting research on H5N1 transmission and, in the United States, additional oversight policies and risk-mitigation practices have been put in place or proposed," the Wednesday letter states.
Studies should take place under stringent "Biosafety Level 3 enhanced" conditions, involving safeguards used in handling potentially lethal diseases, the researchers said in an accompanying document. Personnel should undergo "relevant background checks" before being cleared to work with modified agent, they said.
Research institutions seeking U.S. funds to carry out certain kinds of changes to the virus would see their grant requests undergo special review, Health and Human Services Department officials said in a statement made public on Wednesday. However, the assurances of additional scrutiny applied solely to proposed experiments deemed likely to increase the agent's airborne transmissibility.
A Chinese study has revealed an H7N9 virus strain already capable of passing through the air between ferrets, a mammal often used as a model for human transmission.
H7N9 produces its most severe human symptoms after taking root in the lungs, but virus particles can also cause localized infections on "any mucous membrane," including in the mouth, eyes and upper respiratory tract, said Amesh Adalja, a senior associate with the Center for Health Security at the University of Pittsburgh Medical Center.
The agent cannot spread effectively through the digestive system, Adalja added by telephone on Thursday.
The pause in H5N1 research took effect after a U.S. biosecurity panel aired worries that findings from such research could potentially help bad actors engineer an enhanced virus for an act of bioterrorism.
However, debate during the moratorium "focused overwhelmingly on the risks of accidental release of modified microbes," according to Derrin Culp, a research associate at Columbia University's National Center for Disaster Preparedness.
Bioterrorism came up only "occasionally" in discussions among officials and researchers, and at no point was there any high-profile look at "the risk of deliberate release by an insider," he wrote in April's edition of the Bulletin of the Atomic Scientists.
Officials and independent experts have generally advised giving laboratory managers considerable freedom in how they decide whom to entrust with high-risk pathogens. The approach, he wrote, "would be deemed … naïve and utterly inadequate" had more people died as a result of the 2001 anthrax attacks controversially blamed on a U.S. Army microbiologist.
Without addressing whether flu-modification experiments should be continued, Culp said federal and state legislators could alter privacy statutes to "permit more intrusive screening and monitoring" of individuals who handle dangerous biological agents. Such oversight might be comparable to measures focused on people who work with nuclear weapons and related materials, he wrote.
"Microbiologists can't be exempt from such scrutiny," Culp said. "They lost that privilege when they acquired the ability -- or merely the potential -- to generate mass casualties."
About
WASHINGTON -- Nearly two dozen virologists from around the world on Wednesday said they want to modify an emerging form of avian influenza in ways that could produce more contagious, virulent or drug-resistant forms of the disease.