Senate Panel Again Cuts Funds for Conventional Trident Missile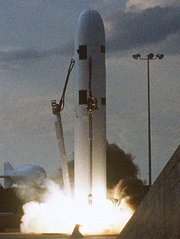 WASHINGTON -- The U.S. Senate Appropriations Committee last week zeroed funding for Conventional Trident Modification, a proposed Defense Department program to allow a small number of the Navy's D-5 submarine-launched ballistic missiles to carry a non-nuclear payload (see GSN, May 21, 2009).
For the new fiscal year that begins Oct. 1, the Obama administration had requested $10 million for a "global strike study" to determine "what surety, safety and ambiguity issues may exist" if nuclear weapon-carrying submarines "were outloaded with both conventional and nuclear payloads," according to a Navy budget document submitted to Capitol Hill in February.
The United States today maintains 14 "SSBN" nuclear-armed submarines. With two vessels in overhaul at any given time, the remaining 12 operational boats carry 288 Trident D-5 missiles, fitted with a total 1,152 nuclear warheads, according to nuclear analysts Robert Norris and Hans Kristensen.
Beginning several years ago, the Pentagon proposed equipping 24 of the Trident D-5 missiles with conventional warheads, and fielding the weapons aboard the same stealthy submarines that carry identical nuclear missiles.
The Senate panel noted in a press release last week that it had eliminated fiscal 2011 funds for the so-called Conventional Trident Modification, but it opted not to comment on the action in its report accompanying the appropriations bill.
The cut in funds for this budget line item has become almost an annual legislative ritual, thanks to Pentagon persistence in pursuing a conventional version of the Trident missile and the Senate appropriators' repeated refusals to fund the system (see GSN, Nov. 7, 2008; and Dec. 13, 2007). Modifications to the D-5's re-entry body would include a precision-guidance system and modified control surfaces to improve its accuracy.
Defense leaders have argued the technology could be useful for the "prompt global strike" mission, in which an attack might be carried out anywhere around the globe with just an hour's notice. Use of the weapon would be reserved for the most urgent targets, such as North Korean nuclear-missile launch preparations or a terrorist leader pinpointed at a safe house in Pakistan.
The Pentagon envisions using these niche weapons only in those instances in which the sole alternative would be launching a nuclear weapon.
Given the limited role of conventional prompt global strike, "it makes economic and technical sense to take advantage of the existing submarine infrastructure," said Linton Brooks, a retired naval officer with extensive diplomatic and nuclear-complex experience. "If the United States is to develop prompt global strike, the Conventional Trident Modification is the best way to do it."
Lawmakers have largely supported the emergence of the prompt global strike mission. However, they have time and again nixed the idea of developing or fielding a modified Trident to carry out such attacks.
Congress has warned that if a converted Trident were loaded onto a U.S. nuclear-armed submarine, Russia or China might misinterpret a conventional launch and trigger a nuclear war. Rather, lawmakers have urged the Pentagon to develop land-based weapon systems for conventional prompt global strike, such as the Air Force Conventional Strike Missile, which might be more effectively verified and tracked by foreign powers.
With lawmakers resistant to the Trident conversion option, U.S. Strategic Command chief Gen. Kevin Chilton in 2008 made the Conventional Strike Missile his pick for the first prompt global strike system to be deployed, perhaps as early as 2015 (see GSN, Sept. 3, 2008; and July 1, 2009).
Pentagon officials have estimated that the cost to test and field the Air Force missile -- which is to ride aboard a futuristic hypersonic glider -- could reach $500 million. Given the per-missile price tag of roughly $100 million, defense leaders imagine that just a single weapon would be put on alert at Vandenberg Air Force Base, Calif., with two additional held in reserve (see GSN, March 15).
Advocates of the Trident option, though, have not given up hope that a submarine-based conventional missile would eventually be fielded. Brooks, for one, rejected the idea that the proposed Navy weapon could be destabilizing.
"Because submarines are mobile, they can be operated in a way that launches will not appear to be directed at Russia," he told Global Security Newswire in an e-mail response to questions. Brooks added that Russian military officers have assured him that such launches would not be misinterpreted if Washington provided an hour's advance notice of any prompt global strike attack against a third nation.
Kristensen, who heads the Federation of American Scientists' Nuclear Information Project, said it appears that Congress wants to focus research funds instead on ground-based alternatives to the modified Trident missile.
"Congress may still have serious doubts about mixing nuclear and conventional ballistic missiles on submarines," he told GSN. "The slow pace of getting approval to develop and deploy prompt global strike ballistic missiles over the past decade is a reminder that, while such weapons may be attractive to some, making the case that they're actually needed, affordable and essential for national security is quite another matter."
Navy budget materials indicate it would cost a total $20 million to complete the study on conventional Trident, assuming Congress gave the green light for the initial $10 million Navy allocation.
If both the House and Senate ultimately agree to fund the Navy request, an additional $10 million in "matching funds" to finish the study might be provided in 2011 by Defense Secretary Robert Gates' office, which oversees a consolidated account for prompt global strike, according to one industry consultant who asked not to be named.
However, last week's Senate committee action to deny the conventional Trident request is just the first of a number of funding steps. The House Appropriations Committee has yet to vote on its defense subcommittee's version of the funding bill, so it is not yet known whether that panel will take similar or contrary action on the Conventional Trident Modification.
Once each chamber passes its defense appropriations bill, the legislation must be reconciled in a House-Senate conference and be signed by the president before becoming law.
Fiscal 2011 begins in slightly more than a week. Congress is widely expected to draft a continuing resolution that would allow government work to continue, pending passage of appropriations bills for the full year.
Meanwhile, the Senate Appropriations Committee did opt to fully fund the multiservice account that bankrolls a number of service efforts to develop prompt global strike systems, including the Conventional Strike Missile.
The Obama administration requested $239.9 million for this combined account, which would be used in fiscal 2011 for experiments with both winged and cone-shaped strategic delivery vehicles, according to the Senate appropriations report.
However, following a failed flight test in April, developmental plans and schedules for the Conventional Strike Missile are in flux.
The missile system has relied on the Hypersonic Technology Vehicle-2 -- developed by the Defense Advanced Research Projects Agency -- to carry the weapon to target at Mach 20 speeds. During the scotched test, the dart-shaped glider lost communications with mission control nine minutes into its flight and fell into the Pacific Ocean.
The cause of the crash has not yet been released, but a senior defense official said last month a test report would be completed soon (see GSN, Aug. 19).
According to defense sources, plans for the next HTV-2 flight test could slip at least nine months, pushing its eventual fielding further into the future.
With details of the anticipated HTV-2 program changes not yet released, though, the Senate appropriations panel fenced nearly one-quarter of the $239.9 million in prompt global strike funds from Pentagon spending.
"Not more than $189 million may be obligated until the Department of Defense provides the congressional defense committees the details of the restructured program, to include scheduled development efforts and flight tests for each technology under consideration, solutions being considered for weaponization, and the associated costs to complete the development program for each technology being explored," the lawmakers' report states.
The panel also said that, beginning with the fiscal 2012 budget request to be delivered next February, the administration must submit separate line items for each of the programs to be funded for prompt global strike, including the Hypersonic Technology Vehicle-2, the Conventional Strike Missile and the Army's Advanced Hypersonic Weapon.
If this provision becomes law, it would effectively reverse congressional direction that since 2007 has allowed the defense secretary's staff to exercise significant discretion in allocating funds for different efforts from a single prompt global strike account.
About
WASHINGTON -- The U.S. Senate Appropriations Committee last week zeroed funding for Conventional Trident Modification, a proposed Defense Department program to allow a small number of the Navy's D-5 submarine-launched ballistic missiles to carry a non-nuclear payload (see GSN, May 21, 2009).