Lawmakers Want New Cost Analysis for Mixed-Oxide Facility In Two Weeks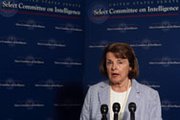 Senate appropriators are giving the Obama administration two weeks to come up with a plan for driving down the cost of constructing a controversial facility that would convert bomb-grade plutonium into nuclear fuel.
Energy Department officials estimate that construction of the beleaguered South Carolina facility is about 40 percent complete, and that the government would have to spend $25.1 billion more over the site's lifetime for it to complete its mission.
Alternatively, the department could potentially meet the terms of an agreement with Russia by simply down-blending plutonium left over from the Cold War at a cost of $8.8 billion, according to a report it released earlier this week.
Under the down-blending option -- one of several the department is considering along with a possible completion of the mixed-oxide fuel conversion facility -- plutonium disposal could be finished by 2046 and carries the least risk of encountering technical hurdles that would cause delays, according to the report.
The MOX facility could complete disposition of the plutonium by 2043 at the earliest and carries "significant risk" of being delayed further, the report said.
Members of Senate Appropriations Energy and Water Development Subcommittee said on Wednesday they doubted the department's figures, however. They also raised concerns with the energy agency's estimates that it would take an additional 18 months to finish studying the issue and decide which option to pursue.
"I don't accept for one minute it's $25 billion" to continue using the MOX option, said Senator Lindsey Graham (R-S.C.), who also asserts the project is actually 60 percent complete, rather than 40. "So we're going to have a contest over are they right … I'm not going to accept your word on any of this."
Graham was referring to the Energy department generally. Retired Lt. Gen. Frank Klotz, who the Senate recently confirmed to lead the semi-autonomous National Nuclear Security Administration, testified at the Wednesday hearing for the first time on the administration's behalf.
Challenging the department's suggestion that it would take an additional 18 months to choose a path forward, Senator Lamar Alexander (R-Tenn.) reiterated his position that the administration should assemble a special "Red Team" of experts to study the issue more quickly.
Alexander, the top Republican on the subcommittee, was referring to a group of experts that recently studied options for modernizing the nation's method of processing highly enriched uranium for weapons use. He suggested such reviews could be finished in as little as 90 days.
Senator Dianne Feinstein (D-Calif.), the subcommittee chairwoman, said she was sympathetic to the concerns of her Republican colleagues. She raised worries about straying from an agreement with Russia to use the MOX facility as the means of disposing the excess plutonium. The potential change comes at a time when relations with Moscow are generally strained, and when the United States is also pursuing controversial plans to modernize its current nuclear weapons, the panel head noted.
"I'm really concerned about breaking an agreement with the Russians at this stage and increasing funding for life-extension programs -- not with Ford-type technology but Cadillac-type technology," Feinstein said. "I really think it presents a huge dilemma to this country in terms of keeping its word in agreements, and particularly with a very powerful country that is at sixes and sevens with us and everybody else."
Feinstein has been particularly critical of plans to extend the life of aging B-61 nuclear warheads stationed in Europe, and has sought to limit funding for the project.
She said that Klotz has "got to break whatever it is in this department that ends up" causing major projects to run over budget and behind schedule. The senator noted that the department once estimated it would cost $1.8 billion to build the MOX facility, and that it now predicts it would cost $8 billion.
Feinstein questioned the value of putting the MOX project on "cold standby" while the administration studies alternatives, as the department has planned to do beginning in fiscal 2015.
The chairwoman asked that Klotz return to her and Alexander within the next two weeks with a proposal on how his agency would "re-look at the MOX numbers [and suggest] potential changes that can be made to … keep the price down."
According to Feinstein, the subcommittee needs the information quickly in order for it to inform the panel's drafting of its spending bill for fiscal 2015.
The new NNSA administrator agreed to Feinstein's request.
"We'll come see you in two weeks," Klotz said.
About
Senate appropriators say they doubt Energy Department cost estimates for converting bomb-grade plutonium into nuclear fuel.
Countries