Senior House Democrat Might Weigh Conventional-Only Bomber -- But Not Yet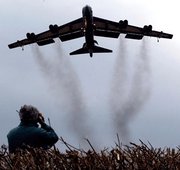 WASHINGTON -- The top Democrat on the House Armed Services Committee said on Thursday that it might be worth contemplating whether the nation's future long-range bomber aircraft must be capable of launching nuclear weapons (see GSN, Dec. 9, 2011).
"I haven't made that decision yet," Representative Adam Smith (D-Wash.) told reporters at a breakfast Q&A session. "It's a tight budget environment, difficult needs. There are no easy answers on this stuff."
The Defense Department plans to design and build a new Long-Range Strike bomber featuring a capacity to deliver both conventional and nuclear weapons, with initial availability expected in the mid-2020s. The Air Force anticipates procuring 80 to 100 of the aircraft at an average price tag of $550 million per bomber, not including the cost of design and development (see related GSN story, today).
Smith said it would be worthwhile to assess how much money could be saved by building the bomber to be conventional-only, though he seemed skeptical about a budgetary windfall.
"Do you really save that much money by saying that we're going to not have a nuclear bomber? I don't know," he said. "That will really sort of come out as they begin the process of developing what the next-generation bomber's going to look like."
At the same time, Smith said he supports ongoing Air Force work to study development of a new $1.3 billion nuclear-armed cruise missile for the bomber fleet.
The so-called Long-Range Stand-Off weapon would replace today's Air-Launched Cruise Missile aboard both the new bomber and aging B-52 bombers, which are slated to remain flying "through at least 2035," according to the Obama administration.
Today's dual-capable bomber fleet, which also includes stealthy B-2 aircraft, additionally carry nuclear- and conventionally armed gravity bombs.
As part of Pentagon-wide budget trimming efforts, the Air Force now expects a two-year suspension, to 2015, for launching a formal program to develop the new Long-Range Stand-Off cruise missile (see GSN, Feb. 24).
"I don't think the two-year delay is a huge problem," Smith said. "Whether or not [the new cruise missile] is necessary long-term, I wouldn't go so far as to say it's not necessary. But I think a two-year delay is probably fine."
Smith voiced support for maintaining the longstanding nuclear triad of ballistic-missile submarines, ICBMs and bombers, at least for now.
"I don't really foresee us eliminating any [leg] of the triad," he said at the Defense Writers Group event. "I think it's going to be more a matter of where can we find savings, how can we survive with fewer missiles [or] potentially fewer subs, potentially fewer planes and all that.
"I think there's a pretty strong commitment at the Pentagon to stick to having three the legs of the triad," he added, "and I think that probably makes sense."
Defense Department leaders and military brass have affirmed that the triad should be maintained into the future to preserve nuclear stability and responsiveness, but have left open the possibility of moving someday to a two-pronged "dyad" if the arsenal shrinks further in coming decades (see GSN, Oct. 18, 2011).
Smith indicated he would be open to additional reductions in the nuclear stockpile, given that the most basic function of the nation's arsenal is to prevent an atomic attack against the United States and its allies.
"Do we need a nuclear stockpile of the size that we have in order to meet that deterrent mission?" the congressman said. "There's some pretty compelling evidence that we don't."
The U.S.-Russian New START agreement, which went into force last year, requires each side by 2018 to reduce deployed strategic nuclear warheads to 1,550 and fielded delivery systems to 700. The Pentagon is in the midst of a study to determine how much more deeply it might cut the stockpile, most likely alongside additional negotiated reductions by Moscow (see GSN, Feb. 16).
"We have a lot [of nuclear weapons]. I think we have enough to meet that deterrent mission," Smith said. "How do you then right-size that force? Not much savings to be had. But when you're looking at a way to meet what our strategy is in a post-Cold War world, if you will, I would think that our nuclear stockpile does not have to be as large as it was."
Smith had some harsh words for his Republican counterparts' efforts to protect defense spending from federal budget cuts. "What color is the sky in your world?" he asked, insisting that savings could be gleaned from "any given endeavor" by finding more cost-effective ways to proceed.
The eight-term Washington lawmaker seemed reluctant, though, to enter the latest political squabble on nuclear spending levels (see GSN, Feb. 21).
Some GOP lawmakers have complained recently that the administration failed in its fiscal 2013 budget request to fully implement its pledge to provide substantial funding boosts for modernizing nuclear weapons and infrastructure (see GSN, Feb. 28). The White House commitment was made in the run-up to the Senate's December 2010 ratification of New START.
However, administration leaders have said that the since-enacted 2011 Budget Control Act has forced them to make previously unanticipated cuts to defense programs across the board. Those have included program delays for nuclear-related efforts like the Ohio-class replacement submarine and a facility for warhead plutonium research (see GSN, Feb. 24 and Feb. 21).
"The president made the promise. And I was not on either side of that equation because it was the Senate Republicans" who sought and received $85 billion in nuclear modernization investment assurances in exchange for support on New START, Smith said. "It's between the two of them, as far as I'm concerned."
Representative Edward Markey (D-Mass.), who sits on the Energy and Commerce Committee, has led 40 co-sponsors in supporting a House bill to cut $100 billion in nuclear spending over the next decade.
The so-called SANE Act -- short for a "Smarter Approach to Nuclear Expenditures -- would reduce new ballistic missile submarines from 12 to eight, delay development of a nuclear-capable bomber aircraft, and decrease the number of fielded ICBMs, among other provisions (see GSN, Feb. 8).
Smith has not signed onto the legislation.
Pressed on whether he believes there is an appropriate level of funding in the fiscal 2013 budget for nuclear updates, Smith said it is not clear that every dollar and detail of program plans that the administration laid out more than a year ago are necessary.
"I think we need to do modernization," he said. "Do we need to do it at the full amount of money that was discussed during the course of getting the START treaty passed? That I don't know."
About
WASHINGTON -- The top Democrat on the House Armed Services Committee said on Thursday that it might be worth contemplating whether the nation's future long-range bomber aircraft must be capable of launching nuclear weapons.
Countries