South Korea Completes Chemical Weapons Disposal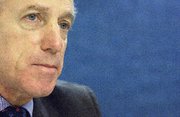 WASHINGTON — A chemical-armed nation, widely assumed to be South Korea, has finished destroying its stockpile under a global treaty, U.S. and international disarmament officials said this week (see GSN, April 8).
"In 2008 another milestone was marked in the history of chemical disarmament when, on 10 July, a state party completed the destruction of its entire chemical weapons stockpile," Rogelio Pfirter, head of the Organization for the Prohibition of Chemical Weapons, said during an address Wednesday at the United Nations.
Albania last year became the first nation to meet its disarmament obligations under the Chemical Weapons Convention (see GSN, July 12, 2007). The other known possessor states of weapons banned by the treaty are India, Libya, Russia and the United States.
"I have wholeheartedly congratulated this second OPCW member for its achievement and for the unwavering commitment it has shown in reaching this important goal," Pfirter said. "The achievement of this state party takes us a step closer to the goal of complete disarmament and reinforces the validity of the CWC."
Statements this week by Pfirter and Eric Javits, U.S. ambassador to the Hague-based organization that monitors compliance with the treaty, appeared to be the first official acknowledgment of completion of the highly secretive program in South Korea. As per the norm, they never identified the state in question by name, but references to "a state party" are understood to mean Seoul.
The remarks were first noticed by Daniel Feakes of the University of Sussex.
Pfirter's organization today said it could provide no information except to confirm that on July 10 it verified full chemical weapons disposal by a state party. The South Korean Embassy in Washington had not responded to requests for information by deadline, while the U.S. State Department said it would respect the request for confidentiality of the state party.
Seoul invoked a confidentiality clause in the convention that allows any member nation to withhold information about its stockpile of banned weapons or the destruction program, said Paul Walker, security and sustainability chief at Global Green USA. Seoul went so far as to keep from being named as one of the world's chemical weapons holders.
Walker said that discussions with informed sources and his own research indicate that South Korea probably held between 3,000 and 3,500 metric tons of chemical warfare material. That is likely to have included 400 to 1,000 metric tons of sarin nerve agent contained in artillery shells, while the rest could have been binary agents that would have become dangerous when mixed together.
There are several possible reasons for South Korea's refusal to address its possession or disposal of chemical weapons, Walker said.
Seoul might have wanted to avoid causing further complications in its always-tense relations with North Korea, which could have used public acknowledgment of the chemical stockpile as a justification for keeping its nuclear weapons, he said. The strategy could also have been aimed at avoiding community outcry about how and where the destruction was carried out or to cover up any possible support South Korea received from the United States in building up its arsenal, according to Walker.
Walker argued that South Korea misused the confidentiality clause, which he characterized as a security measure intended to protect vulnerable stockpiles from theft of weapons or other troubles.
"It was never intended to hide the fact that the country had a stockpile, or it was never intended to hide what [destruction] technology they were using," he said.
The precedent set by South Korea could allow suspected chemical weapons possessors such as Egypt, Israel, North Korea and Syria to operate under similar levels of secrecy should they join the treaty and begin to eliminate their arsenals, according to Walker.
Conversely, Seoul coming clean could increase pressure on Pyongyang to acknowledge its own alleged chemical weapons operations, Walker said. That would, in turn, serve as a confidence-building measure in the six-nation negotiations aimed at elimination of North Korea's nuclear arsenal, he said (see related GSN story, today).
"It's worth their while really to come forth now with the whole story of how they did it and why they did it, you know, really turn it into a positive confidence-building measure on the Korean Peninsula," Walker said.
South Korea was the first nation to meet its treaty deadline for completion of all chemical agents, Walker noted. The nation in 2006 received an extension to the end of this year.
Albania went two months beyond its deadline to incinerate more than 16 metric tons of mustard agent. India has until April 2009 and appears to have finished off more than 95 percent of a stockpile believed to consist of mustard agent. Libya has not begun significant preparations for elimination of more than 23 metric tons of mustard agent and roughly 1,300 metric tons of nerve-agent precursors; it could request an extension past its current deadline of Dec. 31, 2010, Walker said.
The United States and Russia — both with arsenals of tens of thousands of tons of chemical warfare materials — have already received the full one-time, five-year deadline extension to April 2012. Washington has acknowledged that work will not be complete by that time, while Walker said he doubts Moscow's claims that it can meet the schedule.
About
WASHINGTON — A chemical-armed nation, widely assumed to be South Korea, has finished destroying its stockpile under a global treaty, U.S. and international disarmament officials said this week (see GSN, April 8).
Countries