Syria Has Boosted Chemical Arsenal With Iranian Aid: Leaked U.S. Cables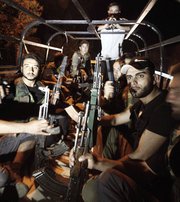 Syria over the last several years has added to its chemical weapons stockpile thanks to assistance from Iran and shell companies established to procure regulated technology from abroad, the Washington Post reported on Sunday, citing leaked U.S. diplomatic dispatches and European Union records (see GSN, July 27).
Damascus is understood to possess hundreds of tons of sarin and VX nerve agents and mustard blister agent that can be delivered by missiles and other delivery systems. Syria has never made a public proclamation of the contents of its chemical arsenal but the regime seemingly admitted to possessing the weapons of mass destruction last week when it vowed it would only use them to deter a foreign attack.
The Assad regime expanded its chemical arsenal even as the United States and other nations sought to curtail Syria's access to chemical precursor agents and sensitive equipment.
A 2006 U.S. State Department cable, made public by the antisecrecy group WikiLeaks, described a private meeting of German officials with the Australia Group -- an international export control group aimed at preventing the spread of chemical and biological arms-related technology and materials. The dispatch detailed Tehran's support of Assad regime efforts to produce new chemical warfare agents. At the time, the Arab country was constructing as many as five new chemical agent ingredient manufacturing plants.
"Iran would provide the construction design and equipment to annually produce tens of hundreds of tons of precursors for VX, sarin, and mustard (gas). Engineers from Iran's DIO (Defense Industries Organization) were to visit Syria and survey locations for the plants, and construction was scheduled from the end of 2005-2006," the U.S. dispatch stated.
Australian personnel in 2008 told the export control forum that Damascus was growing more skilled in its ability to divert machinery and other assets from nonmilitary sectors to its arms operations, according to another leaked U.S. diplomatic dispatch. "The Australians believe Syria is committed to improving and expanding its program, including through testing," reads the cable.
"Syria maintains a basic indigenous capability, in contrast to other countries of concern, but maintains some dependence on precursor imports," the 2008 cable continued. "Syria appears focused on importing precursors and precursors of precursors."
Even with such information, the United States and similarly minded countries have had a hard time keeping Syria from importing new precursor chemicals and related technology, due to their wide use in many nonweapon-related fields, according to experts.
In 2010, the European Union supplied the Syrian Industry Ministry with $14.6 million in technical aid and machinery, some of which was designated for use at chemical facilities. An EU spokesman said aid was intended to support the country's creation of safety regulations for its manufactured goods and scientific research facilities.
Worried that the dual-use equipment could be misappropriated for chemical weapons development, the European Union mandated in the agreement that it be permitted to carry out random inspections on the facilities where the technology was in use. However, those spot checks were ended in spring 2011 after the European Union passed new penalties against Damascus as punishment for its use of deadly force against its opponents, according to European Commission spokesman Peter Stano.
Envoys and and weapons analysts say the Industry Ministry acts as a middleman for the nation's chemical arms activities. The ministry, according to 2008 concerns voiced by Dutch officials, "allegedly serves as a front organization for procurement efforts" and had assisted in the acquisition from a Dutch firm of chemicals that could be employed in production of mustard and VX agents.
The Syrian Industry Ministry sought bids from European firms for "equipment and consumables for chemical analysis laboratory," "equipment for preparation and analysis of biological substances" and "standards for calibration laboratories," according to an acquisition document contained in the European Union's official register.
"It is difficult to be specific about the order. It could govern legitimate government agencies anxious to ensure quality control so that they can meet the expectations for other governments regarding the quality of oil exports," University of Leeds chemical weapons analyst Alastair Hay told the Post.
Other nations besides Iran might have also knowingly or inadvertently aided Syria's chemical weapons program. U.S. officials have reached out to their equivalents in India and China with worries about those nations' exports of sensitive equipment to Syria.
Washington criticized a Chinese proposal to export a considerable amount of pine alcohol to Syria even though the chemical can be used to produce soman nerve agent. It is not known whether the U.S. objection headed off the sale of the chemical (James Ball, Washington Post, July 29).
Meanwhile, the Syrian military has relocated nerve agent-filled shells out of the vicinity of Homs and other areas that have been the scene of battles between opposition fighters and Assad forces, the Australian Associated Press reported.
The German international intelligence agency BND has concluded that some munitions have been relocated from an air base close to Homs, which is now occupied by opposition forces, to a facility under the control of the Assad regime, the German newsweekly Der Spiegel reported.
The intelligence agency concluded the weapons were moved to ensure they were safeguarded and not as a preparatory step ahead of a chemical attack.
Western intelligence agencies said troops loyal to Assad have been assigned guard duties close to chemical depots, according to Der Spiegel. (Yacine Benrabia, Australian Associated Press/The Australian, July 29).
The security of Syria's chemical arms is a key concern for the United States and intelligence resources have been devoted to monitoring the status of those assets.
"As of right now, with respect to Syria, we do think the government has control of the weapons," CNN quoted U.S. National Counterterrorism Center head Matthew Olsen as saying on Thursday.
The U.S. government is also attempting to monitor the activities of al-Qaida-allied organizations in Syria. Al-Qaida leaders in the past have expressed interest in acquiring chemical weapons for use in attacks on the West (Suzanne Kelly, CNN, July 27).
Worries about Syria's chemical weapons have been overblown by Western news organizations, Syrian Foreign Minister Walid al-Muallem said on Sunday.
During a visit to Tehran, al-Muallem insisted that "since a month ago, we have been facing such media hype from the United States, European countries, and even from some Arab states. They are trying to pose the subject, and exaggerate on it," the Xinhua News Agency reported.
"Countries like the United States have said that Israel possesses 200 nuclear warheads, the Israelis themselves have confessed that they are in possession of nuclear weapons," he claimed. Tel Aviv has a longstanding policy of neither confirming or denying it possesses a nuclear deterrent.
"We say if Israel signs the [Nuclear Nonproliferation Treaty], since we are a responsible country, therefore we are (also) committed to all international regulations," the Syrian foreign policy head said.
Damascus is a signatory of the 1925 Geneva Protocol, which forbids the use of chemical weapons, but not the more stringent Chemical Weapons Convention, which also outlaws the production and stockpiling of chemical warfare materials (Xinhua News Agency, July 29).
Elsewhere, the Israeli military has mobilized troops for a possible order to unilaterally move against Syria's chemical weapons, Asian News International reported.
A number of Israeli leaders have said the country would have to act if it appears that nonstate actors such as Hezbollah are about to acquire chemical arms.
"It appears the [Israel Defense Forces] may seek to eliminate Syria's ability to transport the weapons to proxy forces but not to eliminate the actual weapons themselves by striking at storage facilities," Israel Army Radio reporter Idan Kweller said. "Israel's main interest is to ensure the weapons are not passed on to the likes of Hezbollah in south Lebanon" (Asian News International/Yahoo!News, July 29).
However, Israeli Defense Minister Ehud Barak on Monday sought to allay fears about the threat posed by Syria's chemical arms, Reuters reported.
"Nothing will happen," he said to Israel Radio. "In my opinion, no one in the world would dare to use chemical weapons against Israel. So nothing is going to happen" (Dan Williams, Reuters, July 30).
About
Syria over the last several years has added to its chemical weapons stockpile thanks to assistance from Iran and shell companies established to procure regulated technology from abroad, the Washington Post reported on Sunday, citing leaked U.S. diplomatic dispatches and European Union records.
Countries