Syrian Chemical Weapons Seen Likely to Ship to Albania for Destruction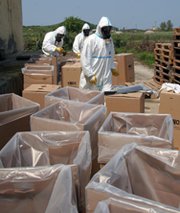 WASHINGTON -- U.S. officials are pursuing an increasingly likely possibility that Albania will accept Syrian chemical weapons for destruction, following Norway's decision last week to decline the task, according to key sources and issue experts.
Some other countries -- including Belgium -- as of recent days also had not ruled out a role in the effort, sources said. The undertaking likely will involve using special U.S.-provided machinery to dilute or burn Syria's estimated 1,000 metric ton stocks of sarin nerve agent and mustard gas.
Which state -- or multiple states -- might take on such a political and environmental burden "is largely a function of money and willingness to participate," Paul Walker, director of environmental security and sustainability at Green Cross International, said in a Tuesday interview.
Washington has asked "most, if not all," of its West European allies to consider taking the illicit Syrian arms for elimination, he said. Based on his own discussions with U.S. government officials over the past week, Walker said Albania, Belgium and France appear to be the "most-live options."
In interviews with Global Security Newswire, other disarmament experts and officials mentioned various combinations of countries under consideration -- some added Sweden or Denmark as pending possibilities -- but Albania and Belgium surfaced repeatedly as the most likely candidates.
Walker characterized Norway's announcement about backing out as having surprised many U.S. officials involved in the international talks. Oslo cited time constraints and national regulations as obstacles to its involvement.
State Department spokespersons did not respond to requests for comment before press time on Wednesday.
A team of international inspectors still on the ground in Syria by Monday had visited 21 of the country's declared chemical sites, destroying equipment used for mixing binary chemical agents and loading shells under the terms of the Chemical Weapons Convention recently signed by Damascus. The international agreement bans the production, stockpiling or use of these arms.
Patricia Lewis, research director for international security at Chatham House in London, described this step as a huge accomplishment in itself.
"If you can prevent the filling of shells … it puts the people of Syria first" by making another mass chemical attack virtually impossible, she said in a Monday phone interview.
Just two facilities located in contested areas of the nation had yet to be visited by inspectors as a Nov. 1 deadline loomed for rendering Syria's chemical-weapons production gear inoperable.
The Organization for the Prohibition of Chemical Weapons is expected to remove all identified banned materials from Syria by the middle of 2014.
Once the chemical warfare materials are situated outside of the Middle Eastern nation, their destruction may take much longer to accomplish, a number of specialists noted. However, these arms would be safeguarded during the destruction process and -- most importantly -- no longer available for use in the Syrian civil war, these sources said.
The stunning turn of events in which Syria for the first time publicly acknowledged its chemical stockpile and agreed to turn it over to international authorities was precipitated by an August attack in the Damascus suburbs that Washington and its allies maintain killed more than 1,400 people.
The tons of lethal toxins would likely be moved out of Syria by military aircraft, according to Richard Butler, who once served executive chairman of the U.N. Special Commission on disarming Iraq's weapons of mass destruction and its associated missile arsenal.
"It wouldn't be a small job," the former Australian envoy said in a Tuesday phone interview.
Belgium has accrued decades of experience in collecting and disposing of often-toxic ordnance dating back to World War I, much of which continues to lie in fields and on roadsides today. Just last year, the Belgian military cleaned up 105 tons of such munitions, the London Telegraph reported in July.
Of the countries still mulling a possible role, Albania is said to be most keen on accepting some or all of Syria's chemical arsenal. One U.N. source said the Southeastern European nation may have been initially approached by the Russian government about taking on the project.
Albania in 2007 was the world's first to destroy all of its chemical arms in verifiable fashion, eliminating more than 16 metric tons of mustard gas and other toxic agents. It did so during a six-month period, using a German-designed incinerator with Swiss technical assistance, Walker said.
"Albania was described to me as enthusiastic" about playing a role in the upcoming process, said Charles Duelfer, who served in the 1990s as UNSCOM deputy chairman. "It could easily be something that raises their stature."
The government in Tirana might see the timing as propitious; the Balkan state's application for European Union membership has been pending since 2009, the year it became a NATO member.
"They would presumably make good money from it," Butler said. "And it would show them as a good international citizen."
But among the candidate host-nations, Albania also may pose the greatest logistical and security challenges.
Tirana is widely perceived as having a relatively corrupt public sector, possibly heightening the risk of diversion of some of the Syrian chemicals to the black market or to extremists, some experts said. A CIA country profile describes Albania as a source of sex trafficking, forced labor and money laundering, and says illicit drug transit through the state is on the rise.
In contrast to the advanced economies and infrastructure of the West European nations, Albania also faces potentially serious limitations in transportation, communications and electricity, the CIA statistics suggest.
Slightly smaller than the state of Maryland, the country has just four airports with paved runways. Albania ranks at midlevel among the world's nations in terms of energy, telephone and internet availability.
The Albanian Embassy in Washington was unable to offer comment on Wednesday morning.
Walker said the Balkan state could be an "OK" option but its "lower technical and security expertise" could present problems.
"It seems to me a well developed country is the way to go," said Walker, recommending that a nation like Italy take on the effort instead. He said it also might make the project cheaper if no port improvements are required or trucks must be brought in, for example.
The Syrian chemical-destruction effort may be split between two or more countries, according to the U.N. source, who addressed the matter on condition of anonymity because of diplomatic sensitivities. In a division of labor, one nation might neutralize the sarin components using chemical hydrolysis, while another nation could incinerate the mustard gas, several other experts said.
It is unclear whether Albania's environmental laws might be more permissive than those of West European nations. However, any hint that the destruction process could result in toxic fumes or groundwater contamination might pose not only a serious public health issue but also a political liability for Washington and its allies, as they are shepherding the effort, Walker said.