U.N. Agency: "Forum" on Mideast Nuclear Weapons Ban in Works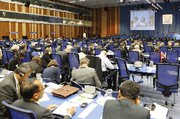 WASHINGTON -- The United Nations' atomic agency is assembling plans to hold an international "forum" on creating a zone in the Middle East in which nuclear arms are banned, a spokeswoman has confirmed (see GSN, Aug. 10).
"The director general was asked to make arrangements to convene such a forum by a decision of the General Conference in 2000, but in previous years consensus proved elusive," said Gill Tudor of the International Atomic Energy Agency. The IAEA General Conference is the agency's highest policy-making body and includes all 151 member states.
This year, though, there is heightened international interest in forming such a special zone in the region, so IAEA head Yukiya Amano "is pursuing consultations with interested member states," Tudor said in a written statement issued on Wednesday.
The IAEA event could occur as early as this fall, a senior Obama administration official told Global Security Newswire in an interview last month. Tudor said the timing could not be confirmed as it is "still in the mix."
Activity on the issue is mounting following a consensus statement issued last year by the Nuclear Nonproliferation Treaty's 189 member nations, pledging to make elimination of nuclear, chemical and biological weapons in the Middle East the focus of discussion at a major international gathering to be held in 2012.
Israel is the only nation in the Middle East believed to have nuclear weapons, but Jerusalem has never confirmed their existence. Meanwhile, Iran and Syria are suspected of working toward getting an atomic bomb capability, despite official denials.
The effort to convene the 2012 conference has made little progress, with the United Nations and key countries failing thus far, in consultation with Mideast states, to name a host government or a diplomatic "facilitator" to guide the process.
Other developments are beginning to percolate, though. The European Union last month sponsored a "seminar" in Brussels at which some regional representatives are said to have begun constructive dialogue on a WMD ban (see GSN, July 22).
Additionally, indications this week are that Israel, Egypt and Syria could be willing to attend Amano's upcoming forum, depending on a number of factors, the Associated Press reported on Wednesday. Israel, though, quickly indicated it had not yet agreed to participate in the event (see related GSN story, today).
Even though the IAEA forum would constitute just an initial supporting step toward the major NPT-sponsored 2012 conference, some experts view it as a potentially useful development.
"Just getting these countries to talk together is an achievement," said one issue specialist, who asked not to be named in discussing delicate issues involved in Mideast diplomacy.
If momentum gathers in landing commitments from Israel's Arab neighbors to attend the IAEA event, "Iran likely will, too," said this expert. "It does not want to be alone."
The IAEA forum is to explore international experience with zones in which all nuclear weapons are eliminated, said the senior Obama administration official, who also cited diplomatic sensitivities in requesting anonymity.
To date, five nuclear weapon-free zones worldwide have been established by treaty in Latin America, Africa, Central Asia, Southeast Asia and the South Pacific.
While the agenda for the IAEA event might be limited to a review of global precedents, the concept behind this kind of gathering "is to start socializing" Middle Eastern nations to work together toward the objective of a WMD-free zone, said the senior U.S. figure.
The forum is aimed at encouraging dialogue, problem-solving and deeper cross-border relationships, said the official, who noted that the IAEA initiative has Washington's support.
Amano on March 4 contacted IAEA member nations to seek their views on an agenda for the potential forum on "Experience of Possible Relevance to the Creation of a Nuclear-Weapon-Free Zone in the Middle East," Tudor said.
In the letter, the IAEA director general also consulted the members on implementing last year's General Conference resolution on the importance of applying nuclear safeguards in the region, she said.
Meanwhile, with progress toward a major 2012 conference potentially stalled, Arab nations have signaled they intend to revive a proposed IAEA resolution criticizing Israeli nuclear capabilities (see GSN, Sept. 16, 2010). Israel is not a member of the nonproliferation treaty and its nuclear energy facilities are not under international safeguards.
Washington and its allies last year succeeded in voting down the measure at the IAEA General Conference, but rounding up enough votes to shield Israel from its neighbors' criticism took some effort, according to issue experts.
If a similar resolution is put forth when the General Conference meets this fall beginning on September 19, the Obama administration will again argue such a move is counterproductive to the regional objective of creating a WMD-free zone.
"We'd hate to see that brought forward again, but we would defeat it again," the senior U.S. official told GSN, saying a measure of this kind "does send the wrong signal."
"This is the kind of activity that causes Israel concern about attending the 2012 conference," the official said.
About
WASHINGTON -- The United Nations' atomic agency is assembling plans to hold an international "forum" on creating a zone in the Middle East in which nuclear arms are banned, a spokeswoman has confirmed (see GSN, Aug. 10).