U.N. Atomic Agency Faces Pressure From Both Sides of Crimea Dispute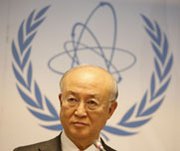 The U.N. nuclear watchdog agency is facing pressure from both sides of the crisis over Ukraine to determine who speaks for Crimea, Reuters reports.
The International Atomic Energy Agency initially appeared not to take sides in the standoff triggered by Russia's annexation of Ukraine's Crimean Peninsula. Officials said the organization would continue to enforce inspections arrangements in the territory claimed by Moscow earlier this month.
However, the organization did not indicate whether its future operations on the peninsula would take place under its monitoring agreement with Russia or, as in the past, through its separate arrangement with Ukraine.
The Vienna-based U.N. agency would "continue to implement safeguards in accordance with the IAEA statute and international law," it stated in an undisclosed communication reviewed by Reuters on Friday.
In a Wednesday document, Moscow indicated that its IAEA inspections arrangements "have been in effect since March 18, 2014, for the entire territory of the Republic of Crimea and the city of Sevastopol, as members of the Russian Federation."
Ukraine, though, has pressed the U.N. organization "to avoid any actions" that might grant political legitimacy to Russia's takeover of Crimea. The peninsula's inhabitants endorsed their territory's annexation by Moscow in a vote conducted after Russian troops occupied the region this month.
One unnamed Western envoy called the IAEA statement "a rebuff" for Moscow. Its citation of "international law," the official said, would seem to be a reference to the U.N. General Assembly's Thursday declaration that the secession vote lacks legitimacy.
"Crimea is still Ukrainian territory, even if occupied by foreign forces," a second Western diplomat said, according to the Reuters report.
The U.N. nuclear watchdog oversees atomic assets in non-nuclear weapons states to ensure that the materials are not harnessed for military use. The IAEA website indicates that the Crimea region may host two scientific reactors at Sevastopol's University of Nuclear Energy and Industry. Such sites would probably be subject to IAEA scrutiny, Reuters reported.
None of Ukraine's 15 atomic energy reactors are located on the Crimean Peninsula.