U.S. Blueprint for New Nuclear Arms Cuts Expected By Year's End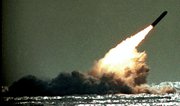 WASHINGTON -- The U.S. Defense Department expects by the end of the year to update its plans for the nation's nuclear weapons posture, potentially setting the stage for further reductions in the arsenal, a senior defense official said last week (see GSN, Nov. 7).
The so-called "NPR Implementation Study" will build on last year's Nuclear Posture Review, a major Pentagon-led assessment of forces, strategy and readiness, James Miller, the principal deputy Defense undersecretary for policy, said at a House hearing on Wednesday.
Most notably, the new analysis -- conducted largely in secret -- could influence the extent of additional atomic weapons cuts following the U.S.-Russian New START agreement, which entered into force earlier this year.
Before new reductions can be made, though, some revisions would likely be required in President Obama's nuclear weapons policies.
"This NPR Implementation Study will be followed by new presidential guidance and then, in succession, the secretary of Defense and chairman of the Joint Chiefs will then issue more detailed planning guidance to the military," Miller told the House Armed Services Strategic Forces Subcommittee.
At that point, the Omaha, Neb.-based U.S. Strategic Command -- which has combat responsibility for nuclear weapons -- will "revise its military plans" for targeting, alert status and other features of the arsenal to reflect the updated presidential directive, he said.
"When complete, our analysis of deterrence requirements will also help inform future arms control proposals ... as the military did and Department of Defense did as part of the Nuclear Posture Review to inform New START treaty negotiations," Miller testified.
"The review is probably Obama's most important and perhaps last chance to change the role that nuclear weapons have traditionally played in the U.S. national security strategy," nuclear experts Hans Kristensen and Robert Norris said in an article published this month in Arms Control Today.
"The result of the review will be a broad rewriting of directives and analyses that are used to guide military planners in preparing the country's forces and strategic nuclear war plan," said the pair, both affiliated with the Federation of American Scientists.
Fresh reductions in the nuclear force could also help the nation meet its deficit-reduction targets, Defense Secretary Leon Panetta said in a Friday interview with the New York Times.
The White House has directed Panetta to slash the Pentagon budget by more than $450 billion over the next 10 years. Among other cost-cutting measures on the table, the Defense secretary is weighing whether nuclear deterrence can be maintained with less than the 1,550 deployed warheads and 700 fielded delivery systems allowed under New START, the paper reported on Sunday.
Thomas Donilon, the president's national security adviser, signaled earlier this year that the review was under way.
"As we implement New START, we're making preparations for the next round of nuclear reductions," he said in a March speech at a Carnegie Endowment conference.
"Under the President's direction, the Department of Defense will review our strategic requirements and develop options for further reductions in our current nuclear stockpile, which stands at approximately 5,000 warheads, including both deployed and reserve warheads," the White House adviser said at the time.
More recently, a senior military official said in an interview that new reductions could include cuts to reserve "hedge forces," as the nuclear complex introduces more efficient ways of maintaining and updating warheads (see GSN, Aug. 18).
The Pentagon holds roughly 2,290 strategic nuclear warheads in reserve as a hedge against the possibility of a resurgent global nuclear threat or the discovery of a technical flaw that affects a significant portion of the arsenal.
Hedge force weapons currently constitute more than one fully assembled backup warhead for each of the 1,790 strategic warheads deployed at bomber aircraft bases, on ICBMs or on submarine-launched ballistic missiles.
The Defense secretary's office is working with the military-led Joint Staff and Strategic Command to conduct the assessment, Miller said. The Pentagon is also coordinating its effort with the White House national security staff and senior officials at the State and Energy departments.
The NPR Implementation Study will not be released after completion, according to Defense Department spokesman Tara Rigler.
"Nuclear plans and analysis are highly classified and are not made public," she said.
In an interview, Kristensen described the first part of the nearly complete NPR Implementation Study as a document that will list detailed steps on how the Obama administration plans to achieve the policy prescriptions laid out in last year's Nuclear Posture Review.
The Bush administration undertook a similar effort over an 18-month period following its 2001 Nuclear Posture Review, he said. Obama administration officials indicated as the April 2010 posture review was released that their implementation plan would take a similar time frame to complete (see GSN, April 8, 2010).
The name that Miller used for the analysis, the NPR Implementation Study, masks the more interesting -- and controversial -- second aspect of the nearly complete assessment, which deals with preparing for future force posture changes and reductions, said Kristensen, who heads the FAS Nuclear Information Project.
Instead of lumping both study facets under the rubric of "implementation," some administration officials are calling the piece that concerns potentially deeper cuts in the nuclear arsenal the "Post-NPR Analysis," said the nuclear analyst.
A number of Republican lawmakers and conservative pundits have been warning against taking further reductions in U.S. nuclear weapons. They are particularly concerned about Russia's ongoing program to modernize its strategic weapons delivery systems and its estimated 10-to-1 numerical advantage in tactical nuclear arms deployed in Europe.
Setting the stage for additional reductions "is premature at best," because future force levels needed for unknown threats "years into the future" may not be knowable for quite some time, said David Trachtenberg, who served in the Bush administration's defense policy office at the Pentagon.
"I would hope for an implementation assessment of the impact of New START reductions over time on our long-term deterrent posture before we establish even lower thresholds for reducing further," he told Global Security Newswire on Tuesday.
Representative Michael Turner (R-Ohio), who chairs the House panel's strategic forces subcommittee, last week warned the administration against coming to hasty conclusions in its NPR Implementation Study.
"While I'm aware that many previous administrations have put their imprint on these matters, I am not aware of any previous administration that has stated the answer to its review before conducting or completing it," the lawmaker said. "In this case the predetermined answer appears to be that further reductions are being considered and may be made."
The subcommittee's ranking member, Representative Loretta Sanchez (D-Calif.), took a different tack, urging administration leaders and fellow lawmakers to put aside Cold War assumptions as they grapple with today's fiscal realities and prepare for the future.
"We must also take a hard look at what we need to meet our national and our allies' deterrence requirements in light of the current and new threats out there," she said in an opening statement at last week's hearing. "We also have the responsibility to bear in mind the ramifications of the current economic crisis. And we must carefully consider what is urgent, what can be delayed and what is no longer necessary."
Despite its modernization efforts, Russia will not be able to maintain nuclear force levels at the New START ceilings due to massive weapons platform retirements in the next 10 to 15 years -- "with or without [new] arms control" pacts, Kristensen said. By the mid-2020s, the entire Russian triad is expected to number roughly 400 delivery systems, about half of its current size, he said.
If the administration is serious about "resetting" Washington's relationship with Moscow, "we need to signal to them that we are prepared to go with them down to those force levels," Kristensen said. "We really have to make some decisions about cutting the force significantly over the next decade."
Beyond laying the groundwork for future arms control reductions, the new assessment could introduce other changes in nuclear weapon readiness or possible contingencies for their use, Donilon said earlier this year.
"To develop ... options for further reductions, we need to consider several factors, such as potential changes in targeting requirements and alert postures that are required for effective deterrence," he told the conference.
A targeting change might be based on a new declaration that the only utility of nuclear weapons is to deter nuclear attack, which Kristensen and Norris say could eliminate half of the threat nations or entities believed to be identified in the nation's secret atomic warfighting plan.
Last year's posture review opened the door to this possibility, stating, "The United States is ... not prepared at the present time to adopt a universal policy that deterring nuclear attack is the sole purpose of nuclear weapons, but will work to establish conditions under which such a policy could be safely adopted."
Meanwhile, altering the readiness level of U.S. nuclear weapons could resuscitate a campaign pledge that largely disappeared over the past three years.
Leading up to the 2008 presidential elections, then-candidate Barack Obama promised to "work with Russia to take U.S. and Russian ballistic missiles off hair-trigger alert." Shortly after entering the White House, though, a key general publicly challenged this pledge and references to it were removed from administration websites (see GSN, Feb. 27, 2009).
Gary Samore, who heads arms control and counterterrorism issues on the National Security Council staff, said other significant aspects of the U.S. nuclear posture also would be under debate during the assessment.
"Reductions below the level that we have now are going to require some more fundamental questions about force structure," he told Arms Control Today for a May article. "We've reached the level in our forces where further reductions will raise questions about whether we retain the triad or whether we go to a system that only is a dyad."
Air Force Gen. Robert Kehler, who heads Strategic Command, said last month that he could imagine moving to a two-pronged nuclear stance sometime in the future, following decades in which the nation has fielded atomic warheads aboard bomber aircraft, ICBMs and submarine-launched ballistic missiles.
"As you look into the strategic future, the answer about whether or not we're going to need a triad, I think, is 'it depends,'" he told reporters at a question-and-answer session. "It depends on the strategic situation we find ourselves in."
Any decision to abandon the triad would also "depend on whether or not we have future arms control, whether or not we have structured our force in such a way that we still don't get the same benefit of those attributes -- or we still don't need the same benefit of those attributes," Kehler said.
The four-star general -- a career ICBM officer -- also emphasized "a budgetary dimension to this."
"As we look to modernize, in particular, can we in fact spend the resources to modernize the entire triad?" Kehler asked. One of his predecessors in the job, now-retired Gen. James Cartwright, said earlier this year that the answer almost certainly was "no."
"The challenge here is that we have to recapitalize all three legs [of the triad], and we don't have the money to do it," Cartwright, then vice chairman of the Joint Chiefs of Staff, told reporters in July, shortly before leaving military service.
The White House has promised to spend $85 billion over the next 10 years on updating warheads and modernizing the nuclear weapons complex. Projects include extending the service lives of Air Force and Navy nuclear weapons, including those carried by the B-61 gravity bomb and the Trident submarine-launched ballistic missile, as well as building new facilities to research and process warhead uranium and plutonium.
Washington is also expected to spend hundreds of billions of dollars more on nuclear delivery platforms, including the submarines, missiles and bomber aircraft.
Despite hoping otherwise, Trachtenberg said he anticipates that the administration will "provide a preemptive rationalization for reduced nuclear force levels regardless of the outcome of the NPR implementation review.
"We are currently driving to lower levels," he added. "Doing so may not only place maintenance of the triad in jeopardy but may further weaken the U.S. extended deterrent. Both of these goals were supported in the NPR and both may now be at risk as a result of the push to cut nuclear force levels further, perhaps even unilaterally."
Kristensen and Norris also see possibly sweeping changes afoot, but are more amenable to the opportunities these changes could present.
They wrote that the review "has the potential to be significant because it occurs at a point in the nuclear arms reduction process where changes begin to go beyond simply trimming Cold War force levels to requiring more-fundamental decisions about the nuclear force structure and mission in order to carry out the president's ambitious agenda."
Obama laid out that agenda in an April 2009 speech in Prague, where he said his administration would "put an end to Cold War thinking" and "reduce the role of nuclear weapons in our national security strategy."
"Our analysis is also considering the critical question of what to do if deterrence fails," Miller stated in last week's written testimony. "In effect, we are asking: what are the guiding concepts for employing nuclear weapons to deter adversaries of the United States, and what are the guiding concepts for ending a nuclear conflict on the best possible terms if one has started?"
Trachtenberg urged caution in the U.S. nuclear stance in response to emerging threats, such as Iran's possible development of atomic weapons.
"If Iran goes nuclear, will that have any bearing on New START implementation or the deterrence capability [that] New START's reductions are purportedly intended to strengthen?" Trachtenberg asked. "The [NPR] implementation review should assess a range of possible threats, the requirements for effective deterrence of each, and how New START implementation is affecting our ability to meet those deterrence requirements."
About
WASHINGTON -- The U.S. Defense Department expects by the end of the year to update its plans for the nation's nuclear weapons posture, potentially setting the stage for further reductions in the arsenal, a senior defense official said last week (see GSN, Nov. 7).