U.S. Envoy Touts Trade Norms for Curbing Sensitive Nuclear Activities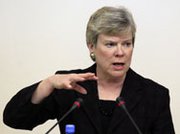 WASHINGTON -- A senior State Department official this week said voluntary international guidelines should help prevent two potential U.S. atomic trade partners from engaging in sensitive nuclear activities, but her remarks left some Capitol Hill nonproliferation advocates seething.
"Under the existing Nuclear Suppliers Group guidelines, we consider it highly unlikely that any supplier would transfer enrichment technology to either Jordan or Vietnam, regardless of whether they meet the [NSG] criteria" for nations eligible to receive the most sensitive atomic materials, Rose Gottemoeller, acting undersecretary of State for arms control and international security, said in written responses to questions from the Senate Foreign Relations Committee.
"Neither country in the foreseeable future is expected to develop a nuclear power program of sufficient magnitude to justify the establishment of a domestic uranium enrichment capability," she said in the Monday submission, obtained by Global Security Newswire.
The United States is currently negotiating nuclear trade agreements with both Jordan and Vietnam. In the ongoing talks, the administration is "discussing assurances on [enrichment and reprocessing] with both countries," stated Gottemoeller, who President Obama last month nominated to assume the post in which she has been serving temporarily since February.
However, despite pressure from Capitol Hill, U.S. officials have not promised that they would demand an ironclad clause in upcoming Jordan or Vietnam agreements that these countries would permanently abstain from sensitive nuclear fuel-making activities.
Uranium enrichment or plutonium reprocessing can be used to produce civil nuclear energy fuel, but these activities also hold the potential for either openly or covertly manufacturing fissile material for a nuclear weapon.
Some prominent nonproliferation experts -- Democrats and Republicans alike -- have called for the inclusion of explicit provisions in future U.S. atomic cooperation pacts that would bar a partner state from domestic enrichment or reprocessing. In exchange, Washington would allow access to U.S. technologies and sensitive materials useful for peaceful nuclear power generation.
The Obama administration, however, has not embraced a policy of this kind. Instead, it has said Washington would demand what it has called the "gold standard" of a no-enrichment-or-reprocessing pledge only on a "case-by-case" basis in nuclear trade talks with foreign nations. Officials with the Energy and State departments have argued that to do otherwise could alienate potential trade partners and put its international nuclear cooperation -- and any associated U.S. jobs -- at risk.
Responding to the Senate panel's June 21 questions, Gottemoeller said in written responses that Jordan and Vietnam would not qualify as recipients of reprocessing or enrichment technologies under revised guidelines adopted by the 46-nation Nuclear Suppliers Group in June 2011.
Vietnam lacks an Additional Protocol that would subject its nuclear energy complex to a higher level of scrutiny by the International Atomic Energy Agency and that Jordan is not party to a key convention on the safety of spent fuel and radioactive waste, she said. Those unmet criteria would make these two nations unqualified to receive sensitive exports governed by the Nuclear Suppliers Group, she noted.
The NSG guidance offers supplier states both specific criteria of this kind and some latitude for discretion in determining whether to transfer items of potential proliferation concern to emerging nuclear energy nations, according to the Arms Control Association.
Even if ineligible to receive enrichment or reprocessing technologies, a country such as Vietnam or Jordan could still import from NSG supplier nations the equipment and materials necessary for building and operating peaceful nuclear reactors.
Gottemoeller was responding to a Senate committee question about why the Obama administration would not agree to demand a no-enrichment-or-reprocessing commitment from Jordan and Vietnam in future U.S. trade pacts, if these nations would not qualify anyway for such transfers under the NSG guidelines. Absent such a demand by Washington, "both Jordan and Vietnam have said no" to the gold standard idea, and yet U.S. envoys continue to pursue atomic cooperation accords with these two nations, one congressional aide said on Friday.
This Capitol Hill staffer and others expressed astonishment at Gottemoeller's responses, charging that the perspective she laid out would be inadequate to stem new cases of nuclear proliferation. They spoke for this article on condition of not being named, lacking authority to address the topic publicly.
The United States must not rely on the size of a nation's domestic energy needs as an indication of whether that state is likely to take interest in enrichment or reprocessing, a second congressional staffer argued. The limited extent of a country's own power requirements says little about whether there might be an intent to divert enriched uranium or reprocessed plutonium to a military weapons program, this House aide said.
"Iran isn't expected to have a significant nuclear [energy] program either, and yet they're developing an enrichment [capability]," according to the staffer. "That's one of the fundamental U.S. arguments against Iran, and yet Iran is clearly proceeding."
Gottemoeller's response also did not account for some nations, such as Canada, interested in potentially pursuing an enrichment capability for uranium export rather than for solely domestic needs, several sources said. Jordan, too, has substantial natural uranium reserves, some of which are to be mined for the nation's first nuclear power plant -- expected for construction within the next decade -- and some for export, according to reports. Amman might take interest in enrichment to add value to its uranium exports.
A State Department spokesman, asking not to be named on the basis of diplomatic sensitivities, on Thursday restated a portion of Gottemoeller's remarks but declined to offer specific comment in response to critics.
Gottemoeller's responses to the Senate panel were also assailed on the basis that the NSG trade guidelines -- which are implemented voluntarily by nuclear-supplier nations -- could do only so much to actually stop such transfers. More broadly, nonproliferation proponents said, the organization's recommendations could not in every case prevent a nation from obtaining equipment and mastering enrichment or reprocessing on its own.
"Where did Iran and North Korea get enrichment technology?" the House aide said. "Not from the NSG or its members."
The supplier organization's guidelines "are necessary, but clearly not sufficient to prevent the further spread of enrichment technology," the staffer added. "Now there are rogue suppliers of this technology, on whom the NSG has no authority, moral or otherwise."
The case-by-case approach to including in trade agreements a partner's pledge not to enrich or reprocess, floated earlier by the Obama administration, has generated bipartisan pushback from Capitol Hill. Lawmakers have argued that the administration must maintain stricter nonproliferation policies if it does not want to see more nations in the Middle East and elsewhere develop nuclear arsenals of their own.
In response, the Obama team told Congress last spring it would launch another review of the policy. The results of that analysis are not expected before the November presidential election.
However, Mark Hibbs of the Carnegie Endowment for International Peace in August said the internal administration debate might result in a policy that in many cases could favor high nonproliferation standards.
"Currently, there is an interagency understanding that the State Department will aim to negotiate" gold standard provisions "into nearly all" forthcoming atomic trade pacts and "that any exceptions to the no-ENR outcome must be jointly authorized by Secretary of State Hillary Clinton and Secretary of Energy Steven Chu," he said in an issue brief, using the term "no-ENR" for a nation's pledge to ban enrichment and reprocessing.
Gottemoeller and others have said the review is ongoing but have declined to publicly offer details.
A State Department spokesman in 2009 coined the term "gold standard" to describe a promise that the Bush administration had secured from United Arab Emirates that it would not enrich or reprocess. The Obama administration subsequently won Abu Dhabi's agreement to incorporate the pledge into the formal text of their bilateral cooperation pact.
Now under congressional pressure to make pursuit of this type of pledge a feature of standard negotiating policy for nuclear trade agreements, Gottemoeller this summer distanced herself from the moniker.
Nonproliferation advocates from across the political spectrum last month renewed the call for vigorously seeking such a standard in U.S. atomic accords.
"Defining the nonproliferation conditions the United States intends to place on its civil nuclear cooperation in general is essential to protecting U.S. interests, and we believe requiring that the 'gold standard' be met in all U.S. nuclear cooperative agreements with states that lack nuclear weapons is the necessary set of conditions to achieve that end," according to the Sept. 20 letter to Obama.
The U.S. "government should not only support such requirements, but actively encourage other nuclear supplier states to do so as well," it states.
The missive was signed by the House Foreign Affairs Committee's top Republican and Democrat -- Representatives Ileana Ros-Lehtinen (Fla.) and Howard Berman (Calif.) -- along with House Armed Services Strategic Forces Subcommittee Ranking Member Loretta Sanchez (D-Calif.) and 19 other lawmakers, former executive branch officials and issue experts.
An "expectation" on the part of the signatories is that "the policy that was promoted by Bush and enforced by Obama would become the policy of the United States," said Henry Sokolski, executive director of the Nonproliferation Policy Education Center, who organized the group letter.
"If you want to get it done, you put it in writing in an agreement," he said in a Thursday interview, referring to how he believes it best to minimize the risk of proliferation.
Hibbs differed with that perspective, voicing a concern widely held throughout the nuclear industry that demanding such nonproliferation terms as part of a formal agreement could have a chilling effect on Washington's influence.
U.S. diplomats instead should seek to "negotiate a political understanding of a nonbinding nature that would express bilateral willingness of the United States and its nuclear partners to have a long-term discussion about fuel-cycle requirements and fuel supply and fuel assurances," he said on Wednesday in a phone interview from his Berlin office.
"[That] would be more palatable to the country because it would not force [it] to change its laws" -- often a sovereignty concern, said Hibbs, a senior associate at Carnegie's Nuclear Policy Program.
The strongest incentive for a nation to honor such a political commitment, regardless of changes in leadership over time, would be a desire to avoid putting "its bilateral relationship with the U.S. on the line by reprocessing or enriching," he said.
Should a partner nation later decide to change course and pursue enrichment or reprocessing, it might be more likely to discuss its evolving policy more candidly with Washington if the actions did not involve breaking a legal commitment, he argued. By contrast, any legal restriction could effectively force a nation to pursue these activities only in a clandestine program, he said.
Sokolski countered that several nations would consider adopting -- or, like Taiwan did recently, actually volunteer to embrace -- the gold standard in their trade accords, particularly if the U.S. government more actively encouraged it during negotiations.
Others on Capitol Hill have noted that one powerful draw in embracing such a formal vow should be the type of global acclaim garnered by the United Arab Emirates for forgoing domestic enrichment or reprocessing, and growing support for Taiwan in its willingness to make a similar pledge.
Correction: This article was updated to rectify an error in identifying Representative Loretta Sanchez (D-Calif.).
About
WASHINGTON -- A senior State Department official this week said voluntary international guidelines should help prevent two potential U.S. atomic trade partners from engaging in sensitive nuclear activities, but her remarks left some Capitol Hill nonproliferation advocates seething.