U.S. Navy Brass: No Technical Fixes to Avoid Ambiguous Missile Launches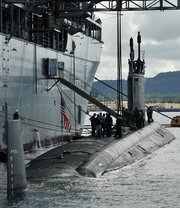 WASHINGTON -- No technical solutions exist that could alone prevent other major world powers from misinterpreting the launch of a U.S. conventional ballistic missile from a submarine as the onset of a nuclear war, the nation's top Navy officer said on Friday (see GSN, Jan. 27).
"I can see and I understand, as written," lawmaker concerns about the potential for this sort of strategic ambiguity, Adm. Jonathan Greenert, the chief of naval operations, told reporters at a question-and-answer session. He said any resolution of these concerns would have to involve diplomatic engagement with Washington's potential nuclear-weapon adversaries.
Worries that a future Russia or China might respond to a misinterpreted missile launch with a catastrophic atomic salvo have led Congress to repeatedly prohibit the Navy from fielding a conventional version of its nuclear-armed Trident D-5 missile aboard Ohio-class submarines (see GSN, Sept. 22, 2010).
The Defense Department early this year announced that it had asked the Navy to design a new, intermediate-range ballistic missile for so-called conventional "prompt global strike" missions from future Virginia-class attack submarines. The idea is to develop the capability to attack an enemy anywhere around the world on just one hour's notice, without resorting to nuclear war.
"The question then is, so how do we assure" it would not create instability during a crisis, said Greenert, who rose to his service's top uniformed post last September. "That is probably beyond technical; it's now how is our policy, our understanding, and the protocols with the country [detecting a launch], such that we could be convincing of that."
The Navy official added that such foreign policy and diplomatic issues are beyond his area of expertise.
Greenert's comments diverge somewhat from assertions on the matter made recently by Gen. Martin Dempsey, chairman of the Joint Chiefs of Staff. The Army general said that by giving the new conventional missile a flight profile that could be distinguished quickly from a nuclear-armed Trident launch, a nuclear response based on miscalculation could be averted.
Compared to the earlier Trident missile-based concept, "the technology and therefore the trajectory that would be required to deliver it" would be different for the medium-range missile now on the drawing boards, Dempsey told reporters at a Jan. 26 press conference. "There's [also] the speed at which these delivery systems can move."
He added: "You can lower the trajectory and therefore avoid the confusion you're talking about in terms of it being mistaken for an ICBM with a nuclear warhead." Dempsey did not address diplomatic dimensions of such a military operation.
Critics were immediately skeptical of Dempsey's remarks, arguing that the unprecedented fielding of a ballistic missile on a stealthy attack submarine would do little to address unease about potential adversaries becoming confused in the heat of crisis.
"Even a conventional intermediate-range ballistic missile launched from a converted Virginia-class attack submarine could be misinterpreted because its compressed trajectory would look much like a nuclear D-5 launched in a compressed trajectory as part of a first strike," atomic weapons expert Hans Kristensen of the Federation of American Scientists said at the time.
Speaking on Friday, Greenert also divulged more about the potential modifications required for the Virginia-class submarines to accommodate a ballistic missile than his service had done to date.
"A step in that direction will be to put the new payload tube that you see in the Block 3" attack submarines authorized for Navy procurement in fiscal 2009 through 2013, the service chief said, noting that the missile's development is "in the very rudimentary stages" and "more conceptual than specific."
The Navy is currently buying Virginia-class attack vessels at a rate of two per year, with incremental upgrades to the submarine's design expected on each new procurement "block." Eight Block 3 submarines, beginning with the 11th Virginia-class hull, will include new wide-diameter launch tubes. The design for next set of boats in the series, Block 4, has not yet been finalized.
In the Block 3 vessels, each of two new launch tubes would initially be able to accommodate six Tomahawk conventional cruise missiles, replacing 12 narrow vertical launch tubes for the same number of Tomahawks aboard earlier versions of the submarine.
These new launch tubes, located on the submarine bow, could alternatively accommodate one -- and maybe more -- of the new medium-range ballistic missiles, defense sources have told Global Security Newswire. This configuration could permit a total of two or possibly more ballistic missiles in each modified submarine.
The new launch tubes will each have an 87-inch diameter, Greenert said.
"That kind of size … that's your start for at least capacity to put a [ballistic] missile the size that you're talking about, to get the range for that," he said.
"In the follow-on, it's within our budget, we have the 'Virginia payload module,'" Greenert went on to say. "[It's] a similar capability, only you can get seven now because you're aft of the sail. But just the configuration of the hull allows you to get that seventh one in the middle, [with] six on the outside."
"So it's the development of that," Greenert said, "that I think could perhaps -- and we're really in the early conceptual stages of that -- lead to a conventional strike payload."
The admiral said it was too early to know how many medium-range ballistic missiles would fit in each of the new launch canisters.
"If technology brings a very dense rocket propellant such that you can really get great range, then maybe you do get more than one," Greenert said. "It's really about the technology and the range that will be necessary for when we define that ballistic missile, should we define it."
The "first step" would be to ask, "Do you have anything this could get in? Yes, no, maybe so," he said. "This tube might be it."
The chief of naval operations came close to ruling out that the new Virginia payload modules would be built large enough to house a Trident D-5 missile, an idea that some have proposed as a potentially cheaper alternative to building from scratch a replacement for today's aging Ohio-class nuclear-armed ballistic missile submarines.
Upon launch, today's D-5 missiles -- as opposed to some future version that might be developed -- "are ejected from the tube, they burst through the water, they ignite," Greenert said. "And so that gas generator, that entire launching system, that's pretty big."
A missile "of that capacity" would "clobber just about everything else you have in the Virginia class as we now know it," he said.
The only way around that design challenge would be to extend the body of the existing attack submarine, "and now you're into the hydrodynamics on a new module [for] an extended Virginia-class [submarine]," he said. "A Trident D-5 is likely too big."
About
WASHINGTON -- No technical solutions exist that could alone prevent other major world powers from misinterpreting the launch of a U.S. conventional ballistic missile from a submarine as the onset of a nuclear war, the nation's top Navy officer said on Friday.
Countries