White House: "Profoundly" Isolated Iran Still Pursuing Nuclear Weapons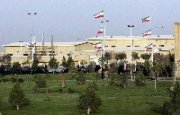 WASHINGTON -- U.S. President Obama's national security adviser on Tuesday declared that years of sanctions have weakened the Iranian regime as never before, but have not derailed Tehran's efforts to pursue nuclear weapons (see GSN, Nov. 22).
"Put simply, the Iranian people deserve a future worthy of their past as a great civilization," Thomas Donilon said in a speech in Washington. "And that day will come sooner when the regime in Tehran abandons its reckless pursuit of a nuclear program that does nothing for its people but which endangers the security of the world."
When Obama took office in January 2009, Iran and many of its neighbors "believed that Iran was ascendant," with no major challenges to its legitimacy and an anticipated expansion of its influence throughout the Middle East, Donilon said.
Since then, Iran has rebuffed a series of international engagement initiatives aimed at testing the Middle Eastern state's claims that its nuclear program is entirely peaceful.
The nation since 2006 has endured four U.N. Security Council sanctions resolutions, as well as a host of unilateral penalties by other countries. Measures have included prohibitions on supplying or assisting Iran's uranium-enrichment program, and calling on Tehran to comply with international nuclear requirements.
"As Iran looks around the world, it finds fewer friends, fewer protectors, and fewer business partners," Donilon told an audience at the Brookings Institution. "Its leaders have taken a great nation and an ancient civilization and turned it into a pariah that is unable to integrate or engage with the world. That is a tragedy."
The White House official's address came on the heels of a new round of U.S. sanctions against Tehran, announced on Monday. Under a Nov. 19 executive order signed by Obama, which does not require congressional action, Washington for the first time is penalizing Iran's petrochemical industry and has tagged the state's financial sector for money-laundering.
The fresh sanctions, though, stop short of fully isolating Iran's central bank, a move that many lawmakers have sought, based on indications that the institution plays a key role in financing the nation's military efforts in nuclear weapons, missiles and terrorism.
The White House has resisted taking extensive action against the Iranian entity out of concerns it could prompt a surge in oil prices and seriously escalate the confrontation with Tehran. However, the administration has not ruled out implementing the option sometime down the road, according to Treasury Secretary Timothy Geithner.
"If you are a financial institution and you engage in any transaction involving Iran's central bank or any other Iranian bank operating inside or outside Iran, you are at risk of supporting Iran's illicit activities," he said on Monday at the State Department roll-out. Those activities, he said, include "its pursuit of nuclear weapons, its support for terrorism, and its efforts to deceive responsible financial institutions and evade sanctions."
The latest U.S. measures, coordinated with similar actions this week by Canada and the United Kingdom, were prompted by a finding earlier this month by the U.N. nuclear watchdog that Iran's suspected clandestine work toward building an atomic bomb "may still be ongoing" (see GSN, Nov. 9).
Iran was also recently accused of plotting to assassinate the Saudi ambassador to the United States (see GSN, Oct. 12).
This past week, the Persian Gulf nation was repudiated at the International Atomic Energy Agency in Vienna, Austria, for its alleged nuclear activities, as well as at the U.N. General Assembly in New York for the reported assassination scheme and domestic human rights abuses (see GSN, Nov. 18).
"There have to be consequences for such behavior," Secretary of State Hillary Clinton said at the Monday event. "The message is clear: If Iran's intransigence continues, it will face increasing pressure and isolation."
"The policies Iran is pursuing are unacceptable," Geithner added. "Until Iran's leadership agrees to abandon this dangerous course, we will continue to use tough and innovative means to impose severe economic and financial consequences on Iran's leadership."
The punitive measures to date have slowed Iran's work on a nuclear bomb, even if they have failed to stop it outright, Donilon said. The administration's "multidimensional" approach to Iran, he said, has included international coordination on sanctions; diplomatic isolation of Tehran; partnership with Mideast allies; and efforts to bolster defenses and maintain troops in the region to counter the Iranian military.
These actions have "profoundly" isolated and weakened Iran domestically and in the international community, he said.
Donilon noted that the official who headed Iran's Atomic Energy Organization in 2007 projected that within four years the nation would have 50,000 centrifuges installed to enrich uranium; today the nation has just 8,000 in place and only an estimated 6,000 of those are working.
With the international sanctions in place, "not only is it harder for Iran to proceed [on its nuclear effort], it is more expensive," Donilon said. "It would be far more economical and efficient for Iran to purchase nuclear fuel on the international market than to develop an indigenous enrichment and fuel production capability.
"Remarkably, though, Iran continues to make huge investments in this program -- most of them unpublished -- even as it cuts back on support and investment in Iran's economy and its people," the national security adviser added.
After failing to accede to multiple U.N. demands for increased access to its nuclear facilities and atomic scientists, "it should be clear for all the world to see: Under the guise of a purely civil nuclear program, the government of Iran is seeking to develop a nuclear weapons capability," Donilon said.
Others have challenged the White House contention that its policies have resulted in a weakening of Iran throughout the Middle East.
Kenneth Pollack, director of the Brookings Institution's Saban Center for Middle East Policy, is among the doubters. He told a House committee last week that Iranian power within neighboring Iraq has never been stronger than it is today.
"Its influence, unfortunately, is likely to increase rather than decrease after the American withdrawal" from Iraq by the end of the year, Pollack said at a Nov. 15 House Oversight and Government Reform subcommittee hearing. "In speaking to senior Iraqi leaders in recent months, I am struck by how many of them have said -- mostly in resignation, never with any sense of joy -- that today no Iraqi can become prime minister without Iranian approval."
Donilon, though, depicted Syrian President Bashar Assad's regime as likely being on the cusp of collapse amid an ongoing popular uprising, and said this development could spell the loss of Iran's strongest regional backers.
"Today -- in the face of a region increasingly united against Tehran -- Iran is basically down to just two principal remaining allies -- the Assad clique in Syria and Hezbollah," he said. "The end of the Assad regime would constitute Iran's greatest setback in the region yet -- a strategic blow that will further shift the balance of power in the region against Iran."
Further, if the Syrian regime falls, Iran's own crackdown on domestic protests will be further discredited and "Tehran's ability to project violence and instability in the Levant through its violent proxies -- Hezbollah and Hamas -- will be vastly diminished," Donilon asserted.
The security adviser emphasized that the door would remain open for constructive engagement with Iran, at least for the time being.
"Tehran can choose a different direction," Donilon said. "It has to seize the diplomatic opportunities before it. It must cooperate fully with IAEA investigators. It must comply with U.N. Security Council resolutions, which require Iran to suspend all enrichment, reprocessing and heavy water related activities."
By contrast, some U.S. lawmakers have concluded that the day has passed for hopes of Tehran changing course on its apparent path toward developing a nuclear weapon. Amid reports that Iran's clandestine program could be close to achieving a military capability, the United States should spare no effort in its sanctions approach, according to some on Capitol Hill.
"We have not yet seen the necessary and full implementation of sanctions against entities or governments engaged in significant business with the Iranian regime," Representative Ileana Ros-Lehtinen (R-Fla.), said in a statement issued on Monday. She specifically urged that Washington target Russian and Chinese companies that have continued to do commerce with Iran.
Chairwoman of the House Foreign Affairs Committee, Ros-Lehtinen applauded the latest U.S. expansion in penalties but said they are still "not enough to compel the regime in Tehran to abandon its pursuit of a nuclear capability and other destructive policies."
She also noted that Congress "is moving to remedy" the Obama team's limits on sanctions against the Iranian central bank.
Ros-Lehtinen's committee on Nov. 2 unanimously passed a bill aimed at closing loopholes in sanctioning Iran's energy and financial sectors, including new levies against Tehran's central bank, and amplifying scrutiny on the nation's Revolutionary Guard Corps and top regime figures. A second measure passed by the panel on the same day would expand sanctions against those assisting Iran, Syria or North Korea with nuclear weapons development.
Representative Brad Sherman (D-Ca.), ranking member of the House Foreign Affairs Terrorism, Nonproliferation and Trade Subcommittee, similarly commended the administration on the tougher sanctions but argued they would prove insufficient.
"The measures in place are still too timid to cause the Iranians to abandon their nuclear weapons program," Sherman said on Tuesday.
About
WASHINGTON -- U.S. President Obama's national security adviser on Tuesday declared that years of sanctions have weakened the Iranian regime as never before, but have not derailed Tehran's efforts to pursue nuclear weapons (see GSN, Nov. 22).