Tested by Crisis: Gender Champions in Nuclear Policy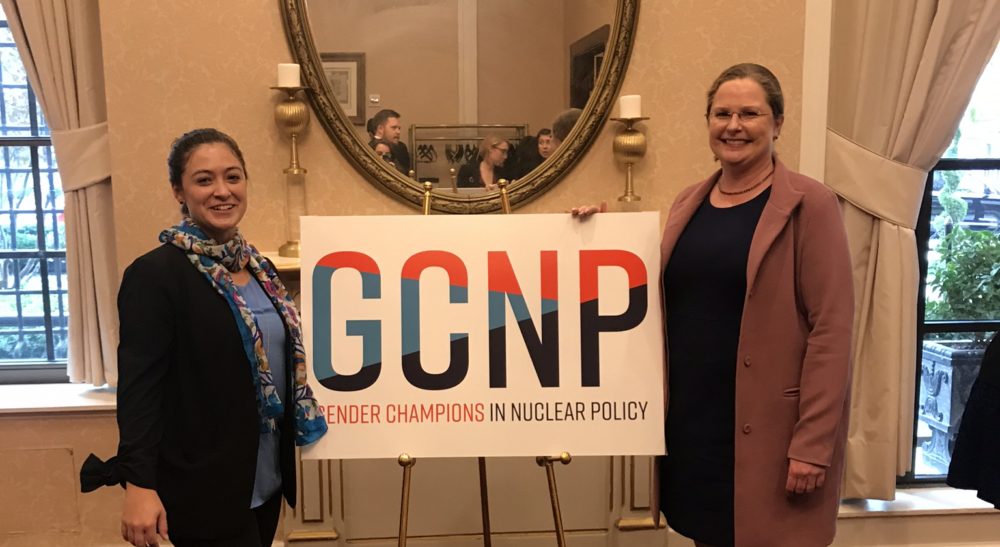 Tested by Crisis: Gender Champions in Nuclear Policy
Want to dive deeper?
Letter from the Co-Founders: Reflecting on 2020
The global pandemic that shut down offices around the world just a few months into 2020 created a true test for the Gender Champions in Nuclear Policy network in just its second year. We are proud to say it was a test met with courage, honesty, and a firm commitment not to see the nuclear community lose its gender equity gains.
Gender Champions and Focal Points did not step back from their pledges during the pandemic. Instead, they worked to help their staffs adapt to the new circumstances. They were guided by their principles to treat every person with respect and fairness; to include, invest in, and value diverse and emergent perspectives; to build safe and inclusive workspaces; and to continue to work together in a spirit of openness, honesty, and transparency. They worked to promote women leaders inside and outside their organizations, and they used the commitments they made when they joined the network to help guide their responses to the pandemic.
This was most evident in responses to the protests calling for justice in the wake of the horrifying killing of George Floyd when Gender Champions and Focal Points supported their colleagues' efforts to launch calls for accountability and action against racism within the nuclear policy community.
Since its start in 2018, GCNP has grown into a resilient network with members who learn from each other, share stories and knowledge, and give generously. Their ties sustained the network through 2020, and the network's progress is seen in this impact report.
We are not naïve. We understand that without continued investment and commitment, our communities could lose the gender equity gains we have made. The survey results included in this report show how the pandemic is having a disproportionate impact on women. If not addressed, we risk losing many of the talented people the field relies on to make progress in reducing nuclear risks and promoting nuclear energy.
Our Thanks
We are especially grateful to Mackenzie Cater for her work this year to help the network adapt to changing circumstances and to address new challenges. The network also would not have been nearly as strong without the support of Ambassador Bonnie Jenkins, Yasmeen Silva, John Sarrao, and Ben Loehrke, and we are grateful for their efforts to support GCNP over the past year.
We also want to give special thanks to Ploughshares Fund, whose generous support has made GCNP possible, and to the leaders of the Nuclear Threat Initiative (NTI) for giving this project a permanent home.
We want to take a moment to recognize the immense legacy of Dr. Vartan Gregorian, the president of Carnegie Corporation of New York, who passed away in April 2021. Dr. Gregorian was an early supporter of Gender Champions in Nuclear Policy, joining at a time when we still were not sure how the initiative would take shape. We were personally touched by his encouragement and support and proud to list him as one of our members. Here at GCNP, we will be remembering him for his kindness, openness, and listening ear.
GCNP is its network of Champions, Focal Points, and quiet-but-active supporters who are creating change within their institutions and communities. We are in awe of what they have accomplished and the dedication they have shown these past two years. In addition, we are grateful to the 53 organizations that reported data for inclusion in this report, despite the very real challenges posed by the pandemic, and we are heartened by the 21 new members who joined during the past year. We look forward to reporting on their work in the next impact report.
Lastly, our sincere thanks to Ambassador Laura Holgate, co-founder of GCNP, without whom this community may not have come into existence. Her courage and voice have left an indelible mark on the field, and we are honored to count her as a part of this network.
Michelle Dover, Program Director, Ploughshares Fund
Jack Brosnan, Program Officer, Nuclear Threat Initiative
###
Stay Informed
Sign up for our newsletter to get the latest on nuclear and biological threats.
More on
What Is Safeguards Effectiveness?
What Is Safeguards Effectiveness?
The term "safeguards effectiveness" means the effectiveness of IAEA verification—that is, the ability of the IAEA to detect non-compliance.
---
Ensuring Safeguards Sustainability
Ensuring Safeguards Sustainability
The ways sustainability of the IAEA safeguards system can be ensured by the agency, its Member States, and the international community
---
Reflections on Safeguards Culture
Reflections on Safeguards Culture
The concepts of "nuclear safety culture" and"nuclear security culture" are well established in IAEA practice, but no similar terminology is used for nuclear safeguards.
---