Rafael Mariano Grossi on "Nuclear in the New Decade: A View from the IAEA Director General"
A discussion with the Director General of the International Atomic Energy Agency (IAEA) Rafael Mariano Grossi. Director General Grossi was elected to lead the IAEA in December 2019 after serving for six years as Ambassador of Argentina to Austria and Argentinian Representative to the IAEA and other Vienna-based International Organizations.
Today, the world faces many challenges—from the global pandemic to the catastrophic effects of climate change to the spread or use of nuclear weapons. Innovative nuclear technologies and sound nuclear policies can help confront these challenges, but doing so will require leadership, cooperation, and courage. Director General Grossi will share his perspectives on how the IAEA can help today's leaders collaborate on global nuclear issues, including nuclear security, nuclear safeguards, peaceful nuclear applications, and nuclear energy.
Director General Grossi is a diplomat with more than 35 years of experience in the field of non-proliferation and disarmament, including his service as president of the Nuclear Suppliers Group, where he was the first president to serve two successive terms. He has presided over numerous international diplomatic conferences on nuclear issues, served at the Organization for the Prohibition of Chemical Weapons, and held several positions within the Argentinian Foreign Ministry after joining in 1985. Since 2017, Director General Grossi has been an International Gender Champion, promoting gender balance in the nuclear field.
Speakers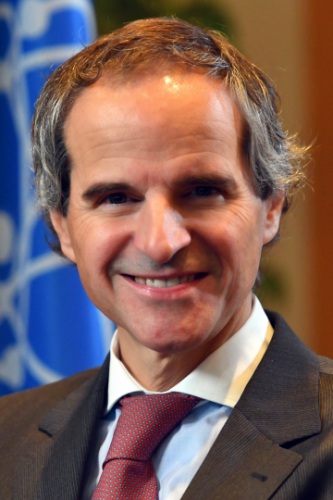 Rafael Mariano Grossi
Director General, IAEA
---
---