Nuclear Policy Talks forum with Dr. William J. Perry
Please join the Nuclear Threat Initiative and The George Washington University's Elliott School of International Affairs at a Nuclear Policy Talks forum with William J. Perry, former Secretary of Defense and NTI Board Member, for a discussion based on his new memoir, "My Journey at the Nuclear Brink"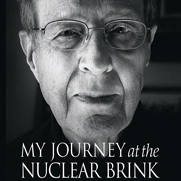 The George Washington University - Lehman Auditorium 800 22nd St, NW, Washington, DC
Please join the Nuclear Threat Initiative and The George Washington University's Elliott School of International Affairs at a Nuclear Policy Talks forum with William J. Perry, former Secretary of Defense and NTI Board Member, for a discussion based on his new memoir, "My Journey at the Nuclear Brink."

Moderator
David E. Hoffman,
Washington Post Contributing Editor and author of "The Dead Hand: The Untold Story of the Cold War Arms Race and its Dangerous Legacy"
Hosts
Sam Nunn,
Co-Chairman and CEO, NTI
Allison MacFarlane,
Director of GWU's Center for International Science and Technology Policy

Wednesday December 2, 2015
4:00 p.m. to 6:00 p.m.
The George Washington University – Lehman Auditorium
800 22nd St, NW, Washington, DC
A reception with light refreshments will follow the discussion.

This book is a deeply inspiring account of Dr. Perry's experiences during and after the Cold War. It follows his career as he worked to shape U.S. nuclear weapons policy under three Administrations beginning with the Cuban Missile Crisis and ending with overseeing the dismantling of nuclear weapons, during the Clinton Administration. He explains what led him to his position that nuclear weapons "endanger our society rather than securing it."
Politics and Prose will have copies of the book for sale.