Floating Nuclear Reactors Could Fall Prey to Terrorists, Experts Say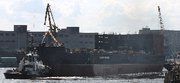 Second in a five-part Global Security Newswire series on emerging technologies and scientific advances that might pose new proliferation risks.
WASHINGTON -- Russia is wrapping up work on the first of a proposed fleet of floating nuclear reactors that would provide electricity to remote areas, but that are also more vulnerable to terrorists and even piracy than traditional power stations, experts say (see GSN, Oct. 1, 2007).
Sailing small, modular atomic reactors raises concerns about proliferation, along with their safety in extreme weather conditions and what to do with the radioactive waste they produce.
"The sort of emotional reaction is, well, if you didn't like nuclear power reactors to begin with will you like them any better if they're floating?" Sharon Squassoni, director of the Center for Strategic and International Studies' Proliferation and Prevention Program, said in a recent telephone interview. "Probably not. Whatever problems you have on land, you can equally have on sea only if you have a core meltdown in the water you're going to have a huge radioactive problem on hand."
Russia's nuclear agency launched the Academician Lomonosov, a barge that would eventually carry a power plant, on June 30 in St. Petersburg. The $200 million vessel, which measures roughly 472 feet long and 98 feet wide, would accommodate two 35-megawatt reactors, known as KTL-40Cs, and could provide electricity for up to 200,000 people, Rosatom officials say.
The average land-based nuclear power reactor generates about 1,000 megawatts of electricity, Squassoni said.
The reactor itself would be ready to operate in late 2012, the first of seven vessels Russia intends to build within five years. At least 15 countries -- including Algeria, Argentina, China and Malaysia -- have shown interest in contracting the services of such a system, according to the nuclear agency.
The first ship would help power Vilyuchinsk, a city on Russia's Kamchatka Peninsula that serves as an atomic submarine base. Similar models could deliver electricity to the country's hard-to-reach northern territories, where harsh weather makes regular coal and oil deliveries unreliable and expensive. The reactor could also be modified into a desalination plant in order to produce fresh water.
Nuclear fuel for the plant would be loaded in the northern Murmansk region, and the station towed to its place of operation. The plant would store waste and spent fuel in an onboard facility that workers would empty every 10 to 12 years during regular maintenance overhauls. The reactor and the spent fuel would then go to a storage facility in Russia, but the barge could be recycled.
The ships would need to be refueled once every three years. The vessel would be hauled away after 32 years of service.
The station's offshore locale is a key potential benefit as the power plant would be kept away from population areas where residents might otherwise object to the presence of nuclear energy operations, according to Mark Hibbs, a senior associate in the nuclear policy program at the Carnegie Endowment for International Peace.
Other advantages include lower upfront investment costs for the smaller, modular reactors and the system's overall ability to be towed near remote settlements where need for electricity is greatest, he said in a recent telephone interview. Hibbs added that Indonesia, and far-flung parts of its archipelago, could be the technology's biggest potential customer.
The technology could also prove particularly beneficial to mining companies to power operations to extract oil and gas and other valuable minerals from the Arctic shore and other remote regions, he told Global Security Newswire.
Proliferation and Environment Concerns
The exact level of enrichment of the uranium fuel for the floating reactor is unclear, according to Vladimir Chuprov, head of Greenpeace Russia's energy department.
Russian officials initially said the plant would use uranium that had been enriched to between 40 and 60 percent, well above the 3 to 5 percent needed to be considered commercially viable. Uranium refined higher than 20 percent is considered to be highly enriched, while weapon-grade uranium usually requires enrichment levels exceeding 80 or 90 percent.
Still, less sophisticated nuclear devices could be manufactured with sufficient quantities of non-weapon-grade material, Chuprov said.
The reactor's fuel enrichment figure recently settled around 18 percent, too close for comfort to the 20 percent threshold where the material becomes offensively viable, according to Chuprov.
"To enrich uranium is a very consuming technology. You need a lot of centrifuges, power and time to get to military-grade uranium but to enrich to 5 or 8 percent would mean that you made it 60 percent down the road towards" that goal, he told GSN in a recent telephone interview from Moscow. "If you have 18 percent, to get to military-grade is nothing."
That material, even if it is low-enriched uranium, is a serious proliferation concern "because it could be diverted before it's ever started up in the reactor," according to Edwin Lyman, a senior staff scientist at the Union of Concerned Scientists.
He noted the reactors must be stripped down to fit aboard the barge and therefore don't have the kind of robust containment structures and auxiliary safety systems larger, land-based nuclear power plants possess.
One way to stem such concerns might be to expand the International Atomic Energy Agency's Convention on Nuclear Safety to include sea-based platforms, Lyman said in a telephone interview last month. Today, that pact commits participating states that operate land-based nuclear power plants with high safety levels.
There are also worries on the global level that some host nations, specifically those in conflict zones, might not have the resources to ensure the facilities' security, according to a review by the Nuclear Threat Initiative.
The areas where the barges would be deployed, including the Philippines, could expose them to the threat of piracy, according to Hibbs.
"The consequences of an act of piracy involving a facility like this would be devastating because essentially you would be facing a situation where you have a mobile radiological weapon," he said. Pirates could then use the reactor as blackmail and engineer an accident anywhere in the world, he added.
There are also liability concerns that must be addressed, Squassoni said, such as which country -- Russia or the reactor barge's host nation -- would be responsible for training personnel and creating the safety culture.
"It gets to be a little messy and I'm not quite sure anyone has worked out the whole tangled web that happens when you simply station these reactors offshore," Squassoni said.
Experts are quick to recall Soviet-era nuclear accidents, such as Chernobyl, and Russia's naval disasters. The former communist state operated a fleet of nuclear-powered submarines as well as icebreaker vessels.
Chuprov argued that the risk of a nuclear accident on a floating nuclear power plant is greatly increased because it is even more susceptible to the elements, adding that some of the countries supposedly interested in the technology have fallen victim to tsunamis in the past.
Russia's "history of nuclear accidents shows that sometimes they even have a core meltdown, which is the most dangerous situation with a reactor," he said. "Think of if they have to sink a reactor in high seas."
Questions submitted to Rosatom last month were not answered by deadline.
Broader Proliferation Worries
While the floating reactors are something of a "sexy" and "eye-catching" approach to alternative energy, they only constitute part of the potential threat of the expansion of nuclear power, according to Squassoni. Nations such as Pakistan are looking to expand their atomic energy capabilities while a number of states in the Middle East are trying to build programs from the ground up.
Some suppliers, including India and South Korea, do not always adhere to international export guidelines, she said. Meanwhile, the United States does not have a sufficiently strong relationship with exporters such as China to influence their behavior.
Pakistan and China have worked together on nuclear technology in the past and U.S. intelligence officials believe Islamabad's warheads were designed based from China's own nuclear arms. The United States recently indicated it intends to oppose a planned Chinese atomic reactor sale to Pakistan (see GSN, July 23).
Squassoni also noted that South Korea, China and Canada have begun promoting "exotic little" reactor designs for energy use that might lead to production of more weapon-usable uranium fuel and spent nuclear material around the globe.
"The whole group of countries that are looking at nuclear power reactors for the first time, do you want all them to go to India and China and even South Korea?" Squassoni said.
The International Atomic Energy Agency has estimated that global demand for small reactors could reach 500 to 1,000 units by 2040, according to Lyman.
"Nuclear power isn't a child's toy that if you can just build it small enough and cheaply enough you can deploy it anywhere and people push a button to have power," he said, describing the idea of floating nuclear power plants "a technology in search of a client."
A spokesman for the U.S. Nuclear Regulatory Commission, which reviews applications to certify small modular reactor designs, said all of the proposals currently being considered involve land-based facilities.
A spokesman for the Nuclear Energy Institute, a policy organization of the nuclear energy and technologies industry, said he was unaware of any U.S. companies with such commercial designs.
Lyman and Squassoni proposed the Nuclear Suppliers Group might be the appropriate forum to address the proliferation risks of small reactors, as opposed to the U.N. nuclear watchdog which promotes peaceful nuclear energy use.
The 46-nation group can seek to limit the sale of member nations' nuclear technology and materials to states that have signed the Nuclear Nonproliferation Treaty.
Editor's Note: Look for the next article in the series on Friday, Aug. 13.
About
Second in a five-part Global Security Newswire series on emerging technologies and scientific advances that might pose new proliferation risks.